Re-thinking Family Dinners for the New Year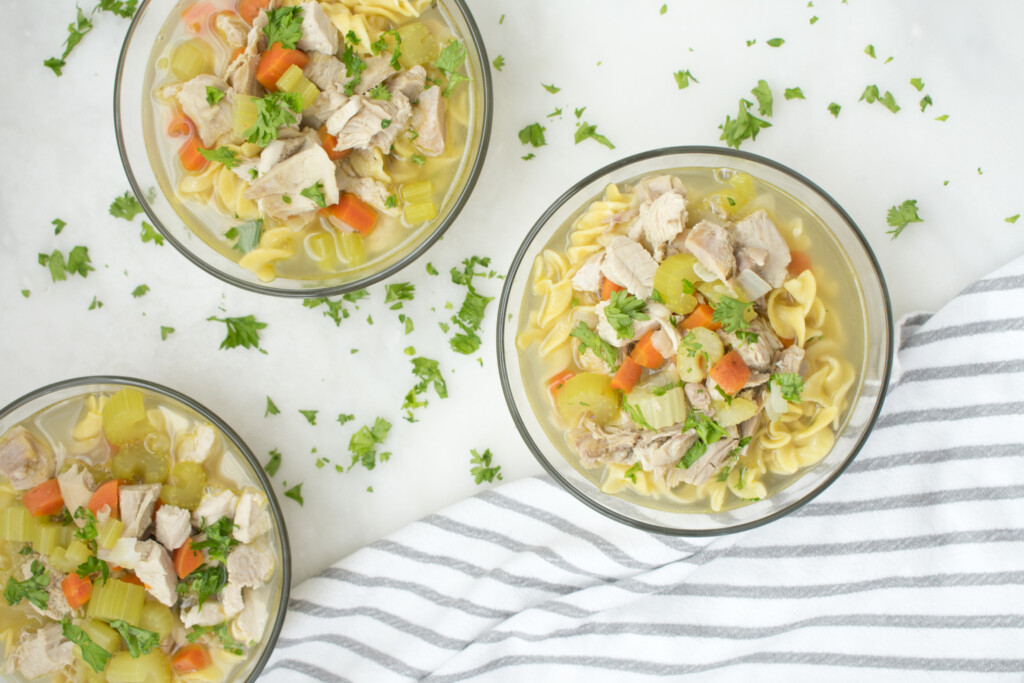 Quick and easy – it's one of the most popular recipe categories. Everyone from Ina Garten to Jacques Pépin has a cookbook on the subject.
Most of us are looking for ways to cut down on our time spent in the kitchen. Even those of us who love to cook need recipes that can be made in minutes. We need recipes that can be made in the 30 minutes we have between getting home from work and driving to soccer practice or the time between helping with homework and putting the baby down for the night.
For my family, I look for recipes I can make in the time it would take me to run through a drive-thru. Since we spend so much time in our car, it's all too tempting to order dinner through a drive-thru window rather than go home to an hour of cooking and dirty dishes. When my pantry is full of food that can be turned into a quick dinner, it's much easier to pass on the temptation of fast food.
January is a good time to rethink family dinners. It's time to assess what works and what doesn't, and what we need to restock in the pantry or store in the freezer to make dinnertime easy and delicious. Is that asking too much? No! As parents, we're the captains of our ship, and it's up to us to find solutions to keep things ship shape and to enjoy life (even in the kitchen) along the way.
---
Add these ingredients to your shopping list for the week, so you'll have everything you need for a dinner you can throw together in minutes. Add rotisserie chicken if you like. Buy your carrots pre-shredded to make it easy.
Sesame Peanut Noodles
Serves 4
8 ounces linguine
1 cup red wine vinaigrette salad dressing
2 tablespoons peanut butter
2 teaspoons sesame oil
2 teaspoons soy sauce
1 teaspoon sriracha
½ cup red bell pepper, cut in thin strips
½ cup pre-shredded carrots
2 scallions, chopped
Bring large pot of water to a boil over high heat. Break linguine in half and add to the pot. Reduce heat to medium-high and cook, 7-8 minutes.
Whisk together the vinaigrette, peanut butter, sesame oil, soy sauce and sriracha until smooth. Set aside.
Drain linguine. Add to large serving bowl. Pour dressing over pasta, stirring to combine. Add bell pepper, carrots and scallions. Stir until all ingredients are coated. Serve immediately or cover and store in refrigerator to serve later as a cold salad.
---
This one may not appeal to picky eaters. But adventurous little kids and teens will love the flavors in this pasta dish. Stock up on a few packages of tortellini and keep them in the freezer for busy nights. Just add a few extra minutes of cooking time if frozen. If you don't have any basil, use a teaspoon of pesto from a storebought jar if you have some in the refrigerator.
Cheese Tortellini with Tomato and Artichoke
Serves 4
1 (9-ounce) package refrigerated cheese tortellini
1 (6-ounce) jar marinated artichoke hearts
1 tablespoon chopped fresh basil
1 pint grape or cherry tomatoes
1 teaspoon capers, drained
¼ cup parmesan cheese
Bring a large pot of water to a boil over high heat. Add tortellini, cooking over medium-high heat, about 5-6 minutes.
Place artichoke hearts, basil and tomatoes in a food processor. Pulse 10 times. Stir in capers.
Drain tortellini. Add to large serving bowl. Pour tomato mixture on top. Sprinkle with parmesan cheese.
---
You can make this heartier by putting the rice and bean mixture in tortillas, sprinkling with grated cheese and avocado. Starting with microwaveable bags of ready rice saves times when you have none to spare.
One-Dish Mexican Black Beans and Rice
Serves 4
2 (8.8-ounce) pouches ready-to-serve Spanish-style rice
2 (15-ounce) cans black beans, drained and rinsed
2 (4-ounce) cans chopped green chiles
¼ cup chopped fresh cilantro
Prepare rice according to package directions.
Combine black beans and green chiles in a microwave-safe bowl, and microwave on high for 2 minutes. Stir in rice and cilantro. Serve immediately with your favorite toppings.
---
This fried rice serves two but can easily be doubled. Make it speedier by using pre-chopped veggies from the grocery store.
Pork Fried Rice
Serves 2
1 boneless pork loin chop (6 ounces), cut into 1/2-inch pieces
1/4 cup finely chopped carrot
1/4 cup chopped fresh broccoli
1/4 cup frozen peas
1 green onion, chopped
1 tablespoon butter
1 large egg, lightly beaten
1 cup cold cooked rice
2 tablespoons soy sauce
1/8 teaspoon garlic powder
1/8 teaspoon ground ginger
In a large skillet, sauté the pork, carrot, broccoli, peas and onion in butter over medium-high heat until pork is no longer pink, 3-5 minutes. Remove from skillet and set aside.
In same skillet, cook and stir egg over medium heat until completely cooked. Stir in the rice, soy sauce, garlic powder, ginger and pork mixture.
---
Canned Soup Hacks
Canned soup can be a quick dinner when you're short on time or money. It's a good way to stretch dinner until you can get to the grocery store. Add a grilled cheese sandwich if you have a few extra minutes. Here are some ways to doctor a canned soup to punch it up a bit.
Chicken Noodle Soup:
Add a handful of baby spinach to hot chicken noodle soup. Drizzle a little extra-virgin olive oil and parmesan cheese.
Mix a small can of corn into the soup. Kids who like corn will love it.
Tomato Soup:
Drizzle heavy cream to add richness to plain tomato soup. Sprinkle with fresh basil before serving.
Stir in pesto and croutons to add flavor and texture.
Tortilla Soup:
It may be obvious, but adding crushed tortilla chips and grated cheese to canned tortilla soup definitely takes it up a notch.
Make it fresh by topping with chopped avocado, cilantro or bell peppers.
Natalie Mikles is a mom of three – 12-year-old twin girls and an 11-year-old boy. She writes about food, sharing recipes for busy families and picky eaters. She has been recognized for her food columns as well as features on families and issues affecting local children. She loves pizza and movie nights with her family.
---