Presentation Is Everything
With a little imagination, you can create lunches even picky eaters will love.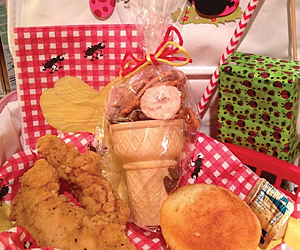 It seems everyone has trouble coming up with new ideas for school lunch.
Even the most creative moms find themselves in a lunchbox rut, and it's no wonder. If your kid takes his or her lunch to school every day, that's approximately 20 times a month you're staring into the pantry, trying to find a balance between nutritious and delicious.
At the end of last school year, one of my preschoolers said to me, "Please don't make me any more peanut butter sandwiches." I couldn't blame her. Fresh out of ideas, I had relied on PB&J for so many days in a row that she didn't want to see another one for a long time.
So, I vowed to make lunch more innovative, interesting and tasty this year. I've asked my kids to be involved in the process, which I think makes them more vested at lunchtime.
My kids are willing participants in making dinner. They slice the fruit, butter the bread and set the table. But school lunches have always been a solo endeavor. I'm either making them once the house is dark and everyone is tucked in, or, in the mad rush of morning between braiding hair and making sure teeth have been brushed.
Before this school year began, I took the kids to the grocery store with a job to keep their eyes out for food they would like to see in their lunchboxes. They gravitated toward colors, choosing clementines, small red apples and celery sticks.
We also bought the ingredients to make some homemade fiber- and protein-rich snacks to take to school. Their favorites have been the peanut butter cookies made with lentils and a recipe discovered on Pinterest for energy bites made with oats and flaxseed, not to mention chocolate chips – their favorite part.
I've also been inspired by Merri Beth Rasor, super grandma to 7-year-old Emma. Teachers and kids at Monte Cassino know Merri Beth for her unbelievable lunchbox creations.
While the kids around her are unwrapping boring ham sandwiches and plastic bags of pretzels, Emma opens a themed lunch box nearly every day. For example, a picnic-themed lunch included a red and white gingham napkin, fried chicken, biscuit, an ice cream cone filled with dried fruit and a juice box wrapped in ladybug tissue paper.
Merri Beth started making these special lunches to entice her picky granddaughter to eat more. If you first eat with your eyes, Emma's lunchbox is a feast.
It has now become a special ritual between grandmother and granddaughter.
"It's something I think she'll always remember," Merri Beth said.
Emma's not the only one who looks forward to seeing what's in her lunchbox. Her friends also like taking a look to see what her grandmother has come up with.
I don't have Merri Beth's creativity, but I've learned from her the importance of making lunchtime fun. It's a great idea, particularly for parents who struggle with picky eaters.
It doesn't take much, even simple touches like stickers and fun straws, to make a kid feel special.
Thinking Outside the Lunchbox
Here are five of Merri Beth Rasor's themed lunchbox ideas.
State Fair – Corn dog (double wrapped in foil to stay warm), cinnamon roll and small red- and white-striped box of popcorn.
Back to School – Sandwich cut into triangles, string cheese with a Bugle (corn chip snack) and raisin on the tip to look like a pencil, apple with a gummy worm tied to the stem and a juice box wrapped in school bus yellow tissue paper with black wheels drawn on the side.
Lady and the Tramp – Thermos of spaghetti, breadsticks, and napkin tied with a bow. Merri Beth also included a picture from the movie, which she attached to the inside of the lunchbox.
Parisian Lunch – Sandwich made on a French roll, apple slices with mini marshmallows and Madelines for dessert.
St. Patrick's Day – Green-tinted spaghetti, Sprite with a green straw and green snack cakes.
Kids can be suspicious of "green things" in their food. This chicken salad is green-free. Pack it with whole-wheat crackers or inside a whole-wheat hot dog bun for a change of pace.
Chicken Salad for Kids
2 cups cooked and shredded chicken
1 cup chopped apple
1 tablespoon lemon juice
3/4 cup mayonnaise
2 hard-boiled eggs
Salt and pepper, to taste
Combine chicken, apple, lemon juice and mayonnaise. Fold in eggs. Taste, and season with salt and pepper.
Put these ingredients between two slices of bread, and kids might shrug. But, shimmy them on a skewer, and they'll love it.
Club Sandwich Skewers
Whole-Wheat Bread
Tomato
Lettuce
Turkey
Ham
Cheddar Cheese
Cooked bacon
Small pickles
Alternate ingredients on skewers. Cut everything small so it fits nicely on the skewer.
Versions of this recipe have been making their way around Pinterest for some time. Makes a great treat to stash in a lunchbox.
No-Bake Energy Bites
1 cup old-fashioned oats
1/2 cup coconut flakes, toasted
1/2 cup peanut butter
1/2 cup ground flaxseed
1/2 cup chocolate chips
1/3 cup honey
1 teaspoon vanilla extract
Stir all ingredients together in a medium bowl. Cover, and let chill in the refrigerator for 30 minutes.
Once chilled, roll into 1-inch balls. Store in an airtight container for up to 1 week.
Use last night's leftover chicken for these yummy wraps. This recipe makes two large wraps or four child-size servings.
Hummus and Chicken Wraps
2 spinach flour tortillas
1/4 cup hummus
2 boneless, skinless chicken breasts, cooked and thinly sliced
1 cup mixed greens
1/4 cup feta cheese crumbles
Drizzle of your favorite salad dressing
Spread hummus over each tortilla. Top with chicken, greens and feta. Drizzle salad dressing over both.
Wrap up each tortilla, then slice in half for four total portions.
---