Party Ideas From Real Tulsa Moms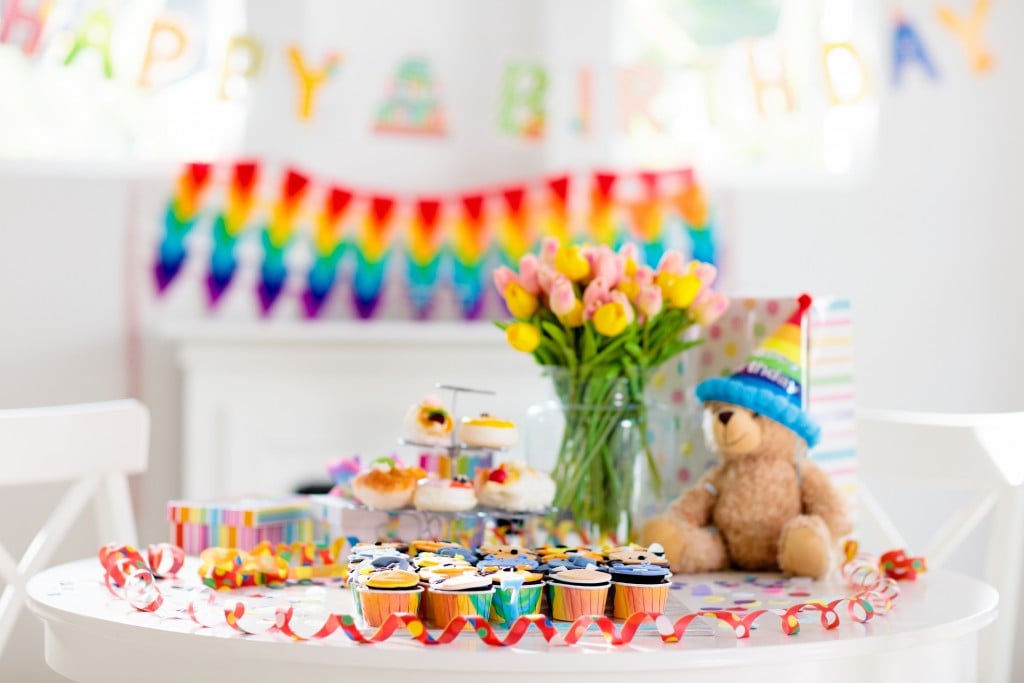 Whether it's an at-home, informal gathering for a handful of friends or a meticulously choreographed, blow-out extravaganza – your child's birthday party is a special, once-a-year celebration. It is the stuff of lasting childhood, and family, memories.
CELEBRATING AT HOME
"If there's going to be a party, I'd like to be the one hosting it," said Tulsa mom Whitney Eslicker. It was a no-brainer, then, that she would throw her son Jett's second birthday bash in the family's home. The party, which featured a Yo Gabba Gabba theme, still has attendees abuzz many months later, with its hand-painted pumpkins resembling characters from the favorite kids' show and dazzling candy buffet.
With a guest list numbering five or 50, hosting a party at home always carries a certain level of intimacy and automatically infuses the festivities with a personal touch. Terren Caswell, area mom of 2-year-old Reese, waxed nostalgic on her little girl's last chevron motif (a graphic zig-zag design) inspired birthday party, which she also held at home. "When you look around [your home] and see everyone chatting and enjoying themselves, you realize what you're celebrating…it brings everything together."
Hosting a party at home also allows parents a level of control over decorations, food, timing and budget that may not be possible for parties held at other locations, noted Tulsa mom Whitney Ellsworth who held her daughter Olivia's first birthday at home.
There are downsides of course, Ellsworth said, like the burden of set-up and clean-up that falls squarely on the hosting family's shoulders. To help ease the drudgery and make party day more relaxed, Eslicker suggests setting up at least a day before the party and using disposable paper goods where appropriate to make post-party clean up a cinch.
OUTSOURCING THE FUN
Shawna Markman, a Bixby mother of three, is a big fan of hosting her children's birthday parties "on location" at some of the great venues the Tulsa area has to offer. In addition to being less of a mess in her home, Markman said her two sons began asking for specific birthday party locations as they got older. At his last birthday party, her eldest son Noah requested a party at Incredible Pizza (incrediblepizza.com) followed by a sleepover at an area hotel for three friends. Her husband chaperoned and everyone was thrilled with the special "guys night out."
Though Kristie Grossman, mom to 13-year-old Jack, said that planned birthday parties are starting to trickle off in her son's teenaged-friend group, she recalled his 8th birthday party with an "Underdog the Movie" theme. The family had just adopted a beagle from the Humane Society that drew a striking resemblance to the movie's title dog – and they celebrated by taking Jack and his friends to a screening at the Riverwalk Theater (www.selectcinemas.com), accompanied by their new beagle dressed as Underdog (with the theater's advance permission, of course!). In lieu of gifts, Jack requested that all his friends make a donation to the Humane Society.
Outsourced parties, in addition to taking away stress over at-home mess, also mean built-in entertainment for the kids. Whether running around the open spaces at one of Tulsa's beautiful parks or playing video games at Chuck E. Cheese, the pressure to amuse a bunch of kids is practically eliminated. Party venues that cater to children's parties often provide the option of food, drinks, cake and even decorations based on parents' desires and budgets – it truly can be one-stop-party planning, with someone else to take out the garbage at the end!
GATHERING INSPIRATION
Local moms say that the top online resources they use for party planning inspiration are Etsy (etsy.com) – an online collective of at-home crafters and small business people, and Pinterest (pinterest.com) – an online community pin board that allows members to share style and design ideas.
"I'm a Pinterest addict," admits Eslicker, who started planning her son's party very early. "I think of ideas as the year goes along and if I didn't have Pinterest I wouldn't remember them when I wanted to implement them," said the savvy mom, who holds a masters degree in fashion design and styling. She also found 80 percent of her décor ideas on Etsy.
Drawing inspiration from her daughter's favorite book as well as a piece of artwork hanging in her nursery, Ellsworth created a "You are My Sunshine" theme. She turned to Etsy for décor ideas and, though she ordered some items such as a personalized cake stand and birthday banner from the site, she also found some things too expensive. "A lot of it I would see on Etsy and wonder if my mom and I could do that," she said. After falling in love with the look of hand-ruffled crepe paper, she found a DIY video online, and she and her mom crafted all the crepe paper streamers themselves for a fraction of the cost.
Not every party needs to be centered on a traditional theme such as a cartoon character or a favorite book, notes Caswell. Whether drawing upon a favorite memory or even a style, inspiration that ties a party together can come in the form of anything that delights you or your child. Caswell sought inspiration for her daughter's party from a favorite design motif that is quite popular right now – the chevron – and infused all the décor, cakes and cupcakes with a spin on the rainbow-colored design.
Grossman recalls how her own dream of one day hosting a pie-throwing party was the inspiration for a real food-fight themed backyard bash for her son's 10th birthday. With the boys outfitted in combat gear of plastic ponchos and sunglasses from the dollar store, she devised a set of games and obstacles using inexpensive foods to make instant mashed potato snow balls, whipped cream pies, Jello-filled water balloons and cooked cold spaghetti. "It was hilarious to watch them running all over the yard," she recalled, "but they had so much fun." She even received phone calls and emails from the boys' moms after the fact saying it was "just the best party ever."
CALLING IN THE PROS
But not everyone is naturally creative – or has the time to do extensive Internet research to craft the perfect birthday party. This is where a new breed of kid-specific party planners on the Tulsa scene comes into play. Rachel Orth, a stay-at-home mom of four youngsters with a background in advertising and visual merchandizing, just started Modern Party (modernparty.net) – a child's party styling and rental business out of her Jenks home. The business grew out of her own love of throwing creative birthday parties for her children on a budget, and not being able to find local companies that offered the kind of services and rentals she was looking for.
The Inviting Place (invitingplace.com), a local stationary and party store, also jumped on the kids' party bandwagon this year with the launch of "The Inviting Place Events." Whitney Steen, who has long enjoyed party planning, now offers customers the option of complete party planning for their child's party from invitations to food, or just a quick collaborative consultation on theme ideas and vendor referrals.
"Party planning can help you decide colors and theme and take the stress off the parent," Orth said. "It's a lot of work trying to create a birthday party whether small or large." Orth suggests calling in some help, even for parents who are DIY types. "It's kind of nice to have someone take care of it for you," she said.
USING LOCAL VENDORS
Tulsa is overflowing with local businesses that cater to helping parents execute the perfect birthday party. One such small business woman, Linda Vincent of Linda's Cupcakery (facebook.com/LindasCupcakery), works in accounts payable by day and cupcakes by night (and weekends!). Vincent, whose year-and-a-half old business operates exclusively by word-of-mouth referrals, prides herself on cupcakes that not only look beautiful but also taste good and feature all natural ingredients. She works with parents to design cupcakes that carry out the theme of the party.
And what party would be complete without a traditional cake? Eslicker turned to the pastry crafters at Nibbles Café (grandeuraffaires.com) – and achieved her dream theme cake by emailing the bakery with specific photos she found online.
Hopping on the current trend of candy buffets, local candy shops are providing all of the fixings to create magazine-worthy displays that will have guests scooping up the fun. While Caswell purchased her own glass jars and vases for displaying the goodies and selected sweets from Sweet Tooth Candy Shop (sweettoothtulsa.com), the store also provides a rental and set-up service that will create a customized buffet for your party. Lolli and Pops, an old-fashioned candy emporium at the Woodland Hills Mall (lolliandpops.com), carries a huge selection of novelties perfect to outfit a party candy bar or fill up goody bags. Another option to round out a candy buffet or fun-food party favor is deliciously flavored handmade popcorn from Tulsa's Premier Popcorn (premier-popcorn.com), notes Eslicker, who featured the sweet and salty treats at her son's party.
Area moms also suggest setting aside a part of your party budget for hiring a photographer, even to the exclusion of other party details such as fancy foods. Ellsworth hired one of her pledge sisters in college, Lindsay McDaniel, to photograph her daughter's party. "You always wake up the next day and say 'oh I wish I caught that," she noted. Caswell enlisted the professional photography skills of her cousin who owns Lacy J Photography (facebook.com/lacyjfoto) for her daughter's party and Eslicker called in TG Photography to capture the memories at her son's party.
With a photographer there "I'm not worried about taking the pictures or missing something," Eslicker noted. She suggests that if a professional photographer is not possible in your party budget, seek out another area mom with a passion for photography to take photos for a small fee, or ask a friend or relative who will be attending to be the designated photographer at your child's party – leaving you free to enjoy the festivities.
And for kid-sized tables, extra seating or a bounce house for the backyard, local companies like ABCO (abcoparty.com), Party Pro Rents (partyprorents.com) and Bounce Pro (bouncepro.net) offer myriad options for all budget levels. Modern Party also rents out kiddie-sized tables, chairs and custom linens to complete a polished party look.