The (Modern) Art of Parenting
A FREE, Virtual Parenting Summit April 1-8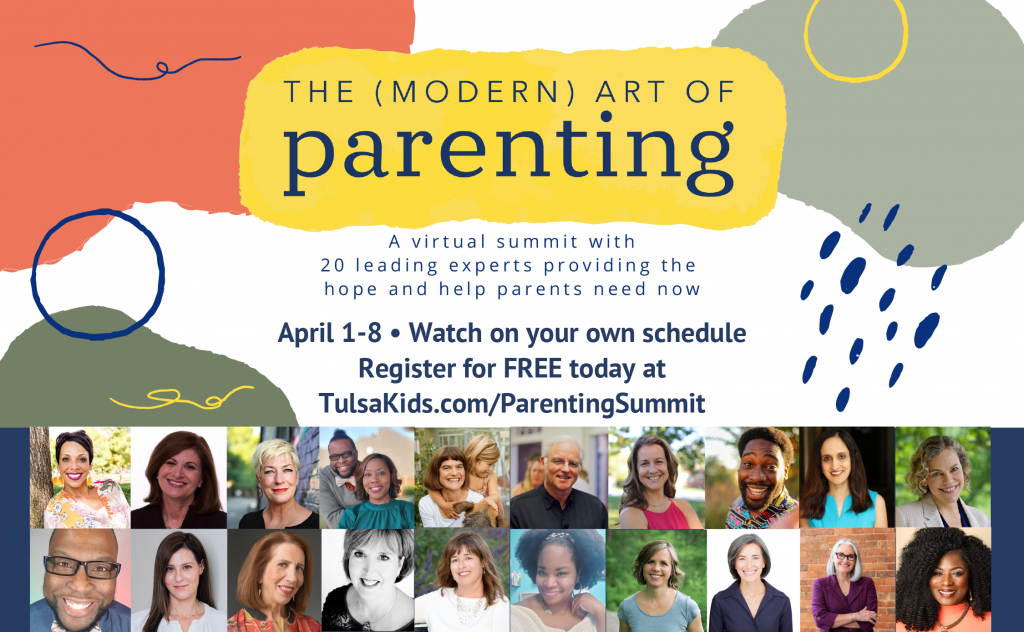 100% online
100% convenient
100% practical
100% FREE
20 leading experts providing the help and hope parents need today.
You're not raising your mama's child. Times have changed drastically since today's parents were kids, which means, either by force or by choice, we have to parent our own kids in entirely new ways.
To help parents navigate today's challenges, the FREE Modern Art of Parenting Virtual Summit features nationally-known parenting experts providing 20 sessions on topics like:
Raising resilient kids
Talking to kids about sexual health
Parent overwhelm
Finding the balance with technology and social media
Affirming kids' gender identities
Teaching kids to take calculated risks
Mindful parenting
Talking to kids about racial and social injustice
And much more!
All presentations will feature practical, positive tips you can implement now to help raise resilient and independent kids who thrive in today's ever-changing landscape of technology and outside influences.
Speakers and Topics
Dr. Michele Borba: 7 teachable skills that set happy, healthy kids apart
Dr. Borba is an internationally-renowned educator, award-winning author and parenting child expert recognized for her solution-based strategies to strengthen children's character and resilience and reduce peer cruelty. A sought-after motivational speaker, she has spoken in 19 countries and five continents and served as a consultant to hundreds of schools and corporations. Dr. Borba was recently awarded the Lifetime Achievement in Character Education by character.org. The author of 24 books, Borba's latest is Thrivers: The Surprising Reasons Why Some Kids Struggle and Others Shine.
Hunter Clarke-Fields: Raising kind, confident kids through mindful parenting
Hunter Clarke-Fields, MSAE, RYT, is the creator of the Mindful Parenting course, host of the Mindful Mama podcast and author of the bestselling book Raising Good Humans: A Mindful Guide to Breaking the Cycle of Reactive Parenting and Raising Kind, Confident Kids. She helps parents bring more calm and peace into their daily lives. Hunter has more than 20 years of experience in meditation practices and has taught mindfulness to thousands worldwide. She is the mother of two active daughters, who challenge her everyday to hone her craft.
Dr. Tamecca Rogers: How to talk to kids about racism and social injustice
Dr. Rogers is the director of diversity, equity and inclusion at Tulsa Technology Center, as well as an author, publisher and CEO of the nonprofit organization Mominate, which helps financially-challenged mothers and their children. She also served in the United States Navy as well as an educator in several secondary and post-secondary institutions. Dr. Rogers is a mom of three boys, and she's published several children's books in conjunction with her youngest son.
Richard Louv: How connecting with nature improves family mental healths
Richard is a journalist and New York Times best-selling author of 10 books, including Last Child in the Woods: Saving Our Children from Nature-Deficit Disorder; The Nature Principle; and Vitamin N. His newest book is Our Wild Calling: How Connecting with Animals Can Transform Our Lives — and Save Theirs. His work with kids and nature led him to co-found the internationally-impactful nonprofit Children & Nature Network. He speaks frequently around the world and has written for the New York Times, the Times of London, Parents Magazine and many others. Married to Kathy Frederick Louv, he is the father of two young men, Jason and Matthew.
Dr. Laura Markham: Using mindfulness and connection to raise resilient, joyful children and rediscover your love of parenting
Dr. Markham earned her PhD in clinical psychology at Columbia University and has worked as a parenting coach with countless families across the world. She is the author of several books, including Peaceful Parent, Happy Kids: How To Stop Yelling and Start Connecting. Her website AhaParenting.com serves up Aha! Moments for parents of babies through teens. Dr. Laura's aspiration is to change the world, one child at a time, by supporting parents. The proud mother of two thriving young adults who were raised with her peaceful parenting approach, she lives with her husband in New York.
Dr. Melisa Holmes: Talking to kids about sexual health (even if you were never taught yourself)
Dr. Holmes is a mom, ob-gyn and co-founder of Girlology, a digital health platform supporting youth and their caregivers in their personal health and wellness journeys. She has more than 20 years experience as an ob-gyn with expertise in pediatric and adolescent gynecology and as an educator for medical students, residents and colleagues. She has authored five books for youth on puberty and sexual development, including her new book, Youology: A Puberty Guide for Every Body.
Andre & Danielle Daughty: Are kids really behind academically?
Danielle is a a former second grade teacher and now an elementary instructional coach, where she helps educators grow into leaders and helps parents cultivate strategies for school and home. Andre is a 20-year education industry veteran, having taught at the elementary, secondary and collegiate levels. Now the sought-after speaker provides workshops and professional development seminars to educators around the country, highlighting practical ways to use today's teaching strategies. Danielle and Andre are the proud parents of two teenagers and host the podcast See, What Had Happened about the education industry.
Cathy Cassani Adams: Zen Parenting: Taking care of our kids starts with caring for ourselves
Cathy co-hosts the Zen Parenting Radio podcast with her husband, Todd, and is author of the new book Zen Parenting: Caring for Ourselves and Our Children in an Unpredictable World as well as Living What You Want Your Kids to Learn: The Power of Self-Aware Parenting, which won a Nautilus Award, National Indie Excellence Award and an International Book Award. Cathy is a clinical social worker, certified parent coach, former elementary school educator and yoga teacher. Cathy teaches in the Sociology and Criminology Department at Dominican University, and she lives outside of Chicago with her husband and three teenage daughters.
Erica Komisar: Addressing anxiety and depression in children and teens
Erica is a clinical social worker, psychoanalyst and parent guidance expert who has been in private practice in NYC for over 30 years. She is a contributor to The Wall Street Journal, The Washington Post and The New York Daily News and a contributing editor to The Institute for Family Studies. She appears regularly on Fox and Friends and Fox 5 News. Her books include Being There: Why Prioritizing Motherhood in the First Three Years Matters and her recent title, Chicken Little the Sky Isn't Falling: Raising Resilient Adolescents in the New Age of Anxiety.
Dr. Hansa Barghava: Stress busting tools for parents & kids
As a physician and educator for over 15 years, Dr. Bhargava is passionate about making a difference in families' lives. As a staff physician at Children's Healthcare of Atlanta, senior medical director at WebMD and currently as chief medical officer at Medscape Education, her goal is to make factual and relevant health information accessible for all. She is also an elected member of the executive committee for the Council on Communications and Media for the American Academy of Pediatrics. She is author of the book Building Happier Kids: Stress-Busting Tools for Parents. Her favorite role is mom to her two amazing teenagers, with whom she resides in Atlanta.
Sara Cunningham: Affirming and normalizing gender identity in children and adults
The founder of the nonprofit and global movement Free Mom Hugs, Sara is an activist and author of How We Sleep at Night: A Mother's Memoir. Free Mom Hugs is dedicated to advocacy for the LGBTQIA+ community. Sara is in partnership with actress Jamie Lee Curtis, who has purchased the rights to her book and will release a movie based on her story. At the heart of Sara's work and advocacy, she uses her own experience and learned knowledge to help parents and children have authentic relationships, and she is passionate about connecting with faith, civic and business leaders to make the world a kinder, safer place for our LGBTQIA+ family.
"Mr. Chazz" Lewis: Instilling an empathetic mindset in children and raising world changers
Mr. Chazz's main goal is to empower activists and instill an empathetic mindset in children, and the hundreds of thousands who follow him on TikTok know he does this in such a fun, upbeat and memorable way. Lewis earned his master's degree in executive leadership at American University and is constantly in "teacher mode," teaching and inspiring kids, parents and educators to be world-changers.
Diana Graber: How to guide kids to develop a healthy relationship with technology
An expert on digital literacy, Graber writes, presents, and is interviewed about technology's impact upon human behavior. Her no-nonsense approach comes from being an educator, media producer, academic and, most of all, a mom. She developed (and still teaches) Cyber Civics™, the popular middle school digital literacy program currently being taught in schools in 48 U.S. states and internationally. Graber has a B.A. in communication studies from UCLA and an M.A. in Media Psychology and Social Change from Fielding Graduate University. Her book is Raising Humans in a Digital World: Helping Kids Build a Healthy Relationship with Technology.
Stacey Johnson, LPC: Tips to alleviate parent overwhelm
Stacey is a life-speaker, entrepreneur and a licensed professional counselor specializing in experiential therapy and certified in the Daring Way, based on the research of Brené Brown. She owns a private counseling practice where she empowers identity work and mental health for women, leads therapy retreats and women's masterminds, and co-counsels couples with her husband, Chris. Her podcast, The Girly Bliss Show, was founded to provide inspiration and hope for women. Her greatest accomplishment and joy in life comes from her eight amazing children, six of whom are adopted miracles.
Jameka Lewis: How to teach kids to love to read and build a diverse family library
Jameka is the manager at the African-American Research Library in Denver, Colo. She holds a master of library science degree, enjoys educating lifelong learners and offers courses and consultations related to equity, diversity and inclusion in libraries and other institutions. Jameka is the founder of Give a Child a Library, an organization that provides free books to children in kindergarten through 12th grade around the country. Jameka's philosophy is that anyone can learn when knowledge is presented in a way that appeals to them, regardless of age or ability.
Dr. Paula Durlofsky: Social media's impact on mental health and how to address it
As a practicing therapist for over 18 years, Dr. Durlofsky helps individuals, couples and families to reach their full potential for leading lives with passion and purpose. She is a member of the American Psychological Association's Device Management and Digital Intelligence committee, whose goal is to support healthy relationships with technology through intelligent engagement and modeling positive digital citizenship. She has taught as an adjunct professor and as an instructor to medical residents specializing in internal medicine and psychiatry. Her book is titled Logged In and Stressed Out: How Social Media Is Affecting Your Mental Health and What You Can do About It
Vicki Jay: Helping children cope with grief & loss
Vicki serves as CEO for the National Alliance for Children's Grief and was founding director of Rays of Hope Children's Grief Center in Midland, Texas, serving there for 10 years. Prior to that, she worked for nine years in hospice. She is recognized for her role in children's advocacy and for her strengths in public speaking and community education. Jay has received many awards and recognitions for her work with nonprofits and in the field of bereavement, including the National Jefferson Award for Community Service.
Dr. Anne Fishel: Why family dinners are critical for our mental well-being (and tips to make them happen)
Dr. Fishel is an associate clinical professor of psychology at the Harvard Medical School and director of the Family and Couples Therapy Program at Massachusetts General Hospital in Boston. She has a private practice focusing on individual, couples and family therapy and also co-founded the nonprofit initiative The Family Dinner Project. She is the author of Eat, Laugh, Talk: The Family Dinner Playbook. Dr. Fishel and her husband are the parents of two young adult sons.
Michaeleen is a correspondent for NPR's Science Desk. In 2015, she was part of the team that earned a George Foster Peabody award for its coverage of the Ebola outbreak in West Africa. Prior to joining NPR, Doucleff was an editor at the journal Cell, where she wrote about the science behind pop culture. She has a doctorate in chemistry from the University of California, Berkeley, and a master's degree from the University of California, Davis. Her first book is Hunt, Gather, Parent: What Ancient Cultures Can Teach Us About the Lost Art of Raising Happy, Helpful Little Humans which is a New York Times bestseller. She lives with her husband and daughter in Alpine, Tx.
Andre Daughty: Helping kids to take calculated risks to achieve their version of success
Andre is a 20-year education industry veteran, having taught at the elementary, secondary and collegiate levels. Now, the sought-after speaker provides workshops and professional development seminars to teachers and educators around the country, highlighting practical ways to use today's teaching strategies, with a focus on building school culture, motivating excellence, understanding the at-risk student population and moving toward education equity. He and his wife Danielle, also an educator, are the proud parents of two teenagers, and together they host the podcast See, What Had Happened to share stories from their experiences in the education industry.