OSU College of Osteopathic Medicine: Continuing the Mission of Preparing Physicians for Oklahoma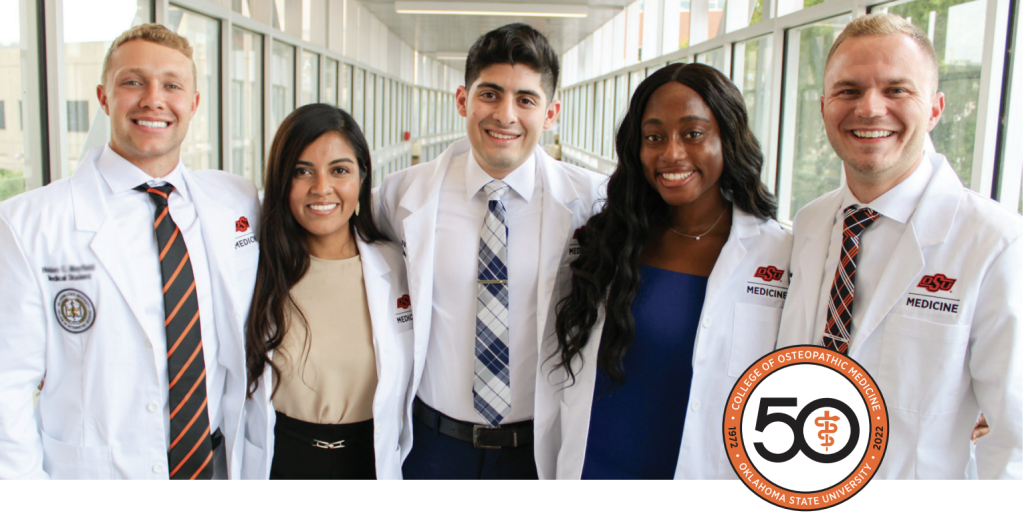 Fifty years ago, Oklahoma was combating a rural physician shortage so severe that state leaders came together to create and pass Oklahoma Bill 461 establishing the Oklahoma College of Osteopathic Medicine and Surgery in Tulsa, which 16 years later became the OSU College of Osteopathic Medicine.
After OSU took over the osteopathic medical school, the next step was growing the institution, which meant adding graduate programs and turning the medical school into a broader health sciences center. The institution was renamed OSU Center for Health Sciences, with the College of Osteopathic Medicine under the OSU-CHS umbrella.
OSU-CHS works closely with OSU Medical Center— the teaching hospital — in downtown Tulsa that has become the hub of the OSU Academic Medical District. A new VA hospital and psychiatric hospital are being constructed just across the street, and more than 100 new OSU Medicine physicians and residents will work and train at both facilities.
OSU Medicine also has a presence throughout the Tulsa metro area through its network of clinics including family medicine, pediatrics, OB/GYN, surgery, addiction medicine, behavioral health and osteopathic manipulative medicine— a unique specialty in osteopathic medicine.
Partnerships are vital to OSU-CHS and its success. One of the most important is with the Cherokee Nation, which led to the opening of the OSU College of Osteopathic Medicine at the Cherokee Nation, the country's first tribally affiliated medical school.
The purpose of the Tahlequah campus is to attract more American Indian and rural students to OSU- COM who will then return to their hometowns to practice medicine.
"I can't think of a better way to attract and train primary care physicians for rural and underserved Oklahoma," said OSU President Kayse Shrum.