High School Students Get Early Experience with Health Careers
OSU-Tulsa shows off its Center for Health Sciences to high school students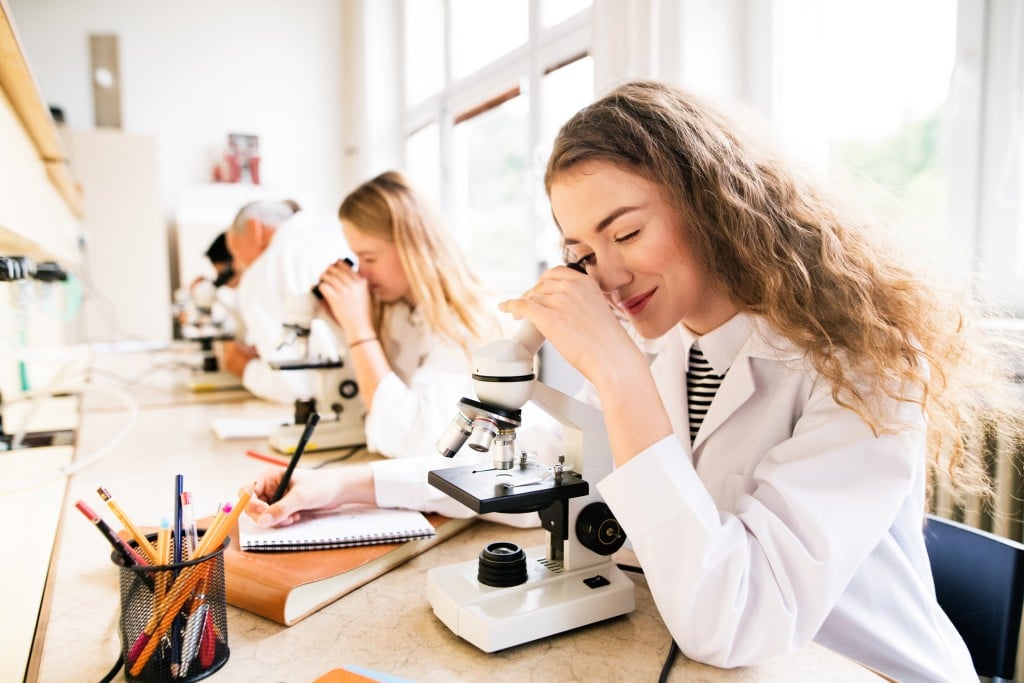 If you're a high school student interested in becoming a physician or working within the healthcare field, the Center for Health Sciences at OSU-Tulsa has three unique outreach programs and two campuses for you to explore your interests.
OSU officially opened its College of Osteopathic Medicine at the Cherokee Nation on the Tahlequah campus in January 2021.
"We are the very first tribally affiliated medical school in the nation. We're very excited about that partnership," said Dylan Tucker, high school outreach coordinator at the Center for Health Sciences at Oklahoma State University.
Oklahoma State University-Tulsa houses the College of Medicine and graduate programs within the Center for Health Sciences, which include athletic training, physician assistant program, biomedical sciences, forensic sciences and master's of health care administration.
Operation Orange is the Center's biggest high school outreach.
This past summer, some of the medical students and staff traveled to five locations across the state – Tahlequah, Ada, Lawton, Stillwater and Enid – giving high school students the opportunity to do simulations.
"They show them essentially the correct way to do chest compressions," Tucker said, "They show them how to intubate a patient. We also brought one of our state-of-the-art mannequins with us. As they were doing something that was supposed to change the heart rate, we had monitors set up so they could see this mannequin reacting to that."
The high school students also had a sample anatomy class at Operation Orange, assisted by the medical students.
"We had a set of lungs. We had hearts. We had brains that these students actually got to hold," Tucker said.
Students from the Athletic Training program also put on a simulation, demonstrating what they do in their classes and how it ties into the healthcare field.
"We try to make it to where it's a lot of fun for them," Tucker said. "We really try to incorporate our medical students with us, so if the high school students have any questions, they're getting a first-hand response from somebody who's going through medical school currently."
Tucker says many high school students come to these events who may not want to be a physician, but they enjoy research or helping people. To reach these students, the Center brings students from other departments to the outreach programs to show students other options in the healthcare field.
Part college fair, part hands-on activities, Pre-Health Round Up is one day a year, and it's coming up on September 20. It showcases everything OSU's Center for Health Sciences has to offer on its campuses: the College of Medicine, biomedical sciences, forensic sciences, healthcare administration, athletic training and the new physician assistant program.
They also showcase programs they don't have on campus, such as nursing.
There are some simulations at Pre-Health Round Up, but it's different from Operation Orange.
"We don't want them to feel like they came to the exact same event," Tucker said.
Pre-Health Round Up is an in-school event, and a lot of teachers bring an entire class to attend. However, it's open to individual students and homeschooling parents and students as well.
The Center for Health Sciences held its second Dr. Pete's Immersion Camp from July 13-15, 2022.
The camp is free, but high school students must apply to attend this 3-day/2-night residential camp. The application process includes writing an essay explaining why they are interested in becoming a physician or pursuing another profession in the healthcare field. Medical students help as chaperones and tour guides.
The Center selected 30 students this year who spent a day on both campuses, took part in simulations and heard current students from all of the programs discuss how they went through the process. The students stayed at POSTOAK Lodge in Tulsa.
"Students heard from our graduate and master's programs, rural, tribal and global health track to give them an idea on what they could specialize in once they are in medical school," Tucker said.
They also did a simulated paleontology dig.
The camp started in 2018 but was canceled during the pandemic. Representatives from all the programs in the Center for Health Sciences come to Dr. Pete's Immersion Camp.
"If going back and working in your community that you came from is something that's important to you and you come from a rural community," Tucker said, "We have a Rural Health track that can help you with that. We also have a Tribal Health track, if you are Native American and have a goal of going back and maybe working for one of the clinics or one of the hospitals in your tribe."
Tucker says OSU's faculty and staff are approachable to the students.
"It very much feels like the Cowboy family. We're all here to watch them succeed, and we're here to help them succeed," Tucker said. "So, when we get high school students on campus that are interested in it, you can kind of already see people taking them under their wings."