NSU Provides Opportunity with RiverHawks Scholar Program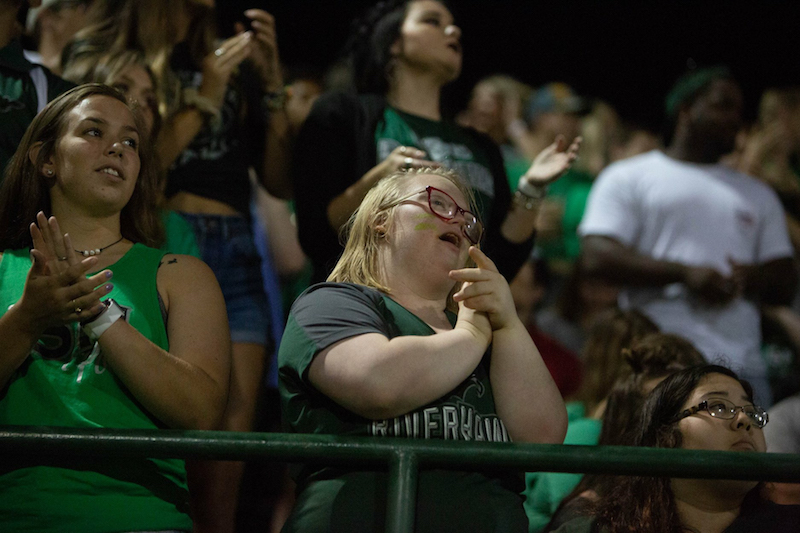 With one year of service under its belt, Northeastern State University's RiverHawks Scholar Program is enjoying its fair share of success. Indeed, the program represents a paradigm shift for Oklahoma, as it's the state's first program to provide an inclusive, four-year, post-secondary certificate opportunity for students with intellectual and/or developmental disabilities.
"Up until recently, due to an intellectual disability, certain students couldn't go to college," said Program Director Justin Chase. "Truth is, there's probably many people you know who have an intellectual disability – you just don't realize it."
Although this past year's first cohort boasted five students, Program Coordinator Ivy Atkism said in a press release that she hopes to add six to eight more students this fall.
"These students are just tremendous," Chase said. "They want to do well and be independent – they want all the same things other college students want."
While working in conjunction with Lead Learn Live, NSU aims to instill four things through this program: independent living, social skills, academics and career readiness.
"NSU has embraced the students so well," Chase said. "The faculty, the various departments – everybody. I think they recognize these are college students. They're doing the same thing as everybody else. Ultimately, every student there is laying the foundation for the rest of their lives."
Looking at the specifics of the program, students will take two traditional classes and one program class each semester. Throughout the week, they'll spend six hours with tutors. Additionally, each scholar will begin an internship or job placement on campus during the second semester of their freshman year.
Once these students complete their four years at NSU, they will receive a certificate of completion from the program.
"Our ultimate goal is to have 40 students enrolled in the program each year," Chase said. "We want to be the No. 1 transition program in Oklahoma. There are two others in the state who are also very new, but we want to be looked at as the state's premiere program."
For Chase, the most rewarding aspect of RiverHawks is seeing these students step onto the campus, grow, and develop.
"I feel as if my students do more for more than I do for them," the program director said. "This will be my 27th year working in education, and I feel like they've rekindled my fire and enthusiasm."
For more information and an application for the RiverHawks Scholar Program, visit http://www.nsuok.edu/RHScholar. Applications are accepted throughout the year.