Northeastern State University: Oklahoma's Immersive Learning Institution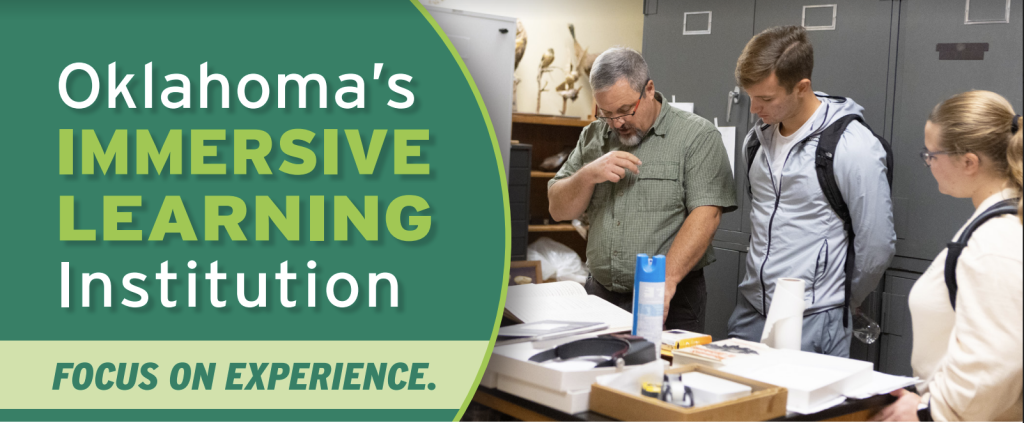 Northeastern State University (NSU) is the state's higher education destination for experiential and immersive learning. Here, students are able to develop their skills through hands-on research, community service, clinical experiences, performances, internships and other opportunities. This built-in immersive learning platform provides students with workforce-ready skills and valuable networking connections that contribute to their careers and lives after graduation.
BENEFITING STUDENTS AND PROFESSIONALS.
The hands-on nature of immersive learning provides students with professional problem-solving opportunities in a developmental academic environment. They are able to practice in their area of study before they even enter the job market. This also allows students to better understand what kind of work they might do in their future profession. Experiential learning also assists employers looking to hire new professionals who already have a growing skill set in a particular field. The practice of immersive learning helps connect students to their future goals.
RESEARCH, SERVICE AND INTERNSHIPS.
Real-word experience is at the center of NSU degree programs. Research, service and internship opportunities equip NSU students with workforce-ready skills when their time on campus is over. From hands-on clinicals in Optometry, Physician Assistant Studies, Occupational Therapy and Speech-Language Pathology programs to industry and field immersion in the performing arts, education, natural sciences, business and technology, and social sciences—there is an opportunity for every student to practice immersive and experiential learning, including research.
THE NSU ADVANTAGE.
These opportunities not only enrich students' time on campus, they prepare students for their future occupations. Even employers are able to partner with NSU to give students short-term, on-the-job training through experiential learning. This partnership with NSU Career Services helps connect students to job opportunities after graduation.
With immersive and experiential learning at the core of NSU's everyday mission, students can be assured that earning a degree from NSU truly does enable them to gather here and go far. For more information, visit Go2NSU.com.