Nourishing a Community for Growth and Success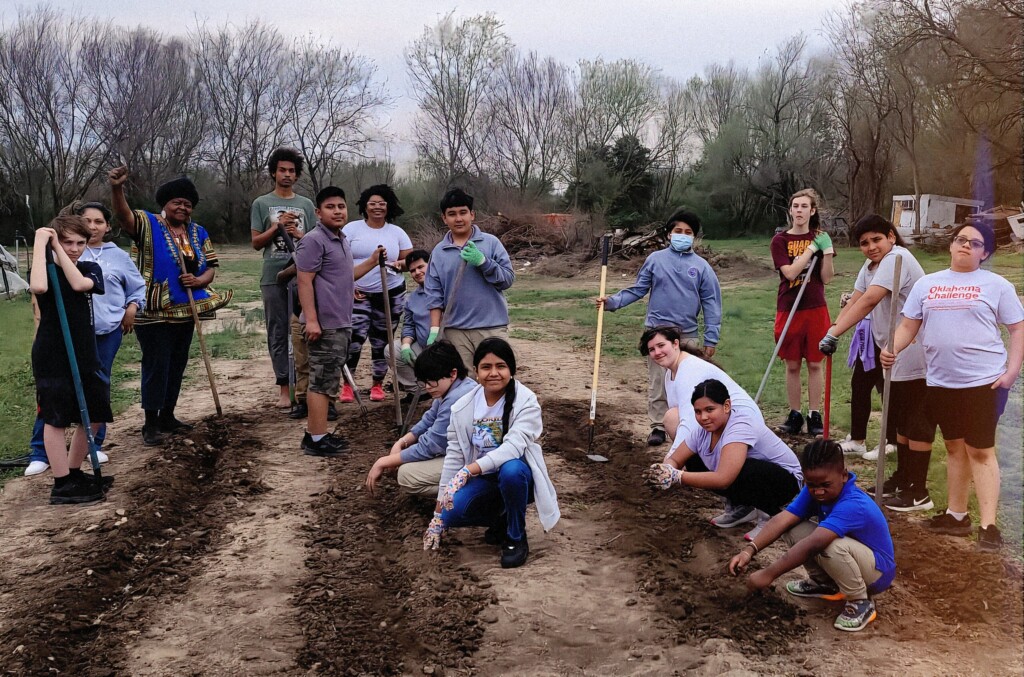 The advantages of teaching children to grow their food from a young age are well known, which is why Billie Parker and Jerica Wortham have launched a new community gardening project. The duo's goal is to encourage healthy food choices, introduce children and the community to garden care and address food insecurity and health disparities.
One of the problems in Tulsa is that there are food deserts in certain areas where people have limited or no access to healthy and affordable food and must rely on convenience stores and fast-food restaurants instead. After 10 years of not having a full grocery store in north Tulsa, Oasis Fresh Market opened its doors in 2021. While it has operated for about two years, there are still pockets of north and west Tulsa where these options do not exist.
Parker, the owner of Black Wall Street Market and Community Farmers Market, runs a community garden in partnership with Jerica Wortham, executive director of J'Parle Art Group. They wanted to equip the children in the community with skills that will help them become self-sufficient and make healthy choices.
A Day in the Garden
When I visited the garden, I quickly learned that the project is more than just a garden, it's a community movement with a diverse group of children from different schools from parts of Tulsa and Osage Counties. Most students came from Flores Middle School.
"Yes, Chrissy Parker, instructor of Flores Middle School, makes sure she has a huge group of children here to help in the garden," Billie Parker said.
When the students grabbed their snacks, Wortham talked to them about the "fruit of the day." She explained that dragon fruit was chosen today because the "kids said they never tasted it before, and we want to expose them to different healthy options."
"Our partnership with Ascension St. John has afforded us the ability to get the supplies needed to start this project," Wortham explained. "We're able to feed the students weekly, purchase tools, prepare for our farmers markets and be included in a network of like-minded individuals dedicated to eradicating the health disparities within our city."
She further explained that the children were not just planting and harvesting, but also learning the skills of cooking, entrepreneurship and art.
What's Growing
While I visited the garden club, the students focused on three gardens. The pizza garden was of great interest. When one student asked, "Excuse me, what's a pizza garden? What does that mean?" Wortham responded, "You get to plant all the ingredients in a pizza! And then we will teach you how to make one!" Another student asked, "Please tell me we aren't planting pineapples in the pizza garden because I don't like pineapples on my pizza." Everyone laughed.
Wortham continued, "And then there will be a salsa garden." At this point, the parents also looked excited. A hand went up to ask a question, "What's the third garden for?" Wortham responded, "It's for anything you would like to plant that we didn't plant in the other gardens." The parents' and children's excitement were evident.
After the Harvest
After the crops are harvested, the lessons of entrepreneurship and collaboration begin. Students literally take the fruits of their labor and sell them at various pop-up markets throughout the community. In collaboration with the (B) Light Project, the students include the arts during their farmers market pop-up events. There will be local artists performing, and the artists' artwork will be displayed.
"The Lord blessed me with this land," Parker said, "so it's all for the community to come out and enjoy it together because we can't do this alone. We need volunteers and people to help each other out, and if they have thoughts we can incorporate, like Black Wall Street, we have to help each other build. My motto is, 'When one is strong, many are stronger.'"
Parker said it was a blessing to see her labor of love coming to fruition because she had been working on the concept since 2017. She was proud of the partnerships that had helped the project gain momentum.
She offers regular classes, welcoming everyone on Wednesdays from 4:30-7:00 p.m., and Langston University has agreed to help build a new greenhouse.
If you, a child you know or a class/school would be interested in helping in the garden, please email jaginctulsa@gmail.com.
Dr. Tamecca Rogers is Director of Diversity, Equity and Inclusion at Tulsa Technology Center. She is a writer and mom to three boys who love adventures.
---