Nothing Says "Comfort" Quite Like Warm Pasta Dishes
Creamy and Cheesy Baked Rigatoni; Easy Spaghetti Carbonara; Linguini with Goat Cheese, Smoked Salmon and Peas; and Muffin Cup Mac and Cheese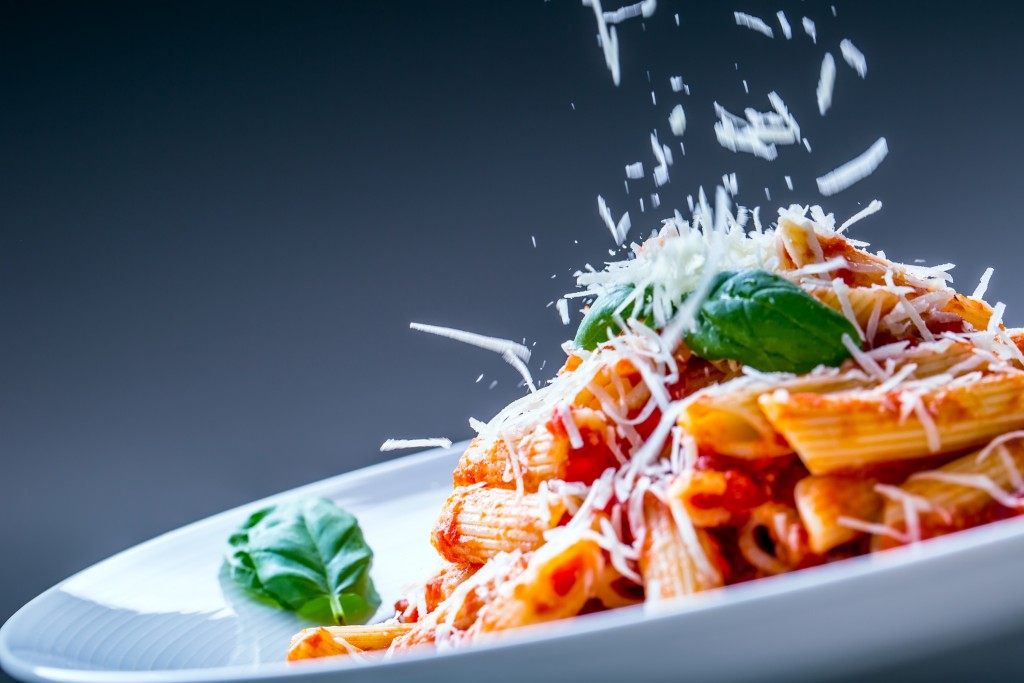 Comfort food is one of the cures for getting through a long winter.
Particularly this year, we need foods that will warm and nourish our bodies and give us a lift. Eating them in a cozy room with a fireplace or lit candles helps too.
Children experience the same crash adults do after the holidays, and can be buoyed by the same things that give adults joy. A simple needlepoint project, painting on canvas, learning to play guitar, baking bread – inviting our children to join us in our winter projects is a good way to sustain us as we continue to social distance and dream of warmer days spent with friends and family. Good food helps, too!
Big bowls of comfort food – think soups, stews and chili – are perfect for cold, dark nights. Another nearly universal favorite for kids and adults is pasta.
Most children are agreeable to a bowl of spaghetti and meatballs, macaroni and cheese or creamy, cheesy baked rigatoni. So we've gathered some of our favorite recipes for winter pasta dishes. These are the kinds of recipes that will have your kids asking for seconds – a thrill for parents of picky eaters. They also make great leftovers, so make extra for dinner the next day, or to put into a thermos for the kids' lunch.
---
This meatless pasta bake is delicious and easy to make. You can substitute ziti, penne or any favorite pasta.
Creamy and Cheesy Baked Rigatoni
Serves 8
1 pound uncooked rigatoni
1 (32-ounce) jar marinara sauce
1 (8-ounce) package cream cheese, softened
16 ounces shredded mozzarella
½ cup grated Parmesan cheese
¼ cup chopped fresh basil
Heat oven to 375 degrees. Spray a 9-by-11-inch casserole dish with nonstick cooking spray.
In a large pot, cook the pasta according to package directions. Drain and set aside.
In a large saucepan over medium heat, cook the marinara sauce and cream cheese together until the cheese melts. Stir often. Add the pasta to the sauce and mix well.
Pour half the sauce in the prepared baking dish, and sprinkle with half the mozzarella and half the Parmesan cheese. Top with 2 tablespoons chopped fresh basil. Add the remaining pasta and sauce, then top with the remaining mozzarella and Parmesan.
Cover and bake at 375 degrees for 30 minutes. Remove the cover and bake an additional 15-20 minutes or until the baked rigatoni is bubbly and cheese is golden. Garnish with the remaining chopped basil.
---
Easy Spaghetti Carbonara
Serves 6
1 pound spaghetti
1 tablespoon olive oil
1 pound bacon
1 cup diced onion
3 cloves garlic, minced
5 eggs, lightly beaten
1 cup shredded Pecorino Romano or Parmesan cheese, divided
Salt and black pepper to taste
Cook the spaghetti until al dente. Reserve some pasta water. Drain pasta, place in a bowl and toss with a little olive oil.
In a large skillet, cook bacon until crispy. Remove and drain onto paper towels. Tear or cut into small pieces.
Using 2 tablespoons of reserved bacon fat, cook the onion until just translucent. Add the garlic, and cook 1 minute more. Return bacon to pan and combine.
Combine the bacon mixture with the drained pasta and toss, adding more olive oil or pasta water if it seems dry. Add the beaten eggs, and toss with tongs until eggs coat all of the pasta. Add 1/2 cup cheese, and toss again. Add salt and pepper to taste, and serve with extra cheese.
---
You might be surprised how much your kids will like this pasta. If you're not a fan of smoked salmon, you could substitute cooked shrimp, or just leave out the seafood. This recipe comes from food writer J.M. Hirsch.
Linguine with Goat Cheese, Smoked Salmon and Peas
Serves 4
2 tablespoons olive oil
1 medium red onion, thinly sliced
3 cloves garlic, minced
¼ teaspoon red pepper flakes
12 ounces linguine
1 cup frozen peas
4-ounce package smoked salmon, cut into thin strips
4-ounce log goat cheese, cut into 6 chunks
½ tablespoon chopped fresh dill
Grated zest of 1 lemon
Salt and ground black pepper, to taste
Bring a large saucepan of salted water to a boil.
In a large skillet over medium-high heat, combine the olive oil, onion, garlic and red pepper flakes. Saute until the onion is tender, about 5 minutes.
Cook the pasta according to package directions.
Meanwhile, add the peas to the onion and saute until the peas are heated through. Remove the skillet from the heat.
Once the pasta is done, reserve ½ cup of the cooking water, then drain the pasta. Add the pasta to the onions and peas, then toss.
Add the smoked salmon, goat cheese, dill, lemon zest and ¼ cup of the reserved pasta cooking water. Toss until the cheese is melted. If the sauce is too thick, add more of the pasta cooking water. Season with salt and pepper and serve.
---
We love this fun idea for a pasta side dish from Food and Wine. It's enough to fill 10 regular-size muffins or 24 mini muffins. This makes a great little meal for toddlers.
Muffin Cup Mac and Cheese
4 tablespoons unsalted butter, plus more for greasing
2 tablespoons all-purpose flour
2 cups whole milk
8 ounces sharp cheddar cheese, shredded
Salt
Freshly ground black pepper
8 ounces ditalini
1/3 cup fresh breadcrumbs
Preheat the oven to 350 degrees. Grease either a mini muffin pan with 24 cups, or a regular-size muffin pan.
Heat 2 tablespoons of the butter in a saucepan over moderate heat. Add the flour and cook, stirring until smooth, for 1 minute. Add the milk and cook over moderately low heat, stirring occasionally, until thickened, about 10 minutes. Add the cheese and stir until it's melted and the sauce is completely smooth. Keep the sauce warm over very low heat.
In a medium pot of boiling well-salted water, cook the pasta until al dente. Drain. Add the pasta to the cheese sauce and stir to coat completely. Divide the macaroni and cheese evenly among the muffin cups.
In a small skillet over moderate heat, melt the remaining 2 tablespoons of butter. Stir in the breadcrumbs and cook, stirring, until they are golden and toasted, 3 to 5 minutes. Sprinkle the toasted breadcrumbs over the tops of the macaroni and cheese muffins.
Bake until golden and bubbling, about 15 minutes. Let the macaroni cool in the cups for 5 to 10 minutes before removing them and serving.
Make Ahead: Mac and cheese muffins can be baked, cooled and then wrapped individually in aluminum foil and frozen. Reheat in the oven or microwave.
Natalie Mikles is a mom of three. She writes about food, sharing recipes for busy families and picky eaters. She has been recognized for her food columns as well as features on families and issues affecting local children. She loves pizza and movie nights with her family.
---