New Tulsan Jenna Boyd Learns About Autism Through Atypical Role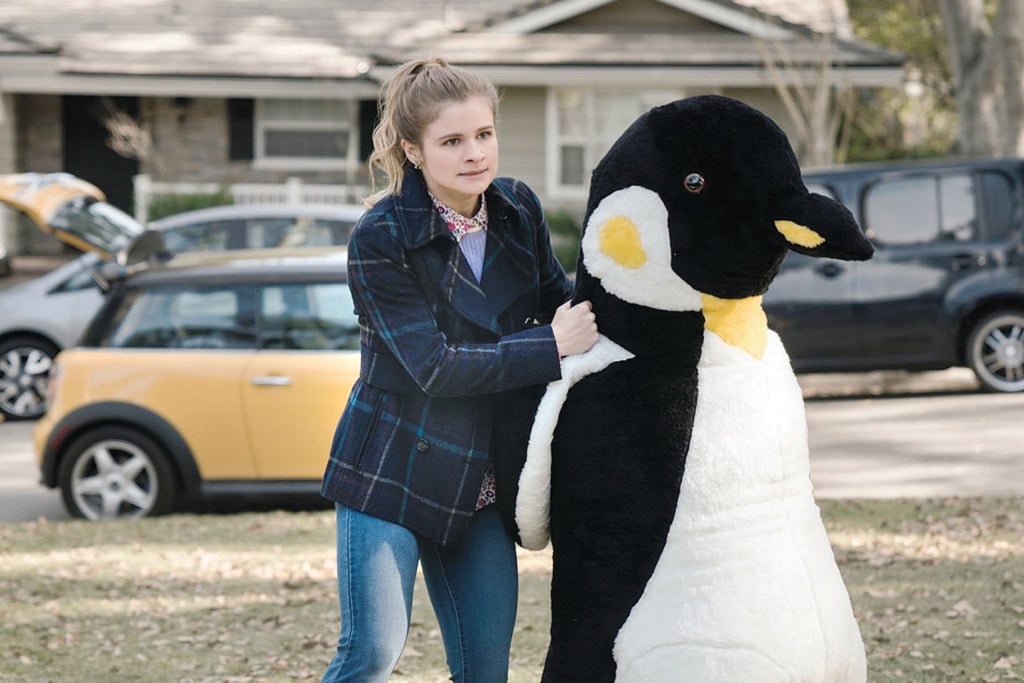 When a teenage boy on the autism spectrum decides to get a girlfriend, his bid for independence opens a whole new world for his family in the Netflix series Atypical. Jenna Boyd plays Paige, the girlfriend to lead character Sam Gardner (Keir Gilchrist), in the coming of age comedy/drama returning for a third season this fall. Sam and Paige will be freshmen in college when the new season starts. "This season that's coming soon is very much about that first step into the college world," Jenna said.
"Since my character plays Sam's girlfriend, it's been really awesome to learn along with my character what it looks like to navigate the relationship and relational struggles with somebody with autism," Jenna said.
Atypical is more than just another drama series about a middle-class American family living in suburbia.
"The show is super impactful to a lot of people just because it touches on some subjects that not a lot of shows do, mainly the issue being autism and how people with autism navigate the world around them and how their families navigate being close to someone with autism on a daily basis," Jenna said. "That is really central to the show, along with also being about family and friendships."
For Jenna, it has been rewarding to experience how the series touches lives.
"I didn't realize how many people were facing issues like autism in their daily life – the response to the show has been huge," Jenna said. "I have met so many people who have a cousin or a brother or a parent with autism, so it's really been amazing to see the impact."
Working as a cast member on Atypical has created an opportunity to learn more about autism.
"I thought I knew a little about autism before it started, but it was basically shown that I really didn't. We do have actors with autism who actually play some of the roles in our show, and it's been exciting to witness and just be a part of it. I have learned that I really didn't know much about it and there's always going to be things for me to learn," Jenna said. "The really big thing I've learned is that autism doesn't look the same on everyone. The way that autism looks for Sam is not the way it looks for the actors we know on set who do have autism. It's been really eye-opening to see the way it looks on different people, and it has just been a really cool and healthy reminder not to make assumptions about people and really listen and get to know people."
While Jenna has a lot of commonality with her character, Paige, they aren't exactly alike, either.
"She's so much more over the top than I am because there definitely is that neurotic thing – I try to keep that under wraps a bit more and not wear my feelings on my sleeve, where she is completely unfiltered. That's the biggest difference between the two of us. I am more introverted than Paige…she's the completely unhinged, unfiltered version of myself," Jenna said. "On a daily basis, playing Paige is so outside my comfort zone and it's hard for me, but honestly so rewarding."
Like Jenna, Paige is very ambitious and a Type A perfectionist kind of a person, which Jenna relates to completely since she's a big planner.
"I have been asked very often, what has Paige learned from Sam? We all as human beings, autism or not, struggle with wanting our way in a situation and wanting moments of selfishness. I think one thing I've seen Paige learn is that she has to navigate her moments of selfishness just as much as Sam does. That's been something she's definitely learned and grown in and not perfectly because she still really likes to have her own way and learning she's not just going to get to have that all of the time. That's a big theme and the arc of her character so far," Jenna said.
Jenna is very excited for viewers to see season three and said there's definitely some unexpected events that are going to happen this season. The storylines for Paige hit close to home for her, and she thinks they will resonate with a lot of people.
"I really think it's going to be my favorite season yet," Jenna said. "Everyone will really appreciate the storylines. Maybe there are things that aren't going the way you expected them to…we all go through these disappointments. I am just excited for people to see it, and I have had so much fun filming this coming season."
Making a difference through her career is imperative to Jenna.
"It is so important for me as an actor to get involved with shows like this, to be a part of something that really means something to people," Jenna said.
A native Texan, Jenna has lived most of her life in Los Angeles and attended Pepperdine University. She recently relocated to Tulsa after acceptance into Tulsa Remote, the George Kaiser Family Foundation's program to encourage remote workers to move to Tulsa.
"I had wanted to split my time between LA and somewhere else for a while. I had friends who live in Tulsa and were posting all the time about what they were doing in Tulsa and how much they loved it. I trusted their opinion and started toying around with the idea of moving to Tulsa for the first time. Then a friend randomly sent me the Tulsa World article about the Tulsa Remote program. I read the article, applied immediately and was accepted into the program," Jenna said. "It is a great network of people – I am really thankful to them because they made moving here and getting settled and being able to bounce back and forth to LA so much easier. It's a built-in community – I knew I was walking into a situation where I would already have friends."
While growing up in Texas, Jenna and her younger brother, Cayden, were featured on the cover of a 1998 issue of Fort Worth Child. Also an actor, her brother lives and works in Los Angeles. Their family moved to Los Angeles when Jenna and her brother were ages 9 and 8 to pursue their careers.
"I can't remember a time when I wasn't living in LA at this point," Jenna said. "So many of my childhood formative years were spent growing up in Los Angeles."
Jenna is exploring ways she can give back to the Tulsa community, perhaps through teaching drama students, working with the local crisis pregnancy center or perhaps even providing acting lessons. "I would love to serve the community any way that I can," Jenna said.
Since her arrival in Tulsa, Jenna has enjoyed visiting local sites like Gathering Place and finding new eating establishments to try.
"Tulsa's food scene is amazing! It's truly, truly great," Jenna said. "And it's been fun to explore all of the great coffee shops!"
So, what's the next project for Jenna? She plays the younger sister of the main character's wife in Vudu's adaption of 1983's Mr. Mom, which premiered on the streaming service Sept. 12.
"I love being busy with the things that I love to do," Jenna said. "This is such an exciting new chapter of my life."
Be sure to watch Jenna and Sam embark on their college journey when Atypical season three airs this fall.
---