Movement Makes a Child's Brain Say 'Yay!'
Tips from the library to make any book kinetic.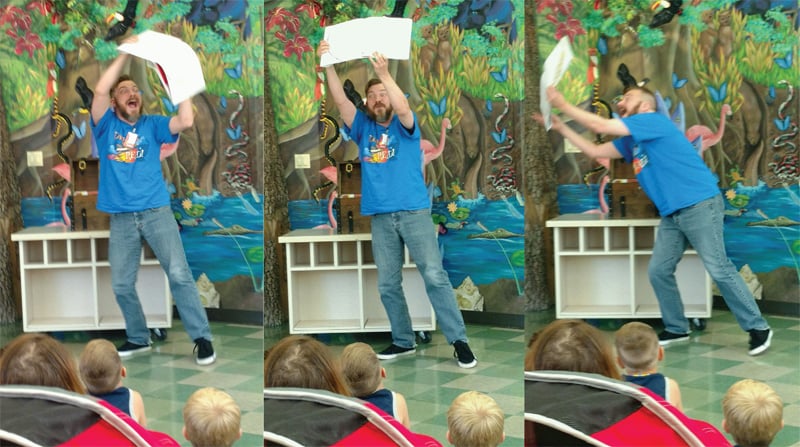 Does your child become a squirmy worm while you're reading a book to her? Does your child find any excuse to get up and run around during lap-sit storytime? That's great! Physical movement is a great way to convert energy into literacy.
Personally, I love to get on my feet and read books standing up, letting the stories find ways into my arms, hands, legs and feet. Sometimes, I hear kids describing my story times as a "show," like it's a big production! "Let's go see the show!" they'll say.
Here are some easy, ready-to-use tips for unleashing the kinetic energy stored up in our picture books.
When the characters move, you move.
If they go on a long journey over the mountains, take a few steps to your left. When they walk back home over the mountains, take a few steps to your right. If the hero gets "hopping mad," put on an angry face and then jump up and down, one, two, three times! Here's one of my favorites: If someone gets a hug in the story, give the book itself a hug.
Look for key words such as "shake," "fly," "jump," and "wave."
You can turn any active verb into a gesture. Figure out which body part will be best for bringing it to life – your fingers? Hand? Your whole arm? Tell your child, "Let's turn our fingers into fireflies. Hold out your hand like this, and now wiggle your fingers back and forth!"
Keep an eye out for objects in the story that you can simulate with the book itself.
If a character walks into a dark cave, hold the book open above your head and then take tentative steps underneath the pages. A book can become any animal with flapping wings or snapping jaws.
Demonstrate opposites physically.
Picture books love to use phrases like "near and far," "fast and slow," "hot and cold," and so on. Show them with your body the difference between those adjectives – first one, and then the other. Don't make the mistake of muddling the two movements together. Keep them distinct and clear.
When in doubt, act it out!
Keep your movements under control. It's easy to damage the book, knock lamps over or bump someone's head if you're not paying attention. Get caught up in the moment, yes, but don't lose track of your surroundings.
If you're reading "Roller Coaster" by Marla Frazee (and I recommend that you do), you can have your kiddo hold on to your hips from behind, forming a human train. When the roller coaster ride begins, play follow-the-leader, dipping, diving and swooshing your way around the house. Hold the book out in front of you as you go.
Any book about travel or transportation inspires movement. Books with various kinds of animals evoke their particular perambulations — hopping, flying, squirming. Stories with weather are an easy opportunity to put rain in your fingers and wind in your hair.
Here are a few of my personal favorites, all available at the Tulsa City-County Library: "Where the Wild Things Are" by Maurice Sendak ("Let the wild rumpus start!"), "We're Going on a Bear Hunt" by Michael Rosen, "The Croaky Pokey!" by Ethan Long, "A Beach Tail" by Karen Lynn Williams, "Pete the Cat: I Love My White Shoes" by Eric Litwin.
Here are a few books about transportation you can try:
Playing is one of the five Build-A-Reader skills we emphasize at TCCL story times. Any time you give your child a chance to become part of the story, you're building those early literacy skills. So next time they're bouncing off the walls, try reading them a story about bouncing!