Make-Ahead Recipes Make Holidays Easier
Smashed Cauliflower Gratin, Easy Yeast Rolls, Make-Ahead Mashed Potatoes and Sweet Potato Pie with Fresh Whipped Cream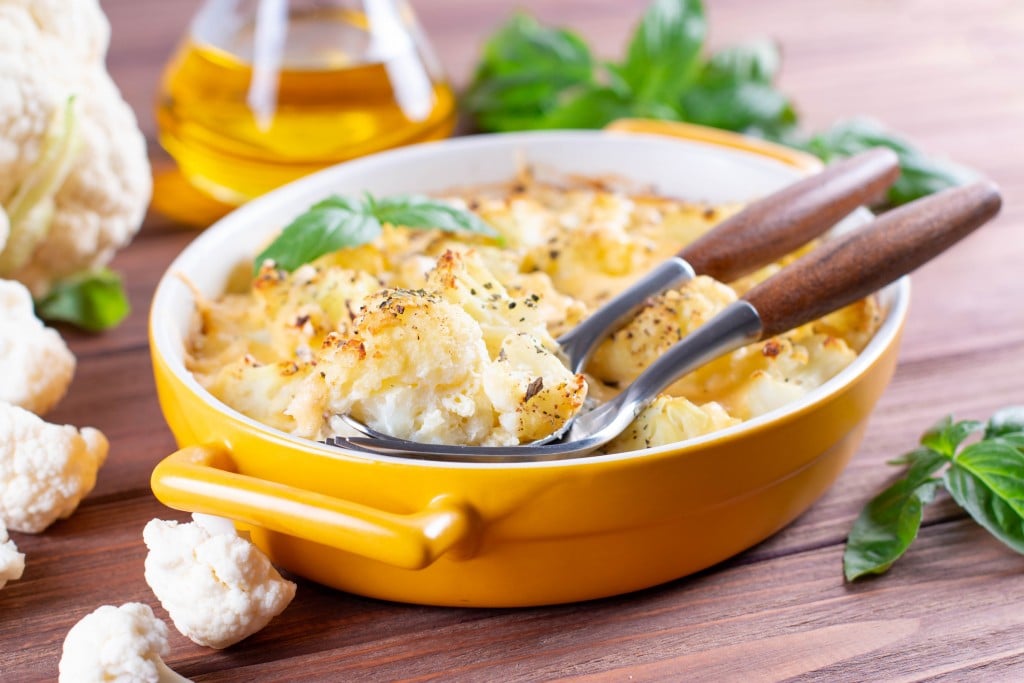 As parents, we tell ourselves that one of these days we'll have more time.
We try to embrace the chaos, knowing one day we'll look back at it longingly. But until then, while we're in the thick of it, we have to find little devices and hacks that will cut out some of the crazy.
The holidays can add an extra layer of stress, especially when you're hosting or cooking.
We've pulled together some of our favorite make-ahead recipes to make things a little easier this Thanksgiving. Even if you only choose one make-ahead recipe, you'll be glad to check one more thing off the list on Thanksgiving Day.
Making several dishes ahead will allow you to concentrate on the turkey – or will give you time to talk to family and not worry so much about getting everything done in time.
---
Smashed Cauliflower Gratin
Serves 12
2 heads cauliflower, cut into florets
1 ½ cups shredded Parmesan cheese
1 cup shredded Gruyere cheese
6 tablespoons butter, cubed
¾ teaspoons garlic salt
¼ teaspoon seasoned salt
Topping:
1 cup Italian-style panko crumbs
4 tablespoons butter, melted
Preheat oven to 350 degrees. Place cauliflower in a large pot, adding water to cover. Bring to a boil. Reduce heat, simmering until tender, 10-12 minutes. Drain, and transfer cauliflower to a large bowl.
Mash cauliflower. Stir in cheese, cubed butter, garlic salt and seasoned salt. Pour into a 9-by-13-inch baking dish. In a small bowl, mix breadcrumbs and melted butter until evenly coated. Sprinkle over cauliflower mixture.
Let cool, cover well and freeze.
When ready to serve, place in refrigerator the night before baking. Thirty minutes before placing in oven, set on counter. Preheat oven to 350 degrees. Bake, uncovered, until topping is golden, 40-50 minutes.
---
Easy Yeast Rolls
Makes 2 dozen
1 (1/4-ounce) envelope active dry yeast
2 cups warm water (100 to 110 degrees)
4 cups self-rising flour
¾ cup butter, melted
¼ cup sugar
1 egg, lightly beaten
Preheat oven to 400 degrees. Combine yeast and warm water in a large bowl, gently stirring. Let stand 5 minutes.
Stir in flour, butter, sugar and egg, mixing until blended.
Spoon batter into 2 greased (12-cup) muffin pans. Bake 13 minutes or until golden.
Note: Bake up to 2 weeks in advance, then freeze in plastic freezer bags until Thanksgiving Day.
---
Make-Ahead Mashed Potatoes
Serves 12
5 pounds Yukon Gold potatoes, cubed
2 (3-ounce) packages cream cheese
8 ounces sour cream
½ cup milk
2 teaspoons kosher salt
Ground black pepper
Place potatoes in a large pot of lightly salted water. Bring to a boil, and cook until tender, about 15 minutes. Drain and mash.
To mashed potatoes, add cream cheese, sour cream, milk, salt and a few grinds or shakes of pepper. Transfer to a large casserole dish. Tightly seal, and place in the refrigerator up to 3 days ahead of serving.
Set on counter 30 minutes before baking. Preheat oven to 350 degrees. Cover dish and bake 50 minutes.
---
Consider making this in stages. Make (or buy) the pie crust weeks ahead of time, and store in the freezer. Make the filling, and bake the pie the day before Thanksgiving, then store in the refrigerator until it's time to serve. The whipped cream will be best made the day it's served.
Sweet Potato Pie with Fresh Whipped Cream
1 (9-inch) pie dough
2 1/2 pounds sweet potatoes
2/3 cup packed brown sugar
1/2 cup sour cream
3 large eggs, lightly beaten
1/3 cup butter, melted
1 tablespoon bourbon (optional)
2 teaspoons vanilla extract
1 1/2 teaspoons ground cinnamon
1/2 teaspoon ground nutmeg
1/2 teaspoon salt
Fresh whipped cream
Form pie dough into a 9-inch pie plate, fluting the edges. Place in the refrigerator until filling is ready. Optional: make decorative leaf cut-outs with leftover dough for the top of the pie.
Preheat oven to 400 degrees. Bake sweet potatoes on a rimmed, lined baking sheet for 45-50 minutes or until tender. Once they have cooled a bit, peel potatoes. Place in a food processor. Pulse to coarsely mash. Add brown sugar, sour cream, eggs, butter, bourbon, vanilla, cinnamon, nutmeg and salt; blend until smooth. Pour filling into chilled crust.
Bake on lowest oven rack 15 minutes. Reduce oven setting to 350 degrees, and bake until center is just set, 20-25 minutes. Bake crust cutouts on an upper oven rack until golden brown, 10-12 minutes. Cool. Serve with freshly whipped cream.
Whipped Cream
1 cup heavy cream
1 teaspoon vanilla extract
1 tablespoon powdered sugar
In a large bowl, whip cream until stiff peaks are just about to form. Beat in vanilla and sugar until peaks form. Make sure not to over-beat.
Natalie Mikles is a mom of three. She writes about food, sharing recipes for busy families and picky eaters. She has been recognized for her food columns as well as features on families and issues affecting local children. She loves pizza and movie nights with her family.
---