Let's Do Muffin Math!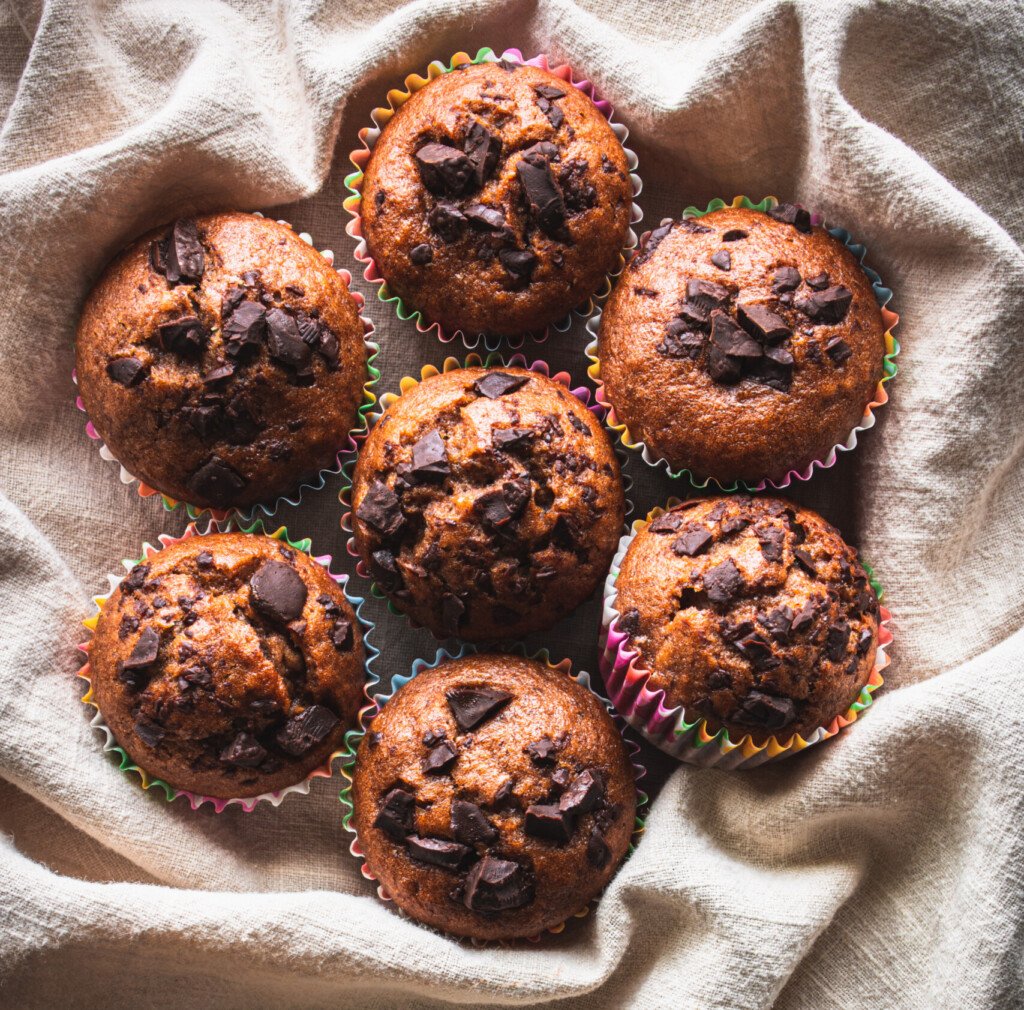 If you've read the TulsaKids food column for any length of time, you know we're big fans of muffins and cookies.
Since we often write about foods kids can make themselves or make with help, muffins and cookies easily fall into that category. Plus, a lot of nutrition can be packed into muffins – and (sometimes) even in cookies!
Given that cookies and muffins are often baked by the dozen, they also make a great mini-math lesson. Kids from toddlers to elementary school can do muffin math.
Let's add liners to the muffin pan. Can you count them as you put them in?
I'm going to fill eight of the 12 muffin cups. How many are left?
If three kids are sharing the 12 muffins, how many does each kid get?
If we double the recipe, how many muffins will it make?
Addition, subtraction, multiplication, division and fractions are all natural lessons when baking. And summertime is a great time to incorporate a little math refresher into some fun baking. Kids are often looking for something to do and will have fun working in the kitchen with Mom or Dad, Grandma or Grandpa to make something sweet. Throwing in a mini-math lesson won't feel like "doing school."
Most muffin and cookie recipes don't require a mixer, making them great for beginner cooks. All kids need is a wooden spoon, big bowl and measuring cups and spoons. Teaching kids to set out all their ingredients in advance is a good early cooking skill. And, teaching them to clean up afterward – or as they go – is equally important.
The sense of accomplishment kids feel from baking or helping grownups bake is a great gift we can give our kids. And once you have a finished product, pour a couple of glasses of milk and toast to the joy of baking.
Blueberry Oat Muffins
Makes 1 dozen
1 cup flour
1 teaspoon baking powder
½ teaspoon baking soda
½ teaspoon salt
1 cup rolled oats
2 eggs
1 cup sour cream
5 tablespoons butter, melted
1 cup brown sugar
1 cup fresh or frozen blueberries
2 tablespoons granulated sugar
Preheat oven to 375 degrees. Line 12 muffin cups with paper liners.
Combine flour, baking powder, baking soda, salt and oats in a small bowl. Set aside.
In a large bowl, beat the eggs with the sour cream. Add melted butter and brown sugar. Fold in flour mixture, and then blueberries.
Fill muffin cups 2/3 full, and top each one with a sprinkling of sugar. Bake 18-20 minutes until golden brown. Cool 5 minutes before removing from oven.
---
This recipe, adapted from the "With Sweet Honey" food blog, isn't just for toddlers. Kids of all ages will enjoy it. Who would say no to cookies for breakfast?
Toddler Breakfast Cookies
Makes 10 cookies
1 ¼ cups rolled oats
1 ripe, medium banana, mashed
¼ cup unsweetened applesauce
2 tablespoons peanut butter or any nut butter
1 egg
1 teaspoon vanilla extract
¼ teaspoon ground cinnamon
Preheat the oven to 350 degrees. Line a baking sheet with parchment paper, set aside.
In a medium bowl, add the oats, mashed banana, applesauce, peanut butter, egg, vanilla and cinnamon. Stir until the batter is blended and combined.
Use a cookie scoop or spoon to form 1 ½ to 2 tablespoon-size cookie balls, and place onto the baking sheet. Flatten the cookies so they are all about ½-inch thick.
Bake for about 10 minutes or until they are slightly golden around the edges. Remove from the cookie sheet and let cool.
Note: Store in the refrigerator up to five days.
---
This is such a fun cookie to make with kids. Sell them along with lemonade at a lemonade stand and watch your profits double!
Lemon Cake Mix Cookies
Makes 3 dozen
1 box lemon cake mix
½ cup vegetable oil
2 large eggs
1 tablespoon fresh lemon juice
1 tablespoon lemon zest
¼ cup powdered sugar
Preheat oven to 350 degrees. Line a baking sheet with parchment paper and set aside.
Combine the cake mix, oil and eggs in a large bowl. Add lemon juice and zest. Stir together just until combined.
Scoop tablespoon-size dough balls onto baking sheet. Roll each dough ball in powdered sugar.
Bake for 9-11 minutes, or until the cookies are set. Don't let them brown! Cool a minute on the baking sheet, then move to a cooling rack.
---
Chocolate Chocolate Chip Muffins
Makes 1 dozen
2 cups all-purpose flour
1 cup granulated sugar
1 cup semisweet chocolate chips, divided
½ cup unsweetened cocoa powder
1 teaspoon baking soda
1 cup plain yogurt
½ cup milk
½ cup vegetable oil
1 large egg
1 teaspoon vanilla extract
Preheat oven to 400 degrees. Line 12 muffin cups with paper muffin liners.
Combine flour, sugar, 3/4 cup chocolate chips, cocoa powder and baking soda in a large bowl.
Whisk yogurt, milk, oil, egg and vanilla in separate bowl until smooth. Pour yogurt mixture into the chocolate mixture and stir until batter is just blended.
Fill prepared muffin cups 3/4 full and sprinkle with remaining 1/4 cup chocolate chips. Bake in the preheated oven until a toothpick inserted in the center comes out clean, about 20 minutes. Cool in the muffin tin a few minutes before removing to a cooling rack.
Natalie Mikles is a mom of three – 12-year-old twin girls and an 11-year-old boy. She writes about food, sharing recipes for busy families and picky eaters. She has been recognized for her food columns as well as features on families and issues affecting local children. She loves pizza and movie nights with her family.
---