Kids Will Be Thankful for These Thanksgiving Recipes
Recipes for Cheesy Noodles, Pumpkin Eggnog Pie, Orange-Glazed Maple Carrots and Slow Cooker Spiced Apples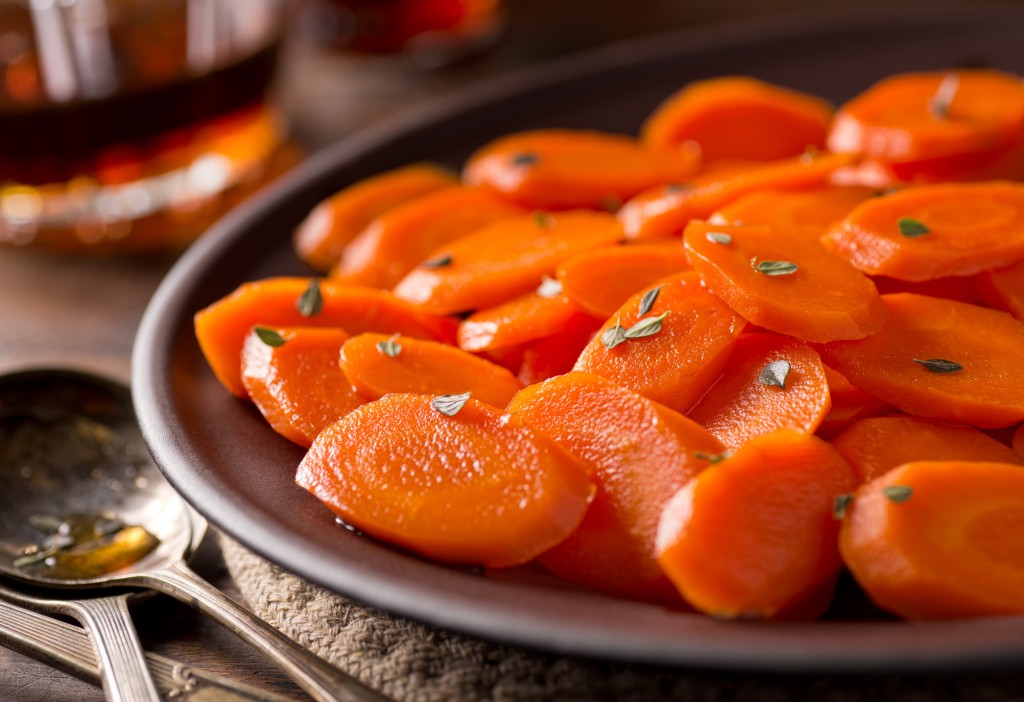 The days before Thanksgiving are a cooking marathon in my family.
It's our tradition that Thanksgiving week the kids and I drive to the Flying G Ranch in Sand Springs to buy a five-pound bag of pecans. Then my kids come home and shell the pecans until their fingertips are red.
They sit in the kitchen shelling pecans while I make pie crusts, roast sweet potatoes and do all the other pre-meal prep.
These days, my middle-school-aged kids are pretty adventurous eaters, filling their plates with a little of everything on Thanksgiving. But there were years when their plates were sparse – with just turkey and a roll. Truth be told, my 12-year-old son's plate is still pretty much the same.
So, when they were little, it was great when I spotted something I knew they would love, like chicken and noodles, a perennial favorite. And the little ones at our family Thanksgiving always like macaroni and cheese and pumpkin pie.
We've rounded up some recipes, including some of my family's favorites, that are kid-friendly and perfect for Thanksgiving. Consider making one or two of these to ensure your kids will have something besides turkey and a roll on their plates.
---
Picky eaters will like these plain noodles. Gruyère gives them good flavor. Even the adults may want to have a bite.
Cheesy Noodles
Serves 8
1 pound dried egg noodles
3 tablespoons butter
Salt and pepper, to taste
1 ½ cups heavy cream
½ cup grated Gruyère cheese
Cook the noodles according to package directions. Drain. Place in an oven-safe casserole dish. Stir in 1 ½ tablespoons butter to keep the noodles from sticking. Season with salt and pepper.
Warm the cream in the microwave or a saucepan. Do not let it come to a boil. Pour cream over noodles and mix thoroughly. Sprinkle the top with cheese, and dot with the rest of the butter. Place under a preheated broiler, just briefly, until the cheese melts.
---
This creamy pie is a favorite with kids. The eggnog adds flavor, but also smooths out the pumpkin.
Pumpkin Eggnog Pie
1 (9-inch) pastry shell, baked and cooled
1 envelope unflavored gelatin
½ cup brown sugar
½ teaspoon salt
½ teaspoon ground cinnamon
¼ teaspoon ground ginger
1/8 teaspoon ground nutmeg
2 egg yolks, slightly beaten
1 cup eggnog
1 (15-ounce) can pumpkin
In a medium saucepan, mix unflavored gelatin, brown sugar, salt, cinnamon, ginger and nutmeg. Add egg yolk, eggnog and pumpkin. Cook and stir over medium-high heat until gelatin dissolves and mixture begins to boil. Reduce heat to medium and continue stirring until mixture thickens. Be sure not to undercook. Mixture should be like a pudding.
Pour into prepared pie shell and chill until set.
---
These carrots are made even sweeter with maple and orange. They can be pureed for babies and are soft enough for young toddlers to eat.
Orange Maple Glazed Carrots
Serves 4
1/3 cup orange juice
12 carrots, peeled and thinly sliced
Zest of 1 orange
3 tablespoons maple syrup
2 tablespoons butter
1 teaspoon fresh, grated nutmeg or ¼ teaspoon ground nutmeg
Heat orange juice in saucepan until hot. Add carrots and orange zest, stirring to coat. Cook around 15 minutes or until tender. Stir in syrup, butter and nutmeg. Continue to cook, around 5 minutes. Carrots should be crisp but tender. Sprinkle with additional nutmeg if desired.
---
These apples are a kid-friendly side dish for Thanksgiving. But they're also good over pancakes, waffles or even a bowl of oatmeal.
Slow Cooker Spiced Apples
1/3 cup granulated sugar
¼ cup packed brown sugar
1 tablespoon cornstarch
3 teaspoons ground cinnamon
1/8 teaspoon ground nutmeg
6 large Granny Smith apples, peeled and cut into eighths
¼ cup butter, cubed
In a small bowl, mix the sugar, brown sugar, cornstarch, cinnamon and nutmeg. Place apples in a slow cooker. Add sugar mixture and toss to coat. Top with butter. Cook, covered, on low 3-4 hours or until apples are tender. Stir halfway through cooking.
Natalie Mikles is a mom of three – 12-year-old twin girls and an 11-year-old boy. She writes about food, sharing recipes for busy families and picky eaters. She has been recognized for her food columns as well as features on families and issues affecting local children. She loves pizza and movie nights with her family.
---