Kids Cooking Challenge: Recipes for Beginners to Experts.
Strawberry Cream Trifle, Double Chocolate Cake Mix Cookies, Banana Pudding Cake, Cream Cheese Pound Cake and Blueberry Lemon Tart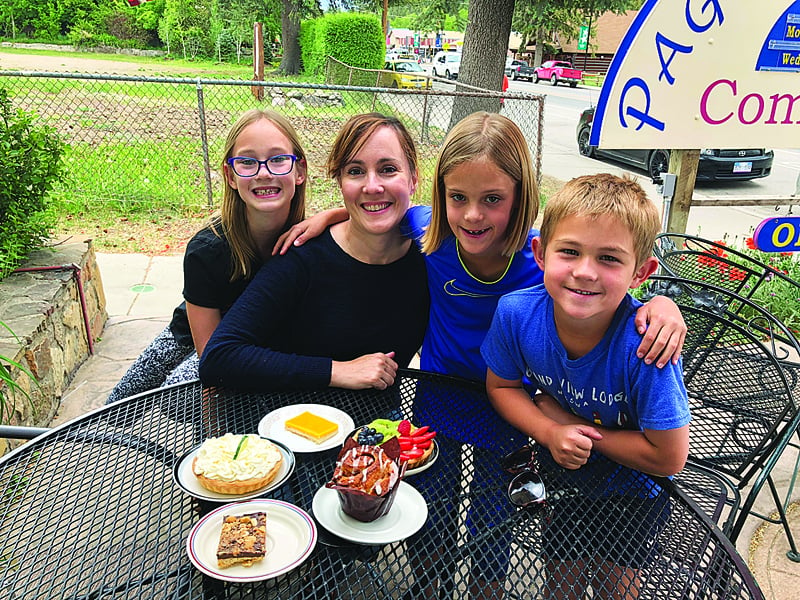 I have had the privilege of being a judge on both Chopped and Top Chef. I didn't have to travel far for these gigs. One was in my kitchen and the other in my backyard.
My kids started playing Chopped with mud, leaves, acorns and flowers when they were in preschool. After they had gathered their ingredients, I set a timer and then counted down with 10 seconds remaining. Their favorite part was when I shouted, "Knives down! Hands up!" A winner was declared, and then we would play another round.
This year, my kids have moved on from rocks and dirt to actual food. They play Top Chef by mixing ice cream with fruit, which is usually delicious. Or when they're feeling silly or ornery, they make concoctions like blending orange juice, chocolate milk and stashed Halloween candy. (Do not try this at home.)
Summertime is a good time to let the kids play in the kitchen. If you don't want a huge mess, give them a set of four or five ingredients, and allow them to use their imaginations to make something delicious. Or, if your kids are reading and ready to follow a recipe, you'll find cooking can be a great way to keep their minds sharp using math, reading and problem solving.
Here are some sweet recipes easy enough for kids to make, ranging from easy to intermediate to difficult. Littler kids will be able to make the easy recipes on their own or with limited help. The difficult recipe is best for teens or for kids with plenty of kitchen experience.
Easy
This is pretty in a large glass bowl or trifle dish. But it's also fun to make in mason jars for individual servings.
Strawberry Cream Trifle
1/2 cup sweetened condensed milk
1 1/2 cups cold water
1 package (1 ounce) instant vanilla pudding
8-ounce container frozen whipped topping, thawed
1 angel food cake, torn into bite-sized pieces
2 quarts fresh strawberries, sliced
Whisk together condensed milk, water and pudding mix until thoroughly blended. Let sit for 2 minutes. Fold in whipped topping.
Place half of cake pieces into a trifle dish. Top with half the strawberry slices. Pour half of pudding mixture over berries. Repeat layers.
---
Kids will need a grownup's help to get the cookies in and out of the hot oven.
Double Chocolate Cake Mix Cookies
1 box devil's food cake mix
1/3 cup vegetable oil
1 teaspoon vanilla
2 eggs
2/3 cup chocolate chips
1/4 cup sugar
Heat oven to 350 degrees (325 degrees for dark or nonstick pans). In a large bowl, mix cake mix, oil, vanilla and eggs with spoon until dough forms. Gently stir in chocolate chips.
Refrigerate dough 15 to 30 minutes or as needed for easier handling. Shape dough into 1-inch balls, then roll in sugar. Place balls about 2 inches apart.
Bake 9 to 11 minutes or until set. Cool 1 minute, then remove from cookie sheets to cooling racks.
Intermediate
For a pretty finishing touch, combine 1 cup powdered sugar and 2 tablespoons milk, or enough milk until you have a nice consistency. Pour this glaze over the cooled cake.
Banana Pudding Cake
2 very ripe bananas, mashed
1 box yellow cake mix
1 package (3.4 ounce) instant banana cream pudding
4 large eggs
1 cup water
1/2 cup melted butter
Preheat oven to 350 degrees. Grease and flour (or thoroughly spray with nonstick spray) a Bundt pan. Mash bananas, and set aside.
Mix dry cake mix and pudding mix. Add eggs, water and butter. Gently fold in bananas.
Pour batter into pan. Bake for 30 to 45 minutes or until a toothpick comes out clean. Cool in pan for 10 minutes, then invert onto a cooling rack.
---
This cake is delicious with fresh sliced peaches and whipped cream.
Cream Cheese Pound Cake
1 1/2 cups butter, softened
1 (8 ounce) package cream cheese
2 1/2 cups white sugar
1 tablespoon vanilla extract
1 teaspoon almond extract
6 eggs
3 cups cake flour
Preheat oven to 325 degrees. Grease a 10-inch tube pan.
Cream together the butter, cream cheese and sugar until light. Stir in the vanilla and the almond extracts. Add one third of the flour, stir, then add two eggs. Repeat the process, stirring in the flour and eggs alternately until all has been added. Pour batter into the pan.
Bake at 325 degrees for 1 hour and 15 minutes or until a toothpick inserted in the center comes out clean. Let sit in pan for 10 minutes, then invert onto a cooling rack.
Difficult
Teens ready for a cooking challenge can roll up their sleeves to make this beautiful dessert. It's adapted from the Silver Palate cookbook.
Blueberry Lemon Tart
1 cup fresh lemon juice (about 6 lemons)
5 tablespoons grated lemon zest
8 tablespoons (1 stick) unsalted butter, melted
6 eggs, lightly beaten
1 cup granulated sugar
9-inch partially baked Sweet Buttery Tart Crust (see related recipe)
1 1/2 cups blueberries, rinsed, sorted and dried
Powdered sugar
Preheat the oven to 400 degrees.
Whisk the lemon juice, grated zest and melted butter in a medium-size bowl. Beat in the eggs and granulated sugar; mix well.
Pour into the partially baked tart shell and bake until golden brown, about 20 minutes. Arrange the blueberries (or other fresh fruit) over the warm filling, pressing lightly. When cool, dust with confectioners' sugar.
Sweet Buttery Tart Crust
1 1/2 cups all-purpose flour
1/4 cup granulated sugar
1/2 teaspoon salt
10 tablespoons butter, chilled
2 egg yolks
1 teaspoon vanilla extract
2 teaspoons cold water
Sift flour, sugar and salt into a mixing bowl. Cut chilled butter into pieces into the bowl. Using your fingertips only, rapidly rub the butter and dry ingredients together until the mixture resembles coarse meal.  (Your palms will warm the dough.)
Stir egg yolks, vanilla and water together and add to the flour-butter mixture and blend in, using a fork. Shape dough into a ball. Chill for two hours.
Roll out dough between 2 sheets of wax paper into a round large enough to line your pan. Work quickly, as the dough can become sticky.
Line either an 8- or 9- inch removable bottom tart pan with the dough, fitting it loosely into pan and pressing to fit sides. Trim edges 3/4 inch outside top of pan, and fold this edge over to inside, and press into place with fingers. Chill.
Preheat oven to 425 degrees. Line dough in the tart pan with a piece of aluminum foil and weight with dried beans or rice.  Bake for 8 minutes. Remove foil and beans. Prick the bottom of the dough with a fork in several places. For a partially baked shell, return to oven for 3 to 4 minutes longer. For a fully baked shell, return for 8-10 minutes longer, or until edges are a light brown.