Kids and COVID: New Variants, Mask Recommendations and More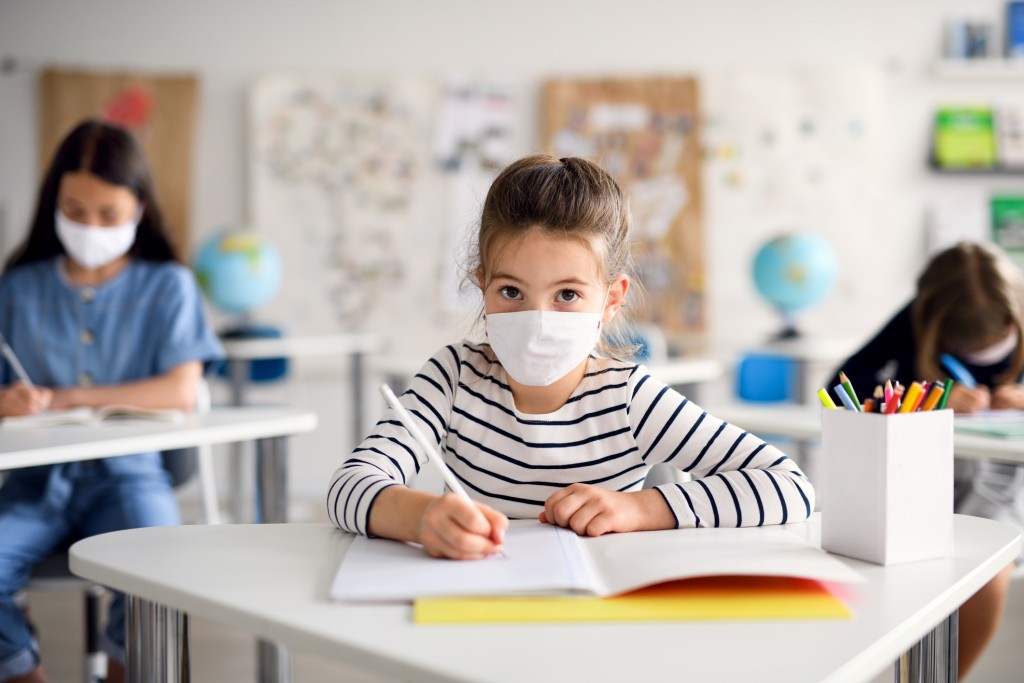 We reached out to the Tulsa Health Department with some questions about the new COVID variants and how they are affecting children. Thank you to Epidemiology Supervisor Jessica Rice and Epidemiologist Madison Thomas for answering our questions, and to THD nurse and Clinical Services Manager Ellen Niemitalo, who answered the final two questions.
Keep in mind that data changes daily. Find THD's latest COVID information at tulsa-health.org/coronavirus-disease-2019-covid-19.
What should parents know about new COVID variants?
The emergence of variants is expected with a virus like COVID-19, and as we return to a sense of normalcy across the nation and in our state, variants present one of the biggest threats to maintaining decreases in community spread.
According to the CDC, some variations allow the virus to spread more easily or make it resistant to treatments or vaccines. Those variants must be monitored more carefully.
Parents should know that this underscores the importance of prevention. The best thing you can do to protect yourself and those around you from new variants of COVID-19 is to get a COVID-19 vaccine. Anyone age 12 and older can receive a safe, effective and free COVID-19 vaccine. Other prevention measures like masks and social distancing should be implemented by those who are unvaccinated or too young to be vaccinated.
Which are the new strains, and which new strains are present in Oklahoma?
According to the CDC, sometimes new variants emerge and disappear. Other times, new variants persist. Multiple variants of the virus that causes COVID-19 have been documented in the United States and globally during this pandemic. In Oklahoma, the below variants have been documented according to the Weekly Epidemiology and Surveillance Report from June 27 – July 3, 2021 :
What is the difference between different strains?
The CDC illustrates that if you think about a virus like a tree growing and branching out; each branch on the tree is slightly different than the others. By comparing the branches, scientists can label them according to the differences. These small differences, or variants, have been studied and identified since the beginning of the pandemic.
The US government SARS-CoV-2 Interagency Group (SIG) interagency group developed a Variant Classification scheme that defines three classes of SARS-CoV-2 variants according to the CDC that includes Variant of Interest, Variant of Concern, and Variant of High Consequence.
According to the CDC, the B.1.1.7 (Alpha), B.1.351 (Beta), B.1.617.2 (Delta), and P.1 (Gamma), variants circulating in the United States are classified as variants of concern. To date, no variants of high consequence have been identified in the United States.
Are the new variants more transmissible than the original? More dangerous?
New variants are continuing to be discovered but not all newly discovered variants are more dangerous than previously discovered ones. A variant that is gaining predominance in the United States, B.1.617.2 (Delta) variant, is more transmissible than the B.1.1.7 (Alpha or U.K.) variant, which is more contagious than the original SARS-CoV-2 strain. Delta variant is classified as a variant of concern, which means it may spread more easily, cause more hospitalization and deaths, lead to less neutralization by antibodies, have less efficacy in treatment or impact diagnostics.
How are these new variants affecting children?
Studies suggest that the Delta variant is more transmissible than the Alpha variant, which is more contagious than the original SARS-CoV-2 strain. Since vaccines have not been as available as long for kids under 16 as they've been available for older teens and adults, fewer young people have been vaccinated. For that reason, this age group is more likely to be vulnerable to the COVID-19 virus and variants compared to other age groups.
What do symptoms for the new variants look like?
The symptoms of the predominant variants in the US are, for the most part, still going to be the same as traditional COVID-19 symptoms:
Fever or chills
Cough
Shortness of breath or difficulty breathing
Fatigue
Muscle or body aches
Headache
New loss of taste or smell
Sore throat
Congestion or runny nose
Nausea or vomiting
Diarrhea
If you or your child are experiencing any of the symptoms associated with COVID-19, it is important to be tested. That is the best way to know what steps to take next to protect yourself and others.
What safety precautions should unvaccinated kids be taking? Should they still be wearing masks, and when?
Individuals age 2 and older who are unvaccinated should continue to wear a mask in indoor public places. Generally, masking is not required for outdoor settings unless social distancing cannot be maintained due to it being a crowded outdoor setting. Kids and adults who are not fully vaccinated should social distance (6 ft. or approx. 2 arm lengths away) from people who are not living in the same household. Therefore, crowded areas should be avoided. Hands should also be washed often and touching your face should be avoided. The best way to protect yourself against COVID-19 is to get vaccinated.
If anyone is feeling unwell and is experiencing any of the COVID-19 symptoms, they should stay home and away from others. Be informed about your or your child's health by seeking out testing.
If masks are recommended generally for unvaccinated kids, what about kids two and under who are too young to wear masks? What precautions do you recommend parents take on their behalf?
Parents should continue to avoid crowded indoor and outdoor places with their unvaccinated child where social distancing can't be maintained. Close contact should be avoided with those that are not in the same household. Sick family members should isolate and avoid close contact within the home with other household members. Parents should wash their hands often. Parents should also strongly consider getting fully vaccinated for themselves and any additional family members in the home 12 years and older. Monitor your child's health and keep them home if they are showing any signs or symptoms of COVID.
Should a parent be concerned if a summer camp, for example, isn't requiring mask wearing indoors?
Masks continue to be recommended to be worn by unvaccinated individuals when in indoor settings to help prevent the spread of COVID-19. Community spread of COVID-19 is still occurring in Oklahoma, so it is still very important to take precautions against COVID-19. A setting like a summer camp that is not taking mitigation measures could see COVID-19 spread very easily amongst attendees that are not fully-vaccinated.
Should parents be worried about sending their kids to camp or school in general?
There is guidance that has been created by the CDC for camps and schools to follow to prevent the spread of COVID-19. These mitigation measures are known to help prevent illness within these settings. If your child is 12 years of age and older, they are recommended to get the COVID-19 vaccine to protect them in the event that they are exposed in these settings.
Talk to your child's camp or school administrators to learn about their COVID-19 safety measures.
What do you recommend as far as mask wearing at school once kids head back in the fall? Or is it too soon to tell?
The recommendation for mask use continues to be that unvaccinated individuals aged 2 and older should wear a mask when in indoor settings, and a school certainly falls into that category. Masks and the other precautions (social distancing, hand washing, vaccinations etc) are the best tools we have to prevent the virus from spreading.
Do vaccinated individuals need to start wearing masks or taking other precautions again?
The vaccines are still highly effective against the variants for not only preventing symptomatic COVID-19 infection, but severe disease as well. It is important to stay informed about what is going on with COVID-19 in your area so you can adapt to recommendations if they change.
What is the difference in severity if a vaccinated vs. unvaccinated person contracts a new strain of COVID?
If you get the COVID-19 vaccine, it's much less likely that you will contract a serious case of COVID-19 that could cause hospitalization or death.
If a vaccinated family member is exposed to COVID, is it possible to bring that exposure home to an unvaccinated child?
If a fully vaccinated family member is exposed to someone with COVID-19 then they do not need to be quarantined as the risk of developing COVID-19 is low. While the vaccines are highly effective to prevent you from getting seriously ill, there's a small possibility you can get the virus. Regardless of vaccination status, if you are sick then you have the potential to spread it to others. COVID-19 positive household members should isolate away from other household members if possible. If you are concerned about having COVID-19 after being exposed, testing is widely available in Tulsa.
I've heard that people who have received the Johnson & Johnson vaccine may need to get a booster shot because it's not as effective against the new strain. Is this true, and where are we at in that development?
The CDC has currently not made revaccination recommendations for individuals who have received any of the three available vaccines. Studies are currently taking place to measure the efficacy of each vaccine over time against both the initial strains of COVID-19 and the variants.
What would you say to someone who is reluctant a) to get vaccinated themselves or b) to vaccinated their teenage child?
COVID-19 vaccines have been administered to over 183 million people in the United States and over 1.7 million people in Oklahoma. Over 50,000 people age 12-17 in Oklahoma have received at least one dose of the COVID-19 vaccine. The vaccines are safe and effective in preventing COVID-19 disease for both the individual who receives the vaccine and those around that individual.
Individuals and parents want to make the best decision for themselves and their families. The Tulsa Health Department strives to provide accurate information so people can make informed decisions. Additionally, individuals are encouraged to discuss the information and decision with their health care provider.
---