Jett Calmus: Jenks High School Athlete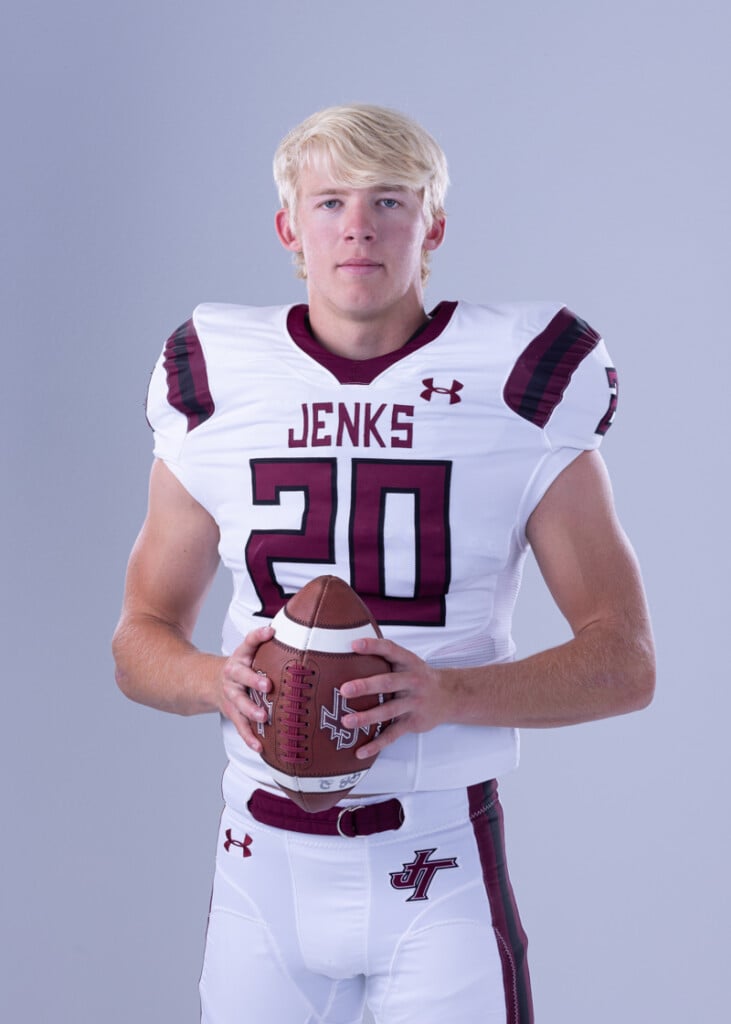 TulsaKids is highlighting the city of Jenks in this issue. Of course, we know that Jenks is not Tulsa, but it's a short drive to visit everything that Jenks has to offer – and there are many stand-out qualities. As we talked to families, we found that many love their school, and the community enjoys the annual Homecoming Parade as well as going to Jenks High School sports. When we interviewed the Calmus family, we learned that their son, Jett, is on the football and baseball teams and is in his last year of high school. We asked him to reflect on his last year and on his future.
Q: This is your senior year at Jenks High School. What are you looking forward to the most?
Jett: Playing my last high school season of football and baseball, Trojan Idol fundraiser for baseball and doing FCA this year.
Q: What are your favorite things about your school? Can you share a favorite memory from your time at Jenks HS?
Jett: Being able to get an education at one of the top schools in the state and playing sports at the highest level in Oklahoma. My favorite memory is winning the 6A-1 State Football Championship.
Q: How long have you played football? What position do you play? Can you share a stand-out moment? What about a big disappointment or mistake?
Jett: I have played football since fourth grade. I play linebacker. A stand-out moment for me was my blocked punt sophomore year against Enid because it was my first big impact in a varsity game. My biggest disappointment was that I wasn't able to play most of my junior year because of injury.
Q: What have you learned from playing football that you apply to other parts of your life?
Jett: I've learned to be able to deal with adversity and build relationships with people I'm closest with. I've also learned what it means to push yourself to the max and the time management skills necessary to balance athletics with academics.
Q: What else are you involved in besides football?
Jett: I also play baseball here at Jenks, I'm involved in FCA (Fellowship of Christian Athletes) as vice president and Jenks Student Council. I also work at Redeemer Church in the kids' ministry.
Q: What are your plans after graduation?
Jett: I plan to either play college football or baseball at the next level and major in some sort of business.
Q: Looking back, what advice would you give to kids starting out in high school?
Jett: Cherish your time because it goes by fast, take risks, take the classroom seriously because you don't want to be playing catch-up in high school.
Q: What advice would you give to the parents of high school kids? What do you wish they knew?
Jett: Let them be involved in as many extracurricular activities as possible and be there to support them because it goes a long way.
Q: What is a fun fact about you?
Jett: I am really good at remembering stats and plays from games, also players and old teams. Ever since I was young, I have been really good at memorizing things like that. I can remember a game play or score from almost any game.
---