Introducing Toddlers to New Foods
Toddler-Approved Vegetarian Chili, Carrot and Zucchini Fritters and Banana Yogurt Cake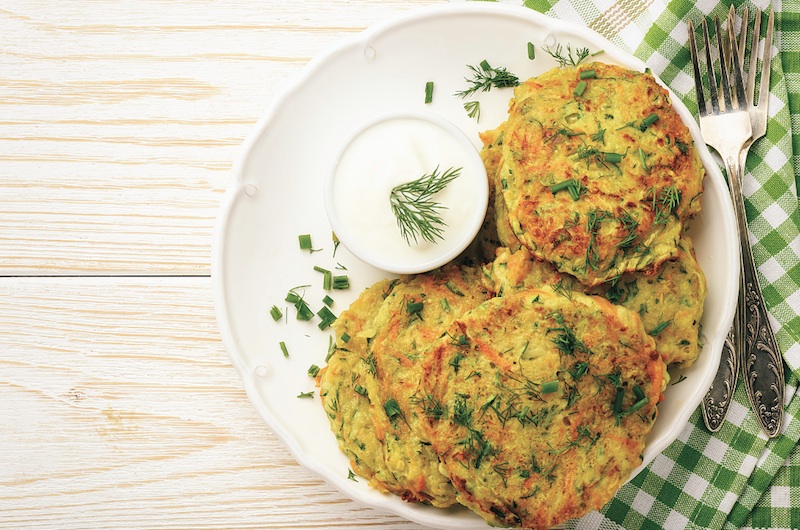 It was when my kids were toddlers that I realized I needed to set a good example when it came to eating.
This meant my husband and I could no longer stand at the kitchen island eating chips and salsa and call it dinner – or at least we felt we shouldn't with little eyes watching us, unconsciously picking up our eating habits.
Once I realized they were at an age when those habits could be picked up for good or for bad, I took my own diet more seriously.
The toddler years – ages 1 to 3 years old – are a time of great exploration and discovery in all matters, including food. All children are of course different, but for many, toddlerhood is a time when kids are open to different tastes and textures.
The toddler years are the time to capitalize on this discovery period. This is your child's chance to potentially develop a fondness for spinach or a love for beets. Though a word of caution: Your beet-loving toddler may flip a switch and decide she despises them on a dime. I don't know if it's a change in taste buds or personality, but toddlers, and children for that matter, can go from loving a healthy food to hating it in no time.
I actually overheard a mother once say to her 2-year-old, "But I thought you loved bananas?!" while the little boy just shook his head in a hard "No." Any parent who has raised a toddler could have given her a knowing look.
But, take heart parents of littles, I have a child who was tube-fed as a toddler, and who ate nothing by mouth until age 3. That child, now age 7, eats Brussels sprouts, asparagus, beans, lasagna, stews and almost anything I'll put on her plate today.
With three children – some with healthy appetites and others with sensory processing disorders and extreme food aversions – I know that while parents must do all they can to ensure their children are eating healthy, a child will ultimately decide what he or she will or won't eat.
Perhaps that's why I believe it's so important to offer a variety of healthy, colorful and appealing foods in the toddler years. Some of those foods will be spit out – or flung across the room – but others may just become lifelong favorites.
---
My kids scooped up this vegetarian chili when they were toddlers. I sprinkled theirs with a little grated cheese and crumbled Fritos. For a healthier meal, serve on top of brown rice.
Toddler-Approved Vegetarian Chili
1 cup tomato juice
1 cup low-sodium vegetable or beef stock
1 cup canned chickpeas, drained and rinsed
1 medium potato, diced
1/4 cup red lentils, washed
1 medium carrot, chopped
1/2 small onion, chopped
1/2 cup finely chopped green pepper
1 clove garlic, minced
1 tablespoon chili powder
1/4 teaspoon salt
1/4 teaspoon ground black pepper
In a saucepan, combine tomato juice, stock, chickpeas, potato, lentils, carrot, onion, green pepper and garlic. Cover, and bring to a boil. Reduce heat and simmer, covered, for about 20 minutes or until vegetables and lentils are tender. Stir frequently, since the chili has a tendency to stick as it thickens.
Add chili powder, salt and pepper. Cook 5 minutes. Taste and adjust flavor.
---
These little vegetable fritters make a great dinner. Toddlers can pick them up and eat with their hands. For grownups, have them for dinner with a green salad. You'll need a food processor to quickly make this recipe.
Carrot and Zucchini Fritters
3 tablespoons ground almonds
Large handful of baby carrots (about 12)
1/2 zucchini, peeled
1 baking potato, peeled
1 medium onion, peeled
2 tablespoons all-purpose flour
1 egg, lightly beaten
Salt and pepper to taste
Vegetable or canola oil
Grind almonds in food processer to make 3 tablespoons.
In food processor, grate carrots, zucchini, potato and onion. Cup small handfuls of mixture, and squeeze out the excess moisture. Mix vegetables with ground almonds, flour and egg. Season with salt and pepper. If mixture seems too wet, add a little extra flour.
Form into six round, flat cakes, and saute in oil until golden on both sides and cooked through – about 6 minutes.
---
My kids liked this cake as a snack. I also served it for breakfast with fresh fruit. It's a great use for overripe bananas.
Banana Yogurt Cake
2 cups cake flour
2 teaspoons baking powder
1 teaspoon baking soda
1/2 teaspoon ground cinnamon
1/2 teaspoon ground nutmeg
2 eggs
1/2 cup sugar
1 cup mashed bananas (about 2)
1/2 cup unsweetened applesauce
2/3 cup plain yogurt
In a bowl, combine flour, baking powder, baking soda, cinnamon and nutmeg.
In a large bowl, whisk eggs until frothy. Gradually beat in sugar until very thick. Stir in banana and applesauce. Stir in dry ingredients alternately with yogurt, ending with yogurt. Spread in prepared 9-by-13-inch pan.
Bake in preheated oven for 30 minutes or until center is firm to the touch. Let cool, then cut into squares.
---
What about foods you shouldn't feed a toddler? The main foods to avoid are any that could cause choking. According to the Cleveland Clinic Children's Hospital those include:
Whole grapes
Hot dogs
Large pieces of meat
Candy and cough drops
Marshmallows
Popcorn
Raw carrots
Raisins
Nuts