International Recipes Blast Boredom of Cooking
Tzatziki, Mole Sauce and Thai Coconut Noodle Soup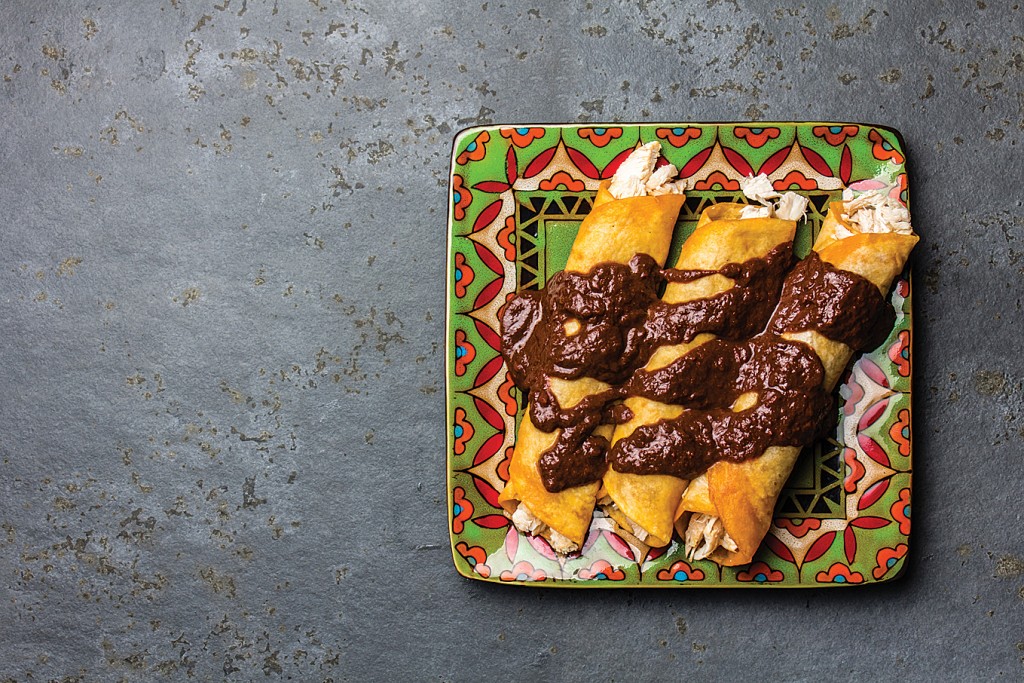 The pickiness of kids often goes in stages. The 4-year-old who rapturously eats sweet potatoes and green beans can become the 7-year-old who only wants to eat grilled cheese sandwiches.
Cross your fingers that it's a stage, and keep doing all the right things to encourage healthy eating of varied foods.
But for those with kids in a picky rut, you're in solidarity with so many other moms and dads out there who are tired of scraping perfectly good food into the sink after dinner. (Or eating that food right off their kids' plates.)
Over the summer, a friend told me if she had to make any more tacos or spaghetti, she was going to lose it. Picky-eating kids had turned this mom, who once prided herself on being an adventurous cook, into someone who dreaded her own kitchen.
I've hit that wall at times myself. Sometimes you just have to go back to cooking whatever pleases you. If the kids don't like your tofu pad Thai, they can have a peanut butter and jelly sandwich.
And the kids might just surprise you. Keep cooking old recipes you made before the kids came along. And cook foods you've never made but intrigue you. Check out an international cookbook from the library, and cook recipes from all over the world. The kids may or may not eat it, but let them know what you're cooking to see if it piques their interest.
Here are a few recipes to inspire or maybe draw you back to enjoy cooking.
---
You've had tzatziki in Greek restaurants, but have you ever made it yourself? It's quick to make, and so good with fresh mint and dill. It's good on practically any bread or cracker, but is also great as a salad dressing or as a dipping sauce for chicken.
Tzatziki
1/2 English cucumber, halved lengthwise
1 cup whole-milk, plain Greek yogurt
1 garlic clove, minced or grated
1 tablespoon minced fresh mint
1 tablespoon minced fresh dill
Finely grated zest of 1 lemon
2 tablespoons fresh lemon juice
1/2 teaspoon kosher salt
Black pepper to taste
Remove cucumber seeds with a small spoon. Grate cucumber with large holes of a box grater.
In a medium bowl combine grated cucumber, yogurt, garlic, mint, dill, lemon zest and juice, salt and pepper, and stir to combine.
Note: Store any leftovers refrigerated in an airtight container for up to 3 days.
---
Authentic mole sauce – Mexican chile sauce – is rich, complex and delicious. Take your time making it, and then savor it over enchiladas or spooned over slow-cooked and shredded pork, roasted vegetables or poached eggs. If you have leftovers, use it for the penultimate Mexican rice bowl. This version is adapted from The Spruce Eats. Many traditional mole recipes have 40 or more ingredients. This one is simpler, but still delicious.
Mole Sauce
1/4 cup vegetable oil
1 onion, peeled and sliced
8 cloves garlic
3 tomatoes, roasted and peeled
1/4 cup unsalted peanuts
1 tablespoon dried Mexican oregano
1 stick cinnamon (broken into small pieces)
1/4 teaspoon anise seeds
3 whole peppercorns
1/4 teaspoon dried thyme
1 whole clove
1 teaspoon cocoa powder
12 guajillo chiles (soaked in hot water, skinned, stemmed and seeded)
1/4 cup raisins (soaked in water to soften)
1/4 cup prepared masa (raw corn tortilla dough)
4 cups chicken broth
Heat the oil in a large skillet over medium-low to medium heat.
Add the onions and garlic, and cook until the onions turn translucent, about 8 to 10 minutes. You do not want the onions to turn brown; adjust the temperature as necessary. When the onions soften remove from heat.
In a blender, purée the roasted tomatoes with the peanuts.
Add the oregano, cinnamon, anise, peppercorns, thyme, clove and cocoa powder, and blend to make a smooth paste.
Add the sautéed onions and garlic to the blender and purée again.
Add the chiles and raisins, and blend into a smooth paste.
Pour all the chicken broth except for 1/4 cup into a large saucepan.
In a separate small bowl, make a roux by whisking the masa with the reserved 1/4 cup of chicken broth.
Stir the roux into the broth, and whisk until smooth.
Add the puréed ingredients to the pan. Cover and simmer for 1 hour.
Uncover and continue cooking until the mole turns thick and aromatic.
---
This wonderful soup comes from the Feasting at Home food blog. It's easy to adapt to kids' tastes. Decrease the amount of red curry paste to lower the heat. You will want to have everything chopped and ready to go before you begin the recipe.
Thai Coconut Noodle Soup
4 ounces dry rice noodles
1 tablespoon peanut or olive oil
1 large shallot, finely diced (or sub half an onion)
2 tablespoons chopped lemongrass
2 garlic cloves, rough chopped
2 tablespoons Thai red curry paste
1/2 teaspoon turmeric, optional
Pinch cardamom, optional
14-ounce can coconut milk
1 cup chicken broth
4–6 kefir lime leaves (optional, but delicious)
1 thinly sliced red bell pepper
2 tablespoons fish sauce
2 tablespoons soy sauce
2 tablespoons brown sugar
1 tablespoon chili garlic sauce
8–12 ounces raw, peeled and deveined shrimp prawns (or crispy tofu, or leftover baked or rotisserie chicken)
1 lime
Garnish with fresh basil, cilantro, bean sprouts, lime wedge or scallions.
Place noodles in a shallow baking dish and boil enough water to just cover them. While water is boiling, prep the shallot, garlic, lemongrass, red bell pepper, then get all other ingredients ready by the stove.
In a medium pot, heat oil over medium heat. Add shallot and lemongrass. Saute until fragrant and golden, about 3 minutes. Add garlic, saute 1-2 mintues. Add red curry paste. Saute for 1-2 minutes. Add the coconut milk, chicken broth and kefir lime leaves and bring to a simmer, stirring. Once gently simmering, add the bell pepper, fish sauce, sugar, soy sauce and chili garlic sauce.
Add the shrimp (or chicken or tofu) and gently simmer until cooked. Give a generous squeeze of lime. Taste, adding more lime/salt/ red curry paste if necessary.
Drain the noodles. If serving the soup immediately, toss the noodles right into the pot and then serve.
Garnish with fresh basil, bean sprouts, thinly sliced red onion and chopped scallions.
Natalie Mikles is a mom of three. She writes about food, sharing recipes for busy families and picky eaters. She has been recognized for her food columns as well as features on families and issues affecting local children. She loves pizza and movie nights with her family.
---