Insight School of Oklahoma: One of Oklahoma's Fastest Growing Online Schools
Sponsored by Insight School of Oklahoma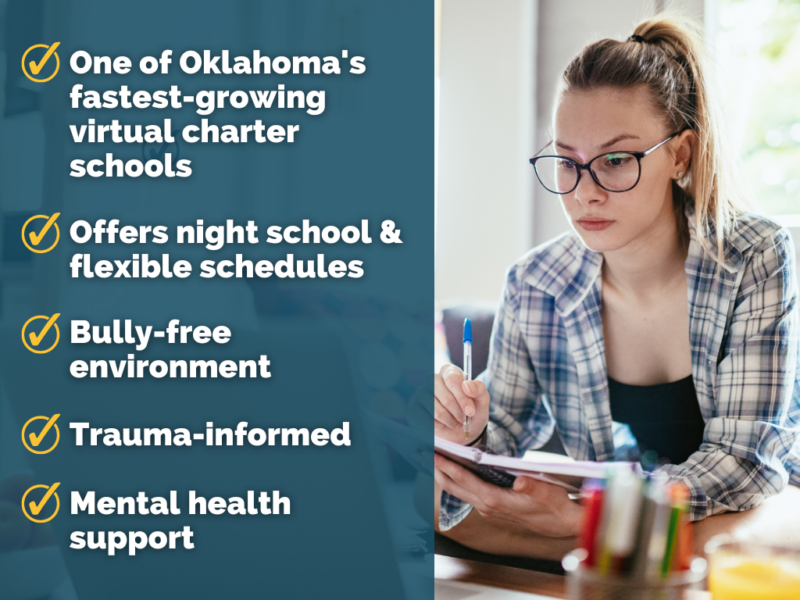 Insight School of Oklahoma — the state's only online alternative education institution — is a prime example of a school embracing change and thriving because of it.
Over the last five years, Insight implemented significant changes to become one of the fastest-growing online schools in the state. Last year, the school experienced an 18% increase in enrollment. But this wasn't just by accident — there was a strategy in place to grow Insight's student body.
Lead by Head of School Jennifer Wilkinson, Insight focused on three primary goals.
Increase Graduation Rate
The school implemented measures to increase the graduation rate. They worked to remove as many barriers as possible before students even entered the classroom, including:
Providing food boxes as needed with donations from local nonprofits (70% of Insight's students are low-income)
Offering flexible schedules (courses can be taken any time between 8 a.m. and 8 p.m.)
Hiring more counselors (100% of students have had an adverse childhood experience)
Providing free laptops and hot spots
Diversifying how credits are accrued
Students struggling with certain subjects can receive direct instruction from teachers, but otherwise they're free to work at their own pace. This flexibility makes getting an education more accessible — especially for those students who have jobs, children to support or other commitments outside of school.
Train Reading Teachers
They recognized strong reading skills are the foundation for all learning. Every teacher became trained as a reading teacher to equip students with needed skills post-graduation.
Post-Graduation Support
The last goal was ensuring students have a clear path to success post-graduation. Counselors meet with students regularly to help them transition to the next stage of their lives, whether it is to college, career tech or the workforce.
In May, 237 students will walk across the stage to receive diplomas, nearly a 200% increase since implementing these measures.
Insight's story exemplifies how embracing change and taking a holistic approach to students' needs — not just their academics — can lead to success in education. They have created a model of education which is accessible, flexible, and prepares their students for success beyond high school.
Jennifer Wilkinson is Head of School for Insight School of Oklahoma.