How Do You Build a Reader?
Talk, Sing, Read, Write and Play Every Day!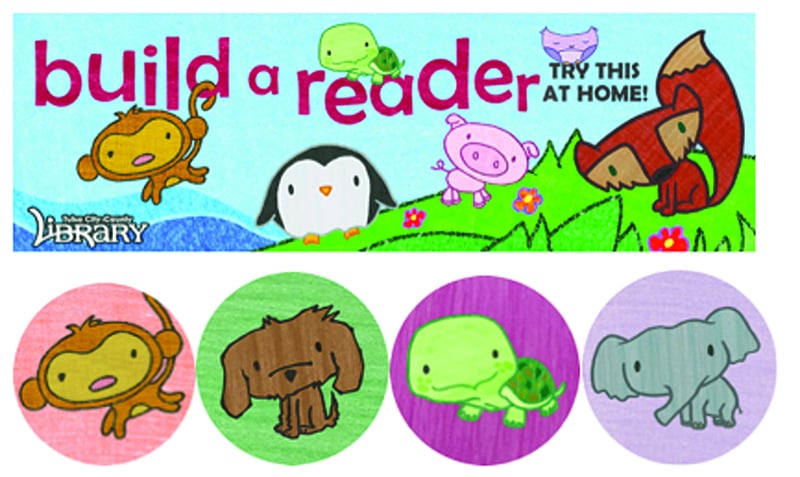 The library gives you great suggestions for what to do at home to get your baby and young child ready to read.
To get a simple idea of what research says you should be doing to help prepare your baby and young child for later reading success, put one hand out in front of you. Now point to each finger:
Talking
Singing
Reading
Writing
Playing
That's it! Decades of longitudinal studies, complex research experiments, and statistical analysis by reading and literacy experts all point to these five simple activities. When you talk, sing, read, write and play with your children every day, you are ensuring that, when they are ready to learn the mechanics of reading (around the age of 6 or so), the process will be both easier and more joyful. What you do for babies and young children from ages 0 to 5 has a direct impact on their later success in navigating written language.
To help parents and caregivers with this important development, the Public Library Association created the Every Child Ready to Read initiative in 2004. Here at the Tulsa City-County Library, this initiative is known as "Build A Reader" and forms the backbone of our early literacy programming – primarily, weekly storytimes offered at most of our 24 locations across the city and county.
It doesn't matter which TCCL library you visit, from A (Allie Beth Martin Library) to Z (Henry Zarrow Library), if you pop in to a storytime you'll hear our professional children's staff encouraging you to Talk, Sing, Read, Write and Play!
If you're like most parents, this sounds great – but you could use some ideas to incorporate talking, singing, reading, writing and playing into your child's everyday life. (Especially writing! How on earth do you "write" with babies? The easy answer: waving "hi!" and "bye!", which develops hand muscles and prepares babies for the idea that we use our hands for communication.)
Fortunately, the Tulsa City-County Library has translated these simple concepts into around 60 or so easy-to-use activity ideas that will engage your children (and you) while preparing their growing brains for later reading success.
For example:
"Bathtub Picasso" – how to encourage writing with just a tub of soapy water and shaving cream.
"I Spy: Family Edition" – make the visual skills practice of "I Spy" even more enjoyable!
"Junk-Mail Post Office" – don't just throw out all of those grocery store circulars and offers for new cable services. Use them to help your child start to understand the concept that print has meaning.
These activities and more are the basis for the Build A Reader: Try This at Home 16-month calendar, which you can get for FREE at any of the Tulsa City-County Library's 24 locations. Simply complete the digital program at tulsalibrary.beanstack.org OR pick up a Build A Reader bookmark at any location. (For a complete list of libraries, go to tulsalibrary.org and go to "Locations.") The bookmark even has a bonus: a detachable finger puppet for your child.
Complete just one activity, and you will receive the calendar completely FREE!
Using the simple concepts of TALK, SING, READ, WRITE and PLAY, and with the help of the Tulsa City-County Library, you will make sure to BUILD A READER!
Build A Reader:
Try This at Home!
Get your free finger puppet bookmark and calendar at any of the 24 locations of the Tulsa City-County Library.
You can also sign up online at tulsalibrary.beanstack.org