Homemade Snacks Are Good and Good for You!
Easy Energy Bites, Slow Cooker Applesauce, Chocolate Chip Granola Bars, Homemade Animal Crackers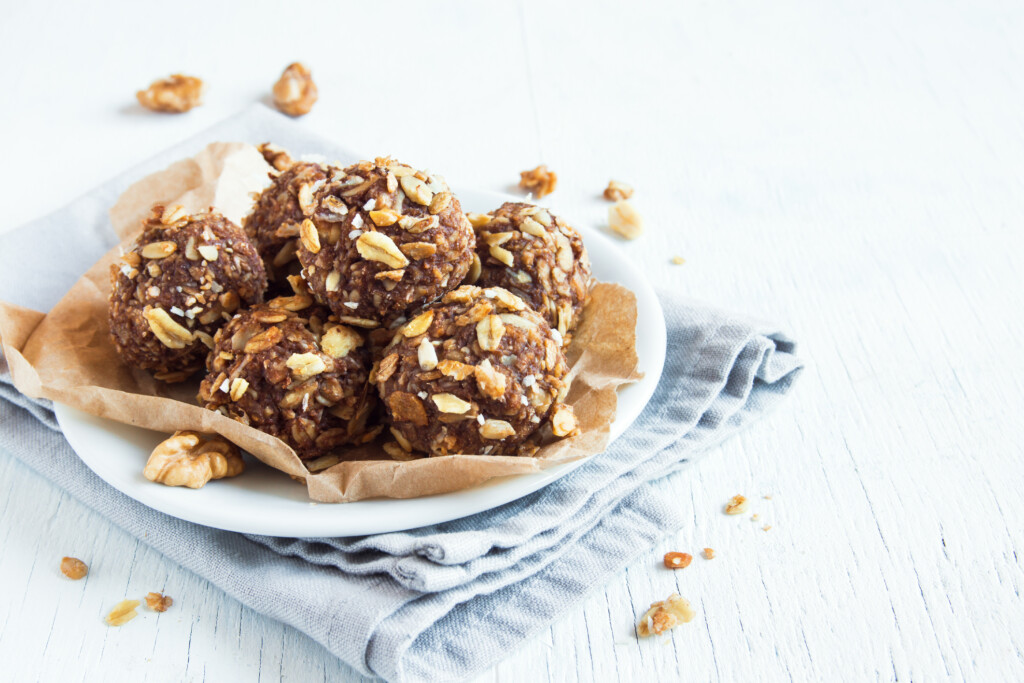 A ridiculous amount of our monthly grocery costs goes to snacks.
Bags of pretzels and chips, granola bars, fruit snacks, mini water bottles and juice boxes, cookies and more. My kids pack them in their lunch boxes, devour them after school and grab them on the way to cross country or football practices.
Yes, we also keep plenty of fruit, yogurt, hummus and cut veggies. But when we're out of the packaged snacks they love, that's when I hear "Mom, we have nothing to eat!"
This school year, I'm recommitting to making some homemade snacks. Yes, I'll still buy packages of goldfish crackers and granola bars. But August is a great time to set some resolutions, make goals and press the reset button.
I've had success in the past making energy bites, granola and even homemade cheese crackers. But once the school year gets rolling along, it's often easier to rely on the pre-packaged stuff. However, making homemade snacks is a good way to save money and to make the snacks more nutritious.
Here are some of those snacks I'm going to have handy for my kids this school year. If you give them a try, let us know on our TulsaKids Facebook page. Or share some of your favorite homemade snacks!
---
You can play around to change this recipe in 100 different ways. Add a little cocoa powder, chopped nuts, dried cranberries, coconut or chia seeds. Swap peanut butter for almond butter. Swap honey for maple syrup. Have fun with it! This recipe makes about a dozen balls.
Easy Energy Bites
2/3 cup creamy peanut butter
1/2 cup chocolate chips
1 cup old-fashioned oats
1/2 cup ground flax seeds
2 tablespoons honey
Combine all 5 ingredients in a medium bowl. Stir to combine. Place in the refrigerator for 15-30 minutes so they are easier to roll.
Roll into 12 bites and store in the fridge for up to a week.
---
We eat a lot of applesauce at our house. This version is so good. It makes about 12 cups. I divide it into one-half cup servings and place in small glass or plastic containers for lunch boxes or after-school snacks.
Slow Cooker Applesauce
6 pounds apples
1 cup sugar
1 cup water
1 teaspoon kosher salt
1 teaspoon ground cinnamon
¼ cup butter, cubed
2 teaspoons vanilla extract
Peel and slice apples. Place in a slow cooker with sugar, water, salt and cinnamon. Cover and cook on low for 6 to 8 hours.
Turn off the heat and stir in the butter and vanilla. Mash slightly for a chunky applesauce or mash completely for a smooth applesauce. Can be served warm or cold.
---
This Weelicious version of a granola bar is the best. It makes about 30 bars. If your kids don't like chocolate chips, sub raisins or other dried fruit.
Chocolate Chip Granola Bars
4 cups old-fashioned oats
¼ cup whole-wheat flour
½ cup shredded unsweetened coconut
1/3 cup packed brown sugar
1 cup chocolate chips
½ teaspoon kosher salt
½ cup canola oil
1 teaspoon vanilla extract
½ cup honey
Preheat oven to 325 degrees, and line a baking sheet with parchment paper.
Combine oats, flour, coconut, brown sugar, chocolate chips and salt in a large bowl.
In a separate bowl, whisk together canola oil, vanilla and honey. Pour the wet ingredients over the oat mixture and stir to combine.
Spread the granola mixture on the baking sheet and shape it into a 9-by-13-inch rectangle that's about 1-inch thick. Bake 40 minutes or until golden and dry to the touch.
Cool 10 minutes, then cut into 3-by-1-inch bars using a serrated knife. Wrap individually in parchment paper.
---
Here's another Weelicious recipe. This is one of my favorites. Yes, it's a bit time consuming. But these crackers are delicious! It's hard to say how many it makes since it all depends on the size of your cookie cutters. I like using very small shapes or letters.
Homemade Animal Crackers
1 ½ cups all-purpose flour
½ cup old-fashioned oats
1 teaspoon baking powder
½ teaspoon salt
½ teaspoon ground allspice
½ cup sugar
1 stick unsalted butter, chilled and cut into pieces
1 teaspoon vanilla extract
1 egg
Place the flour, oats, baking powder, salt, allspice and sugar in a food processor, and pulse to combine. Add butter, and pulse to combine. Add vanilla and egg, pulsing until the dough forms a ball.
Wrap the dough in plastic wrap, and chill 30 minutes.
Preheat oven to 350 degrees. Roll dough on a floured surface to ¼-inch thick and cut out shapes. Place on a parchment-lined baking sheet. Bake 15 minutes, but watch carefully because the baking time will depend on the size of the cookies.
Note: Cover and store at room temperature for 5 days.
Natalie Mikles is a mom of three – 12-year-old twin girls and an 11-year-old boy. She writes about food, sharing recipes for busy families and picky eaters. She has been recognized for her food columns as well as features on families and issues affecting local children. She loves pizza and movie nights with her family.
---