Holiday Cooking With Kids
Letting kids help in the kitchen during the holidays can work to your benefit, as long as you give them age-appropriate jobs and lower your expectations.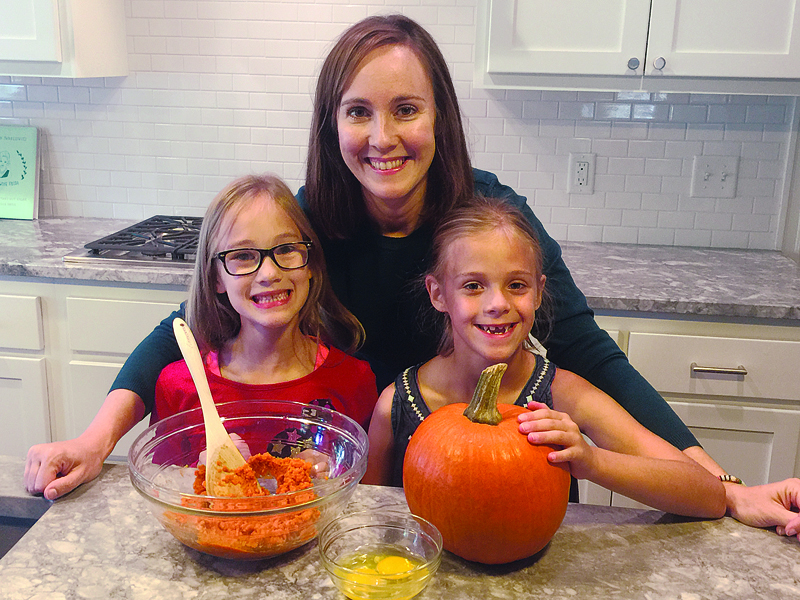 Teaching a 7-year-old how to make a pie crust will take you to the next level of Supermomdom.
When my daughter asked me if she could make a pumpkin pie for Thanksgiving, I was thrilled. I love making pies, so I thought teaching her to make pies would be great. This could be "our thing," I thought. Teaching a child to make a pie is like teaching a child to do anything. It's sometimes a struggle, with twists and turns of challenges, gritted teeth and tears. But ultimately, it's rewarding, both to you and your child.
Canned pumpkin wasn't good enough for this daughter, who is always up for a challenge. She wanted a "real" pumpkin pie. So, we cut and roasted a small pumpkin, added all the delicious spices and maple syrup and butter and poured it into the pie crust she had rolled out herself. It was the best pumpkin pie I've ever tasted, and we both felt proud for having made it.
The time we take to teach our children how to build, create or cook something isn't wasted time. Even during the hectic holiday season, setting aside some time for an art project, science experiment or recipe creation will build memories and bind hearts.
Beyond the experience, the wonderful thing about that pumpkin pie my daughter and I made is that it was one less pie I would have to make for the Thanksgiving feast. Letting kids help in the kitchen can actually work to your benefit, as long as you give them age-appropriate jobs and lower your expectations.
Blast your Spotify or favorite Pandora station, give everyone an apron (it makes the kids feel like real cooks) and have fun in the kitchen together this Thanksgiving.
Here are some of our favorite recipes to cook with your kids and a couple they can make entirely on their own.
We love this idea, adapted from FamilyFun magazine, for mini pecan pies. The bonus: Finally, a use for those mason jar lids. Parents should toast the pecans, but elementary-aged kids can do many of the steps themselves.
Mason Jar Pecan Pies
8 (3.5 inch) wide-mouth canning jar lids
1 package refrigerated pie crusts (or your own recipe)
1/2 cup dark corn syrup
1/4 cup firmly packed light brown sugar
2 large eggs, lightly beaten
1/4 cup melted butter
2 teaspoons vanilla extract
1/2 teaspoon kosher salt
1 1/2 cups coarsely chopped pecans, lightly toasted
1 cup heavy cream
2 tablespoons maple syrup
1/4 teaspoon ground cinnamon
Heat oven to 375 degrees. Arrange mason jar rings on a baking sheet; add metal lid inserts, but flip them over so the shiny metal side faces up.
Cut each crust into four 4 1/2-inch rounds, using a small bowl as a guide. Freeze at least 20 minutes.
Whisk together corn syrup, sugar, eggs, butter, vanilla and salt until blended. Divide pecans among crusts. Pour syrup mixture over the nuts.
Bake on bottom oven rack for 20 minutes or until edges are golden and filling is set. Cool on a wire rack.
Beat cream, maple syrup, and cinnamon at medium-high speed with an electric mixer until peaks form. Serve pies with whipped cream. (You can make both a day in advance!)
Here's a great pre-turkey appetizer. Kids will like the sweet cranberries and goat cheese. Leave out the rosemary if you have picky eaters. Kids will love helping roll and cut these.
Cranberry and Goat Cheese Pinwheels
1 large egg
1 tablespoon water
1 sheet frozen puff pastry, thawed
3 ounces crumbled goat cheese, softened
1/4 cup finely chopped sweetened dried cranberries
1 1/2 teaspoons finely chopped fresh rosemary
Kosher salt and ground pepper
Whisk together egg and water until well blended. Unfold pastry on a lightly floured surface. Brush with egg wash.
Sprinkle and spread cheese over dough. Add cranberries and rosemary. Season with salt and pepper.
Starting at one side, tightly roll it up. Cover with plastic wrap and freeze 45 minutes or until very firm. (To make ahead, freeze up to 2 weeks. Let stand 25 minutes before moving to next step.)
Heat oven to 400 degrees. Slice roll into about 24 (1/4 inch) slices. Arrange on 2 parchment-lined baking sheets. Brush with egg wash. Bake for 15 to 18 minutes or until golden brown. Cool on wire rack.
Even toddlers can help pour and stir for this recipe. Little ones also love putting the muffin liners in the pan. Place these muffins on the kids' table at Thanksgiving, and the kids will gobble them up.
Sweet Cornbread Muffins
2 (8.5 ounce) packages corn muffin mix
1 (18.25 ounce) box yellow cake mix
5 eggs
2 cups milk
1/3 cup vegetable oil
Preheat oven to 350 degrees. Place muffin liners in two muffin pans.
Stir corn muffin and cake mix together in a large bowl. Add eggs, milk, and vegetable oil and stir. Pour filling in muffin pans. Bake for 18 minutes, or until golden brown and a toothpick comes out clean.
Serve with butter and honey.