Healthy Treats to Fill the Snack Box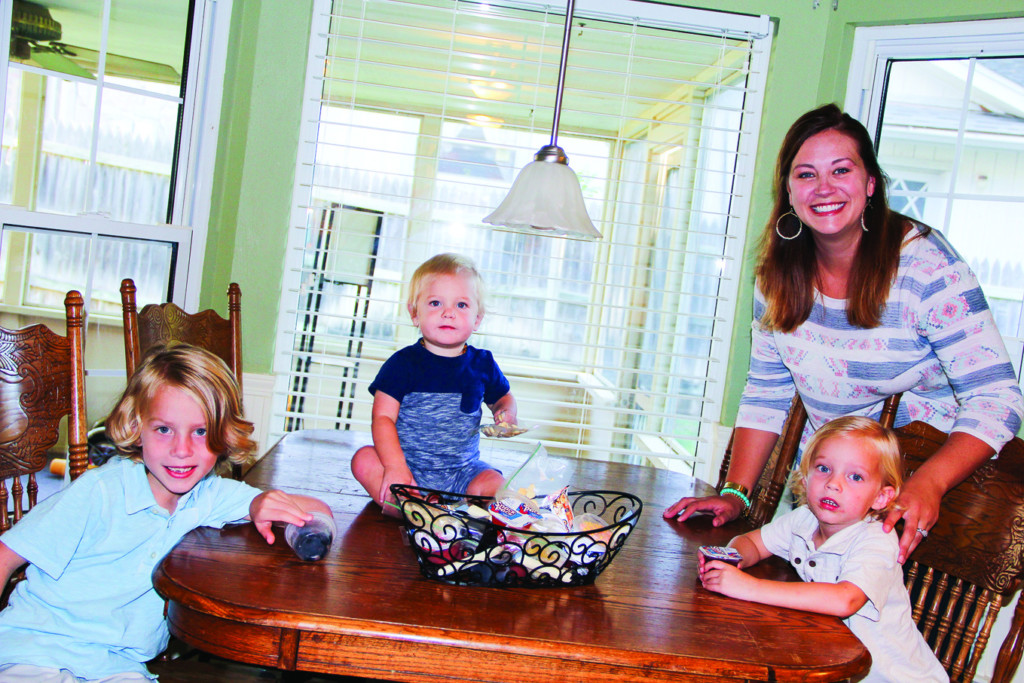 I've been tempted to put a padlock on my refrigerator.
"Close the refrigerator!" I say to at least one of my three kids a few times a day. And if it isn't the refrigerator, it's the pantry, where they're rummaging for something to eat.
I know I'm not alone. I've talked to many moms who say the same thing. They feed their kids three meals a day, but it's never enough. For parents, snack time can actually be more of a headache than mealtimes.
My friend Meredith Lawler is an excellent meal planner and cook. So it was no surprise to me she also had a great plan for snacks. She and her husband, Tyler, are the parents to three boys, Hank, 5; Theo, 3; and Vince, 1.
Meredith used to be like me, fielding requests for snacks while watching the clock to make sure her boys didn't eat too much before dinner.
"The boys would beg for snacks all the time, and I felt like I never left the kitchen," she said. "Between the three meals a day and snacks, I was tired of thinking about food all day."
So, she created a snack box that holds all the boys' snacks for the week.
On Sundays, Meredith fills the box with healthy snacks – apple slices, raisin boxes, baby carrots with yogurt-ranch dipping sauce, yogurt, grapes in snack bags, peanut butter crackers, cheese sticks, applesauce pouches, cucumber slices, celery sticks with peanut butter, sugar-free Jell-O cups and Goldfish. Not all of these things make the box each week, and Meredith mixes it up as the weeks go on.
The first week Meredith tried the snack box, the boys were so excited about it, they ate everything in two days.
"I explained to them multiple times that I only fill it up once a week, so once it's gone, it's gone," she said. "It took them about two weeks to figure this out, but now they do just fine pacing themselves. It's taught them self-control as well. They no longer beg for snacks. If they want one, they go and get one."
This is so different from how snacks are currently handled at my house. I recently caught my son climbing onto the kitchen cabinet to peer into the highest shelf where I keep the graham crackers and cookies. He knew I would say no, so he took matters into his own hands. Meredith's plan sounds much more appealing than watching my 5-year-old risk it all for a fruit roll-up.
Meredith's perspective that she didn't want to get into "food fights" with her kids is something I need to remember.
"I try not to overthink parenting in general, but especially about this," she said. "Hopefully they will look back at their childhood and remember that meals were fun. We laughed, ate and talked about our days."
She doesn't want her boys' memories of mealtime to be of her as food monitor, insisting they take "one more bite!"
"I make nutritious meals and snacks that we all enjoy eating. But more importantly, we enjoy being together, and I try to remember that someday when I am feeding three big teenage boys, I will long for the days when a little box of snacks solved our problems."
I have high hopes for implementing a snack box for my kids. But, I also like to have a few fun, planned snacks for them. Here are some ideas.
---
Maybe you've seen recipes for these energy bites on Pinterest. If you haven't made them yet, they're worth a try.
Energy Bites
1 cup rolled oats
1 cup coconut flakes
1/2 cup ground flaxseed
1/2 cup mini chocolate chips
1/2 cup raisins
1/2 cup peanut butter
cup honey
1 teaspoon vanilla
Mix together the oats, coconut, flaxseed, chocolate chips and raisins.
In a small bowl, whisk together peanut butter, honey and vanilla. Pour the peanut butter mixture over the oat mixture, mixing until incorporated.
Place in refrigerator to firm for about 30 minutes, then roll into balls.
These will stay fresh in a tightly sealed container in the refrigerator for about a week. For longer storage, keep in the freezer. For lunchboxes, place a few frozen energy bites in a lunchbox, and they'll be defrosted but cold for lunchtime.
---
My kids love the addition of popcorn in this snack mix.
Sweet and Salty Snack Mix
1 teaspoon apple pie spice (or 1/2 teaspoon cinnamon, 1/4 teaspoon nutmeg, and 1/4 teaspoon allspice)
1 tablespoon sugar
1/2 cup chopped dried apples
1/4 cup chopped pecans
6 cups popped popcorn
1 tablespoon butter, melted
Mix together spices and sugar in a small bowl.
Combine dried apples, pecans and popcorn. Pour melted butter over popcorn mix.
Sprinkle sugar-spice mix over popcorn mix, and shake to coat.
---
This yummy recipe is adapted from Cooking Light. It makes 4-dozen mini muffins.
​Nutella Banana Mini Muffins
1 1/2 cups mashed ripe banana, about 3 large
1/3 cup Nutella
1/3 cup plain Greek yogurt
3 tablespoons melted butter
2 eggs
1/2 cup packed brown sugar
1/2 cup white sugar
1 cup all-purpose flour
1/2 cup whole-wheat flour
1/4 cup ground flaxseed
1/2 teaspoon salt
3/4 teaspoon baking soda
1/2 teaspoon cinnamon
2 tablespoons unsweetened cocoa
Heat oven to 350 degrees.
In a large bowl, add banana, Nutella, yogurt, butter and eggs. Beat with a mixer at medium speed until smooth. Add the sugars and blend until fully combined.
In a separate bowl, combine all remaining ingredients. Stir gently. Add dry mixture to the wet mixture, and beat with mixer until just combined. Do not over-mix.
Spray mini-muffin pan with nonstick cooking spray. Fill each cup about 3/4 full. Bake at 350 degrees for 15 minutes.