Festive Holiday Recipes for Friends and Family
Caramel Nut Logs, Apricot Almond Biscotti, Caramel Silk in a Jar and Gouda and Feta Pizzettes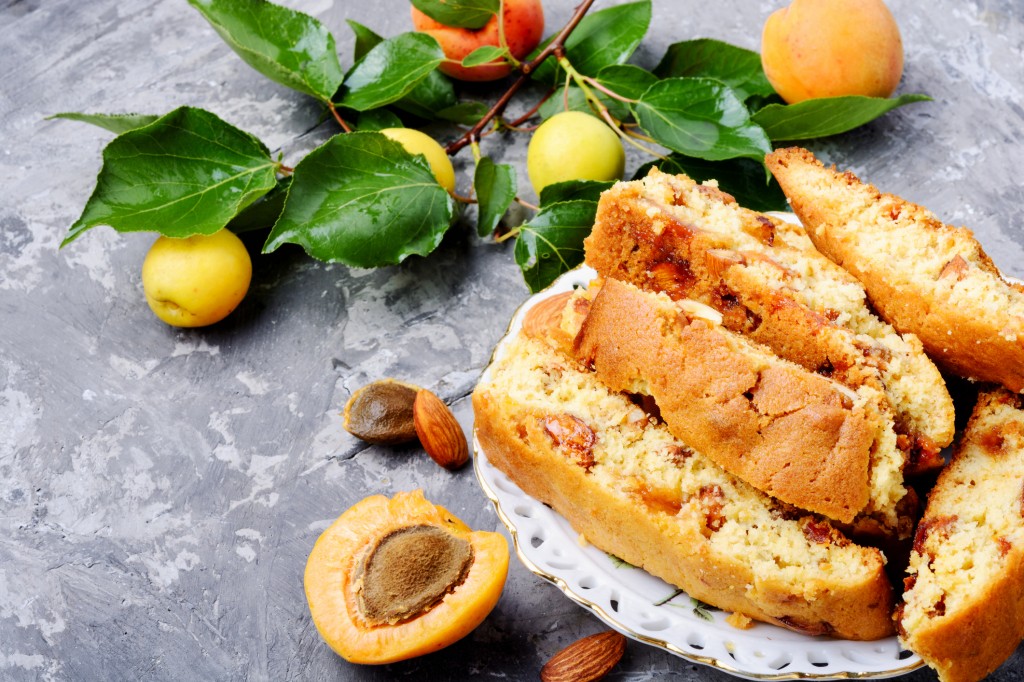 Whether you're hosting a large gathering over the holidays, or hoping to make some festive, edible gifts, these holiday recipes are sure to be a hit!
Caramel Nut Logs
(from Land O'Lakes)
1/2 c. Land O'Lakes Butter
1 (7 oz.) jar marshmallow creme
4.5-5 c. powdered sugar
Coating
1 (14-oz.) package caramels, unwrapped
2 Tbsp. Land O'Lakes Butter
2 Tbsp. Land O'Lakes Half & Half
2 c. chopped, salted peanuts, cashews OR pecans
Microwave 1/2 c. butter and marshmallow creme in large, microwave-safe bowl on high, stirring once, until melted (1 1/2-2 min.). Stir until well mixed. Stir in 4 1/2 c. powdered sugar; mix well. Knead in up to 1/2 c. additional powdered sugar with hands until mixture is firm and no longer shiny.
Divid mixture into 6 equal parts. Shape each part into a 5×1-inch log. Wrap each log in plastic food wrap. Place logs onto un-greased small cookie sheet. Freeze until firm (at least 2 hours or overnight).
Line another cookie sheet with waxed paper. Set aside. Place chopped nuts on separate sheet of waxed paper. Set aside. Place caramels, 2 Tbsp. butter and Half&Half in 2-quart saucepan. Cook over medium heat, stirring often, until caramels are melted and smooth. Reduce heat to low to keep caramel mixture warm.
Remove logs from freezer; unwrap. Dip one frozen log into warm caramel mixture using tongs or two-pronged meat fork; turn to coat. Remove log; allow excess caramel mixture to drip back into pan.
Place on nut-covered waxed paper. Lifting the waxed paper, roll the logs to coat with nuts. If needed, use hands to press nuts into caramel log. Set log on same cookie sheet to cool. Repeat with remaining logs.
Refrigerate 1 hour; wrap each log in plastic food wrap. Store refrigerated.
Cut each log into 12 slices (which makes 6 dozen candies).
---
Apricot Almond Biscotti
(from Land O'Lakes)
2 c. all-purpose flour
1 tsp. baking powder
1/4 tsp. salt
1 c. sugar
1/2 c. Land O'Lakes Butter, softened
3/4 tsp. almond extract
2 eggs
1 c. dried apricots, chopped (Mediterranean variety gives best results)
3/4 c. chopped slivered almonds, toasted
Powdered sugar
Heat oven to 350 degrees. Stir together flour, baking powder and salt in small bowl. Set aside.
Combine sugar, butter and almond extract in large mixer bowl. Beat at medium speed, scraping bowl often, until well mixed (1-2 min.). Continue beating, adding eggs 1 at a time, until creamy (1 min.). Stir in apricots and almonds by hand. Gently stir in flour mixture just until dough forms.
Divide dough in half. Shape each half of dough on lightly floured surface into 12×1 1/2-inch log. Place logs on lightly greased large cookie sheet about 4 inches apart. Flatten each log to 2-inch width. Bake for 25-30 minutes or until logs begin to crack and edges begin to brown. Let stand 10 minutes on cookie sheet
Reduce oven to 300 degrees. Carefully cut logs diagonally into 1/2-inch slices with serrated knife. Place slices on same cookie sheet, cut-side down. Bake for 20-25 minutes, turning once, or until crisp and very light brown on both sides. Place on cooling racks. Cool completely.
Sprinkle cooked cookies with sifted powdered sugar. Store in loosely covered jar. Makes 3 doz. cookies.
---
Caramel Silk In a Jar
(from Land O'Lakes)
1 1/2 c. firmly packed brown sugar
1 1/2 c. sugar
1 c. light corn syrup
2/3 c. Land o'Lakes Butter
1 1/3 c. Land O'Lakes Gourmet Heavy Whipping Cream
Combine all ingredients except whipping cream in 3-quart heavy saucepan. Cook over medium heat, stirring occasionally, until mixture comes to a full boil (15-20 minutes).
Stir in whipping cream; continue cooking 1 minute. Cool 5 minutes.
Pour mixture into 5 (8-oz.) jars. Cool 15 minutes; cover. Store refrigerator.
To serve, remove cover. Microwave on High, stirring every 30 seconds, until hot (30-60 sec.)
---
Gouda and Feta Pizzettes
(from Midwest Dairy Association)
1 package (17.3 oz.) frozen puff pastry, thawed
8 large plum tomatoes, sliced 1/4-inch thick
coarsely ground black pepper
1 1/2 c. (6 oz.) shredded, smoked Gouda cheese
1 c. (4 oz.) feta cheese, crumbled
1/4 c. pitted calamata olives, coarsely chopped
6 Tbsp. chopped mixed fresh herbs such as basil, oregano and sage
Preheat oven to 400 degrees. On a lightly floured board, unfold one sheet of puff pastry and roll into a 10-inch square, about 1/8-inch thick.
Make two parallel cuts lengthwise and two parallel cuts crosswise to make nine equal squares of dough. Arrange three slices of tomato on each pastry. Sprinkle with pepper. Top with Gouda, crumbled feta and olives.
Place pizzettes on cookie sheet. Bake until pastry is golden brown and has puffed, about 18-20 minutes. Remove from oven and sprinkle with herbs. Serve warm.
Editor's Note: These recipes were originally published in TulsaKids' December 2000 issue.
---