Eating Healthy in the New Year
Small changes can pack a big nutritional impact.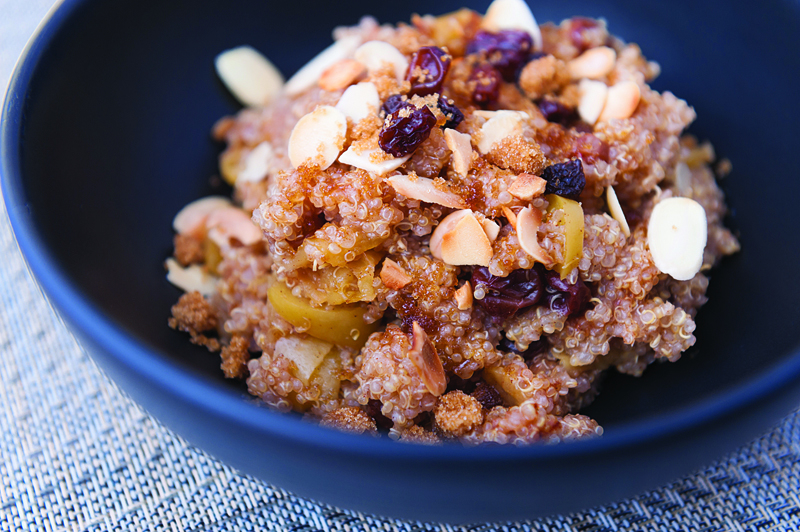 This article was originally published in January 2018.
Once the candy canes are gone and the sugar cookies have all been eaten, it's time for a reality check.
I don't know about you, but I'm guilty of letting my kids indulge in sweets and treats during the holidays. And as much as we love hot cocoa every day in December, even my kids are ready to hit the restart button in January.
That doesn't mean we're making radical resolutions. Small changes can make a big difference to nutrition and well-being, even for kids.
For your family, that may look like going back to meatless Mondays or removing your stock cokes and juice boxes from the fridge or reintroducing fruits, veggies and whole grains to the dinner table.
That's going to be my approach this January. Rather than doing something crazy like blocking the pizza delivery number from my phone, I'm going to be easier on myself. Maybe the next time we have pizza night, we do so with a fruit salad on the side.
Here are five ideas to give us all a nutritional boost, a jumpstart to healthy eating habits.
1. Sweet Potatoes
There's so much you can do with the lowly sweet potato. Its versatility can take it from a savory side dish to a sweet ending. Or, add it to a stew or combine it with lean sausage for a main dish.
Here's a great recipe to go with turkey burgers or grilled chicken breasts. For a vegetarian dinner, try these fries with black bean burgers.
Spicy Sweet Potato Fries
6 sweet potatoes, cut into fries
2 tablespoons canola oil
2 tablespoons taco seasoning mix
1 tablespoon kosher salt
1/4 teaspoon cayenne pepper
Preheat the oven to 400 degrees.
In a plastic bag, combine the sweet potatoes, canola oil, taco seasoning and cayenne pepper. Close and shake the bag until the fries are evenly coated. Spread the fries out in a single layer on two large baking sheets.
Bake for 20 minutes, or until crispy and brown on one side. Remove fries from oven, increase heat to 425 degrees, and turn the fries over using a spatula. Cook for another 20 to 30 minutes, or until they are crispy on the outside and tender inside.
Note: The cooking time will greatly depend on how thick or thin you've cut the fries, so keep an eye on them!
2. Quinoa
Quinoa's simple, slightly nutty flavor makes it adaptable to familiar recipes calling for grains or pasta. But this protein-packed grain's properties, including high fiber, make it a super healthy choice. If your kids are new to it, try it in place of rice and see what they think.
This breakfast quinoa is a tasty change from oatmeal.
Breakfast Quinoa with Cinnamon and Apples
1/3 cup quinoa
1/3 cup water
2/3 cup apple juice
1 teaspoon ground cinnamon
1 small Granny Smith apple – peeled, cored, and chopped
1 teaspoon agave syrup, or to taste (optional)
Bring quinoa, water and apple juice to a boil in a saucepan. Reduce heat to medium-low and add cinnamon. Cover and simmer quinoa for 10 minutes. Stir apples into the quinoa; continue simmering until the liquid is absorbed and quinoa is tender about 10 more minutes. Drizzle with agave nectar to serve.
Note: For a creamier taste, add a little milk or half-and-half.
3. Bananas
Bananas aren't a hard sell for most kids. Many kids are happy to eat a banana, whether it's mashed onto the tray of a high chair or packed into a school lunchbox.
These breakfast bars are a good choice for a nutritious start to the day or as an after-school snack.
Banana Breakfast Bars
2 ripe bananas
1/4 cup vegetable or coconut oil
1/4 cup packed brown sugar
1 large egg
1 teaspoon vanilla
1/2 teaspoon salt
1/2 teaspoon baking soda
1/2 cup whole-wheat flour
1 cup old fashioned oats
Preheat oven to 350 degrees. Spray an 8- or 8-inch pan with nonstick cooking spray.
Place bananas in a large bowl, and mash them with a fork. Stir in oil and brown sugar. Add egg, vanilla and salt, and stir until combined. Stir in baking soda. Add flour and oats, and stir until mixed. (You will still have some lumps.) Spread into pan.
Bake for 18 to 22 minutes until browned around the edges and not jiggly in the center. Cool completely. Slice into bars.
4. Plain Yogurt
Calcium and vitamin D are important for growing kids. Yogurt marketed to kids has some healthy benefits, but it's often also laced with sugar and additives. Instead, opt for plain yogurt and then mix in either a little honey or fruit.
These popsicles are a perfect after-dinner treat and alternative to a sugary dessert.
Fruit and Yogurt Pops
1 cup plain yogurt
1 cup fresh or frozen (slightly thawed) blueberries or strawberries
1 tablespoon honey
Combine yogurt, fruit and honey in a blender, and blend to the desired consistency. Pour fruit mixture into 4 (5-ounce) paper cups, filling each about three-fourths full. You may also use clean plastic yogurt cups.
Cover each cup with foil, then make a small slit in the middle of the foil cover and insert an ice-pop stick into each one. Freeze until solid, about 5 hours. When ready to eat, peel off the paper cups and eat. If using yogurt cups, sit on the counter for a couple of minutes, then slide the popsicle out of the cup.
5. Kale
I've made kale chips with varying degrees of success. And while my kids will eat them, it's not their favorite thing. I've been looking for other ways to add kale into our diets, and found it was delicious in one of their favorite dinners – fried rice.
Chicken Fried Rice with Kale
4 cups kale, removed from stems and chopped
1 teaspoon canola oil plus 2 tablespoons, divided
2 large eggs, beaten
3 scallions, thinly sliced
2 teaspoons grated fresh ginger
2 teaspoons minced garlic
1 pound boneless, skinless chicken thighs, trimmed and cut into 1/2-inch pieces
2 cups frozen mixed vegetables, thawed
2 cups cold cooked brown rice
2 1/2 tablespoons reduced-sodium soy sauce
Bring 4 cups water plus 1/2 teaspoon salt to a boil. Add kale, and boil for 4-5 minutes or until tender. Drain the kale and, when cool enough to handle, squeeze the excess moisture out with your hands and set it aside.
Heat 1 teaspoon oil in a large flat-bottomed wok or large, heavy skillet over high heat. Add eggs and cook, without stirring, until fully cooked on one side, about 30 seconds. Flip and cook until just cooked through, about 15 seconds. Transfer to a cutting board and cut into ½-inch pieces.
Add 1 tablespoon oil to the wok along with scallions, ginger and garlic; cook, stirring, until the scallions have softened, about 30 seconds. Add chicken; cooking and stirring for 1 minute. Add vegetables; cooking and stirring until just tender, 2 to 4 minutes. Transfer chicken and veggie mixture to a large plate or bowl.
Add the remaining 1 tablespoon oil to the wok. Add rice and stir until hot, 1 to 2 minutes. As you stir, pull the rice from the bottom to the top so it all gets coated with oil and evenly cooked. Return the chicken-egg-veggie mixture plus the kale to the wok. Add soy sauce, and stir until well combined and warmed through.
Natalie Mikles is a mom of three. She writes about food, sharing recipes for busy families and picky eaters. She has been recognized for her food columns as well as features on families and issues affecting local children. She loves pizza and movie nights with her family.