Easy Meals to Teach Kids to Cook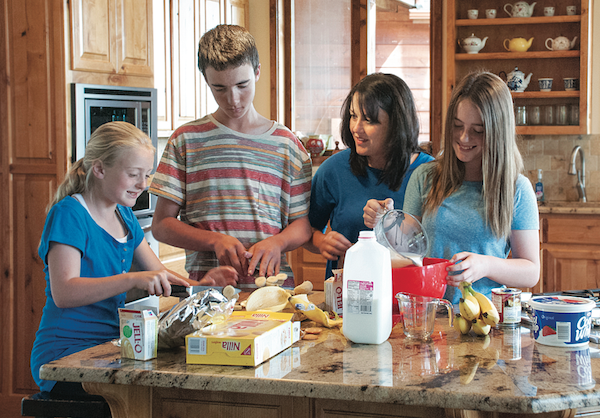 Some of the dinners I cooked in my teens are now family folklore.
There was the inedible meatloaf, the enchiladas so filled with jalapenos they set your mouth on fire, the chocolate cake made without sugar.
I was reminded of this when one of my daughters came to me, disappointed the bread dough she baked didn't resemble anything close to bread. I told her it's those mistakes that will make her a better cook.
At ages 7 and 5, my kids' kitchen duty is pretty limited, though they're great with using the mixer, cutting the stems off strawberries and setting the table.
But I hope they'll be able to make simple meals by the time they're in their early teens. Middle school is a perfect time to give kids some added responsibility in the kitchen. At this age, they have the ability to make easy meals. It's a great confidence booster for the kids, but also a huge help for moms and dads.
My friend, Heather Miller, a mom of three and high school English teacher, has taught her kids to make simple dinners. Her kids, 15-year-old JD, 11-year-old Ashton and 9-year-old Avery have a few meals they can make without any help from mom or dad – scrambled eggs, pancakes, pasta salad and macaroni and cheese.
Heather said the kids help with lots of other things, like chopping vegetables and stirring. One of their favorites to help with is banana pudding.
"Ashton and Avery can follow directions and make things from scratch," Heather said. "JD can do that too, but he has no patience for it and will choose eating beef jerky rather than making anything himself."
I know a lot of moms can relate to that. We know what our kids are capable of, and it's our job to nudge them in the right direction. Middle schoolers may roll their eyes now, but they'll be happy when they're out of the house and their cooking abilities go way beyond ramen noodles.
Here are recipes simple enough to hand over to your middle schooler. Take the night off from cooking, and be sure to give a little praise to your new cook.
---
OK, so this recipe from Real Simple is a bit of a "duh," but it's great for giving a little confidence to new cooks. It's easy enough that even young kids can make it. And, it gets bonus points for feeding the vegetarians in the family.
Pinto Bean and Cheese Tacos
15-ounce can pinto beans, rinsed
3/4 cup mild salsa
1 heart of romaine
8 taco shells
1 cup shredded cheddar
In a small microwave-proof bowl, combine the beans and ½ cup of the salsa. Microwave on high until hot, 1 to 2 minutes.
Tear the lettuce into bite-size pieces.
Divide the taco shells among 4 plates. Divide the bean mixture among the taco shells, and top with the lettuce, cheddar, and remaining ¼ cup of salsa.
---
My kids like this Southern Living recipe that's a cross between pizza and chicken parm.
Chicken Parmesan Pizza
1 (10-ounce) package frozen garlic bread loaf
1/2 cup canned pizza sauce
6 deli fried chicken strips
1 cup shredded Italian three-cheese blend
2 tablespoons chopped fresh basil
Preheat oven to 400 degrees. Arrange garlic bread, buttered sides up, on a baking sheet.
Bake for 8 to 9 minutes or until bread is lightly browned. Spread pizza sauce over garlic bread.
Cut chicken strips into 1/2-inch pieces, and arrange over pizza sauce. Sprinkle with cheese and basil.
Bake at 400 degrees for 8 to 10 minutes or until cheese melts. Serve immediately.
---
Here's a recipe for a slightly more experienced teen cook. Pulling the chicken off the bones of a store-bought rotisserie chicken is a good job for kids and teens. Teach them they can use that chicken for lots of quick meals such as chicken nachos, chicken spaghetti and chicken salad.
Southwest Rice Bowl
1 rotisserie chicken
1 teaspoon kosher salt
1 teaspoon ground cumin
1/4 teaspoon black pepper
1/8 teaspoon cayenne pepper
1 tablespoon olive oil
1 medium poblano pepper, seeds removed and chopped
1/4 cup finely chopped red onion
1 cup fresh or frozen corn kernels
2 garlic cloves, minced
3 tablespoons chopped fresh cilantro
Juice from 1 lime
4 cups cooked rice (For kids, the microwaveable bags of rice are a good option.)
Remove meat from bones of rotisserie chicken. Cut or tear into bite-size pieces. Sprinkle with salt, cumin, black pepper and cayenne pepper. Warm in a saute pan or microwave.
Pour olive oil in a saute pan. Cook poblano pepper and onions until tender, about 4 minutes. Add corn and garlic, and cook 1 minute. You don't want to overcook the garlic. Remove from heat, and stir in cilantro and lime juice.
To serve, divide cooked rice among four bowl. Top with chicken and pepper and onion mixture. Garnish with more cilantro, tortilla strips, cheese or avocado.
---
And for dessert… Parents may need to help with the food processor, but kids can do the rest. Save this one for Oklahoma-grown watermelon in July and August.
Watermelon Granita
5 cups watermelon chunks (peeled and seeded)
1/2 cup plus 2 tablespoons sugar
2 tablespoons fresh lime juice
Place the watermelon chunks in the bowl of a blender or a food processor. Blend on high until very smooth.
Pour the puree into a mixing bowl, and add the sugar and lime juice. Stir until the sugar is completely dissolved, about 2 to 3 minutes. Transfer the bowl to the freezer, and freeze for 30 minutes.
Remove the bowl from the freezer and use a fork to scrape any ice crystals from the sides of the bowl. Stir to incorporate the crystals. Repeat this scraping procedure every 30 minutes or until the consistency is snowy when scraped with a fork or spoon, at least 4 hours. Then scoop into bowls or dessert glasses. This makes 6 to 8 servings.
---