Disney's "The Little Mermaid" Actor Shares Tales
An interview with Connor Russell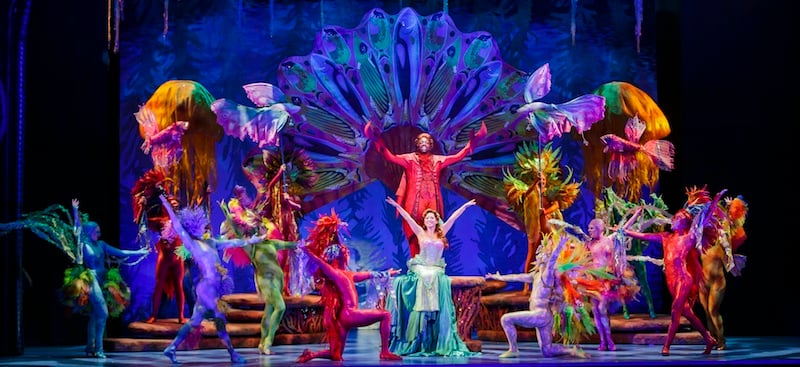 One of Disney's most beloved tales is headed to Tulsa this month. From Aug. 29 to Sept. 3, the Tulsa Performing Arts Center will host the national stage tour of Disney's "The Little Mermaid." Actor Connor Russell plays Flounder, Princess Ariel's best friend, in the musical. He spoke with us about several facets of the production, including the show's drive to appeal to audience members of all ages.
TK: "The Little Mermaid" is a story that's largely populated by non-human characters. How did you prepare to play Flounder, a tropical fish?
CR: What was important for me was to focus on the human qualities of the character because what it comes down to is you're playing a character with emotion. So it was important to really focus on what those emotions were – how he felt about things and his relationship with Ariel.
TK: Knowing that many children who are very familiar with the film will be in the audience, do you prepare differently than you would with something not so well known?
CR: It is difficult when you're dealing with something so popular. I won't say that I prepared differently, but you do have to pay especially close attention to detail. There are, of course, certain things that the audience will expect, especially from certain iconic songs.
We try to make our show an experience that audiences will appreciate because they're familiar with the film, but also enjoy as a separate entity. There are things that are different in the script and there are some additional songs, so it really is a brand-new experience.
TK: How does your character differ from his portrayal in the animated film?
CR: They wanted to make Flounder a bit older for this touring stage production, and they added in a subplot of a potential love interest. Flounder has a bit of a crush, but he's kind of friend-zoned by Ariel. Of course, at the bottom of it all, Flounder wants Ariel to be happy.
What I try to instill is the innocence that he has in the movie because he is still an innocent young soul who has a very open heart. Those are the things that I really love about the character in the film that I try to use on stage. However, there is a little bit of an added older edge that you might not have noticed in the movie with him kind of having a crush on Ariel, which kind of allows me to put my own spin on his character.
TK: With there being a slightly older edge to your character, how have older audience members responded to the show so far?
CR: One of the things that I love about getting to do this show is that's it's something that the whole family can enjoy. The original is usually associated as being a kids' film, but in the stage production, we think there's a lot of stuff that will appeal to both children and adults.
TK: Are there any memorable stories from the tour so far?
CR: Obviously we're underwater. You'll see Ariel and other characters fly and perform body rolls. It's all done to create the illusion of a current and being underwater.
A couple years ago, a little girl was coming backstage and was going to be able to meet Ariel onstage. Before she went out, though, she said 'I can't go out there – I don't want to get wet!' She bought the illusion, which we think is so adorable.
TK: What's your favorite thing about being in this show?
CR: I'm really proud that we get to be the first theatrical experience for so many kids. As someone who was taken to the theater at a very young age, it shaped who I was as a person. Those first experiences are so important, so every time that I get to meet someone who says it was their first time seeing theater, I hope that it inspires them – whether it inspires them to be an actor, audition for a school play, or simply be more creative. Getting to be that first artistic impression for a lot of people is one of the most special things about doing this show.