Taking Kids to the Theater? Read this First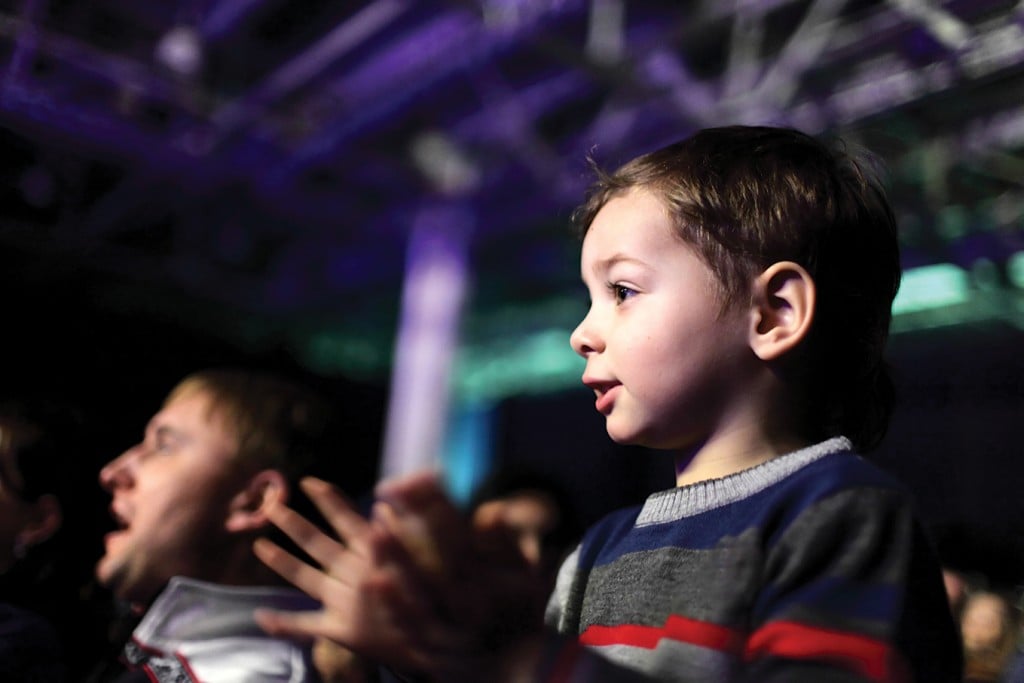 A parent's vision of taking children to their first live theater experience doesn't always meet reality.
Dressing up and taking photos in the lobby is part of the fun. But it's not so fun when your 3-year-old whispers he needs to go potty and there's still a long way to go until intermission. Or when your 6-year-old, who you thought could handle the show, is too scared to sit through "The Lion King." Or when a sibling fight over who gets to hold the box of Skittles erupts in the quiet theater.
But then there are the moments that make it all worth it. When you look to the left and see the huge smile on your child's face. When your toddler squeezes your hand because she's so excited about what's happening on stage. When your teenager announces after the curtain drops that he wants to be on Broadway one day.
Taking kids to the theater can be life changing, and creating life-long theater lovers can begin very early. The key is knowing what they're ready for and preparing them for the experience.
This spring and summer, Tulsa has many opportunities for family theater experiences, from shows for the very young to teens.
Planning for the experience, and talking to your kids about theater etiquette can go a long way to make the show a smash hit.
Kristin Dotson, CEO of Celebrity Attractions, said it's important to manage a child's expectations ahead of the show to help nurture a love of live theater.
"When the 'Peter Pan' tour came to Tulsa several years ago, a mom requested a refund because her 3-year-old was scared of Captain Hook. She said, 'But he loves watching the movie at home!'" Dotson said. "There is a big difference between watching a movie in your well-lit living room with the characters on the screen, and bathroom and snack breaks on a whim, versus seeing a show in a dark theater, live on stage, with lighting and special effects."
Dotson said the general acceptable age for bringing children to a Broadway-style family show (such as the upcoming "Frozen" or "Charlie and the Chocolate Factory") is 6 years old, though every child is different. She says parents should find out the length of the production, look up reviews online or call the box office for additional information to make the best decision.
But you don't have to wait until age 6 to introduce children to the theater. Tulsa has many opportunities, including the PAC Imagination Series, Clark Youth Theatre, Spotlight Children's Theatre and Theatre Tulsa that offer theater experiences for younger children.
Children's ballets, offered by the Tulsa Ballet, are another great opportunity for young children. The ballet's production of "Peter and the Wolf," geared for children, has been a success since it came to the stage last year. Many children, including school groups, have attended the performance at both the Tulsa Ballet's theater Studio K in Brookside and at the Hardesty Center for Dance Education in Broken Arrow.
Colleen Lahti, education and outreach manager for Tulsa Ballet, said a children's ballet, like "Peter and the Wolf," is shorter in length, which makes it easier for children to sit for the duration. "Peter and the Wolf" also has moments throughout that encourage a visible reaction to and interaction with the dancers and narrator so that a parent or teacher isn't shushing kids throughout the performance.
Lahti said the age a child is ready to attend a ballet is something that varies greatly with each child.
"We see children of 2 and 3 years old attend a performance of "Peter and the Wolf" or "The Nutcracker" and sit enthralled with what they are seeing on stage," she said. "The time of the performance does make a difference in a child being successful in attending a ballet."
She said matinee performances tend to be better for young children, where elementary-age kids and older can enjoy the evening shows.
Lahti also advises parents that their children may not be engaged the entire time, and that is OK.
"Some children close their eyes and just listen to the music. Even when a child seems disengaged, you may be surprised by what they're actually taking in," she said.
Upcoming Family-theater Productions
April 25-26 and May 1-3 and 8-10
Tulsa PAC
June 3-7 and 9-14
Tulsa PAC
June 16-21
Tulsa PAC
NOTE: Check for date changes resulting from coronavirus closings.
Before you go…
Here are some tips for making the show a better experience for you and your kids.
Arrive on time. Better yet, arrive early.
Go to the bathroom before the performance begins.
Take your seat a few minutes early and read the program aloud so kids will know what to expect.
If you have time, walk the kids toward the front of the stage or to look in the orchestra pit before the show or at intermission.
Remind kids not to speak – and that includes whispering – during the show.
Keep your feet on the floor. No one likes kicks to the backs of their seats.
Show appreciation to the performers by laughing when it's funny and clapping when the show is over.
In the days before the show, give kids something to look forward to. Pick a short piece of music that will be played and let them listen, or explain the plot or characters so they will be familiar.
When the production is over, talk about it on the car ride home. Ask the kids questions. What was their favorite part? What surprised them, made them sad or made them laugh?
---