Christmas Cookies Kids Can Help You Make
Soft and Fluffy Christmas Cookies, Chocolate Crinkles, Oreo Cookie Bark and Cheerios Christmas Trees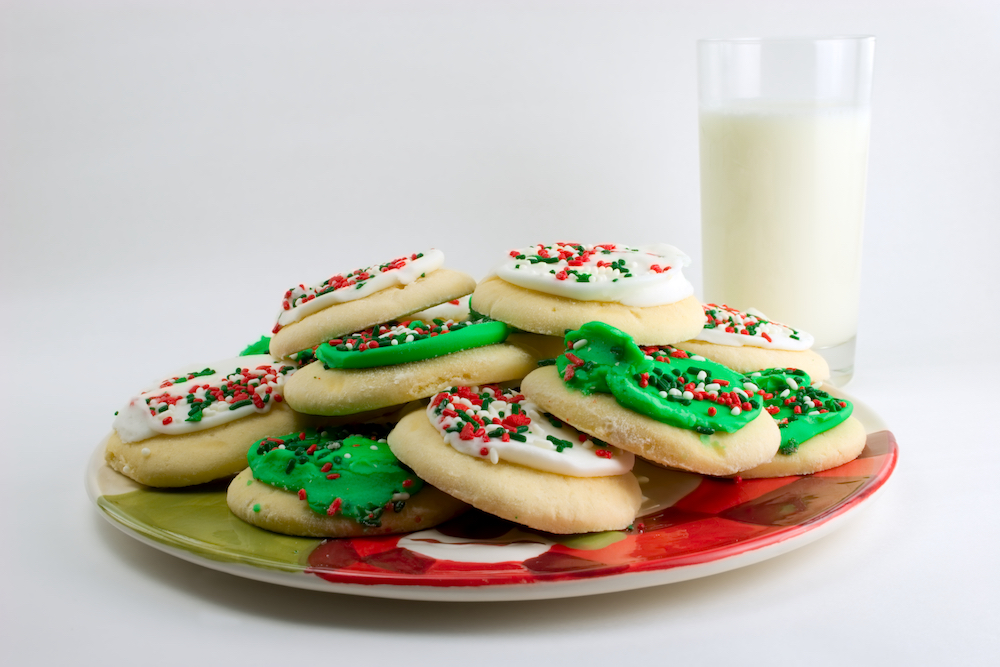 Before kids, I made trays of cookies and candy at Christmas time. I packaged them for the neighbors and brought them to friends. Before kids, I imagined what fun it would be for my children to take on this project with me.
After kids, I'm lucky to have a few cookies made for Santa.
It's getting easier, mind you. Now ages 4 and 3, my three sweeties and I have had a lot of fun in the kitchen this year. I expect we'll all have flour in our hair and butter on our fingers this holiday season.
But, from birth to 3, it's tough. Their attention spans just don't allow for much culinary merriment, even with Frosty the Snowman playing in the background.
My best advice is to save the buche de noel for after bedtime. Let them help with foods they can really cook. Kids tire easily when they're just observers. "Can I help? What can I do next?" Be prepared with jobs for which they can roll up their sleeves.
Let them roll the balls of chocolate cookie dough in the powdered sugar – even the smallest children can do this one. Have them use their play hammers to crush the pecans in a plastic bag. If you've run out of jobs, give them measuring spoons, bowls and a cup of water to play with while you finish doing the grown-up work.
Kids can dig in to the process of making each of these simple holiday recipes.
---
The beauty of these cookies is there's no rolling of dough or chilling time. Impatient kids can get right into the process of cookie making without the wait.
Soft and Fluffy Christmas Cookies
1 cup shortening
1 cup unsalted butter
1 cup granulated sugar
1 cup powdered sugar
2 eggs
1 teaspoon vanilla
3/4 teaspoon salt
4 1/2 cups flour
Cream shortening, butter and sugars together. (If you want, add food coloring at this time.) Add the eggs and vanilla, stirring to combine. Add the salt, then add flour 1/2 cup at a time, mixing until fully incorporated.
Roll a spoonful of cookie dough with your hands and drop on a cookie sheet. Press down with a glass dipped in sugar.
Bake for 6 to 8 minutes at 375 degrees. The secret to how soft they are depends on how long you leave them in the oven.
Immediately take them off the cookie sheet to cool.
Once cool, frost with buttercream frosting and decorate with sprinkles.
Buttercream Frosting
2 1/2 tablespoons heavy whipping cream
4 tablespoons unsalted butter
2 cups powdered sugar
1 teaspoon vanilla
In a saucepan over medium heat, heat cream and butter until butter is melted. Stir in the powdered sugar and vanilla. Remove from heat, and beat with an electric mixer until thick and smooth. Tint with food coloring, if desired.
---
Kids will love rolling the balls of dough in powdered sugar.
Chocolate Crinkles
1 cup unsweetened cocoa powder
2 cups white sugar
1/2 cup vegetable oil
4 eggs
2 teaspoons vanilla extract
2 cups all-purpose flour
2 teaspoons baking powder
1/2 teaspoon salt
1/2 cup powdered sugar
In a medium bowl, mix together cocoa, white sugar and vegetable oil. Beat in eggs one at a time, then stir in the vanilla. Combine the flour, baking powder and salt; stir into the cocoa mixture. Cover dough, and chill for at least 4 hours.
Preheat oven to 350 degrees. Roll dough into 1-inch balls. Coat each ball in powdered sugar before placing onto prepared cookie sheets.
Bake in preheated oven for 10 to 12 minutes. Let stand on the cookie sheet for a minute before transferring to wire racks to cool.
---
Let the kids pour the ingredients into the bowl. They'll also have fun breaking the bark into pieces.
Oreo Cookie Bark
6 ounces white chocolate, broken into pieces
2 tablespoons creamy peanut butter
10 Oreo cookies, coarsely crushed
8 ounces semisweet chocolate, broken into pieces
Melt white chocolate in microwaveable bowl until just melted. Add peanut butter to white chocolate.
Melt semisweet chocolate in microwaveable bowl until just melted.
Stir half the Oreo cookies into the white chocolate, and stir half the Oreo cookies into the semisweet chocolate.
Drop spoonfuls of the chocolate mixtures onto waxed paper-covered baking sheet, alternating colors of chocolates. Swirl with knife.
Refrigerate 1 hour or until firm. Break into pieces. Store in airtight container in refrigerator.
---
Big kids can make these Christmas cookies by themselves, with adult supervision. Little kids will have fun decorating these edible trees.
Cheerios Christmas Trees
5 cups Cheerios cereal
6 tablespoons butter
4 1/2 cups miniature marshmallows
Green gel food color
Cinnamon imperials and gumdrops
Line a cookie sheet with waxed paper.
Pour cereal into a large bowl.
Place the butter and marshmallows in a large saucepan. Heat over low, stirring constantly, until smooth. Remove the saucepan from heat. Stir in food coloring until the mixture is even. Pour marshmallows over cereal, and stir until evenly coated.
Spray hands with cooking spray. For each tree, shape 1/4 cup cereal into a Christmas tree shape, and place on cookie sheet. Press candies into trees to decorate.
Refrigerate until firm, about 1 hour.
---