Chocolate Treats for Valentine's Day
Chocolate Pancakes, Flourless Chocolate Cake, Chocolate Truffles and Chocolate Mousse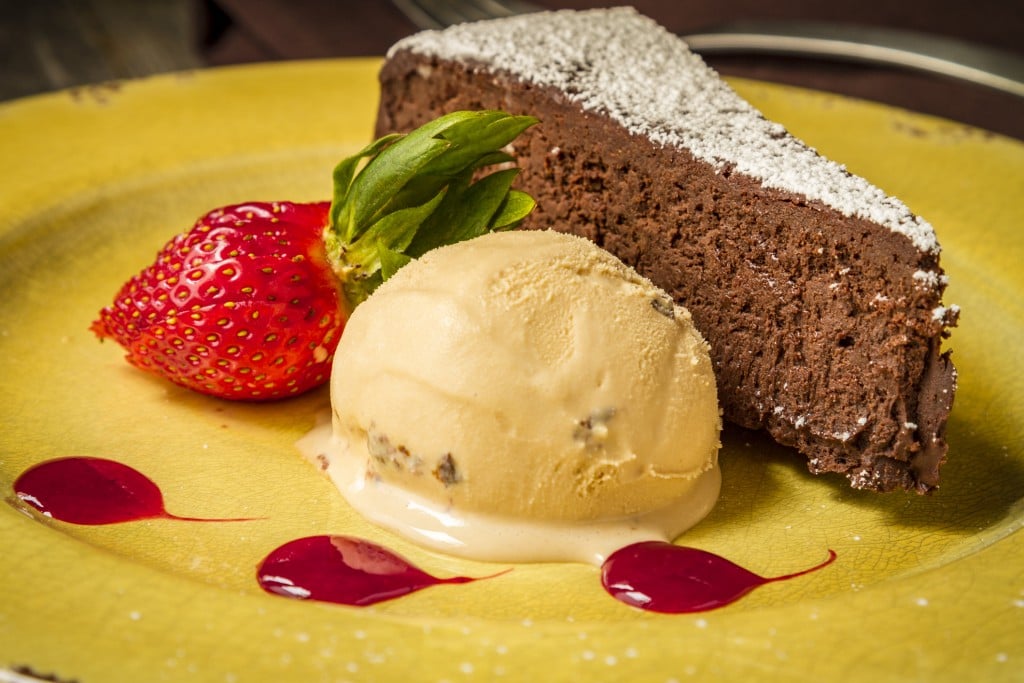 On a good year, it's hard enough for parents to plan a night out on Valentine's Day.
Finding a babysitter, putting on pants with a button and going out on a school night is daunting, but in the days of COVID, it's almost impossible.
This Valentine's Day, most of us will be at home in our leggings and pajamas, dealing with the day to day of parenthood. For parents, this day of romance will be filled with changing diapers, feeding babies, helping kids with homework, prepping meals for the week and settling sibling squabbles. So while the romance may be lacking, the love is there – in all the shared responsibilities of spouses, the exhaustion and sacrifice of caring for children and the time invested in building each other up with the kind words or small acts of kindness that show our partners we love and appreciate them.
We've celebrated Valentine's Day different ways since our children came on the scene. Some years, my husband and I have put the kids to bed a little early and had dinner for just the two of us. Other years, we've had a family dinner of spaghetti and meatballs and all shared a big heart-shaped box of chocolates. Another fun thing we've done many times is to celebrate Valentine's Day as a family at breakfast. Heart-shaped pancakes or muffins and pink smoothies are a fun surprise for the kids.
However you plan to celebrate Valentine's Day, there will likely be some chocolate involved. We're sharing a few chocolate recipes because what better way is there to celebrate a day of love than by eating something nearly everyone adores?
---
Start the day extra sweet with these pancakes. Maple syrup is good, but raspberry or strawberry sauce is really delicious.
Chocolate Pancakes
1 2/3 cups flour
2/3 cup unsweetened cocoa powder
2 teaspoons baking powder
¼ teaspoon salt
1/3 cup granulated sugar
1 cup chocolate chips
2 eggs
2 teaspoons vanilla
5 tablespoons butter, melted and cooled
1 ¼ cup (plus up to ¼ cup more) milk
1. Put the flour, cocoa, baking powder, salt and sugar through a sieve placed over a large mixing bowl. Add the chocolate chips to the dry ingredients. Beat the eggs and vanilla together. Add melted butter, then milk and continue to blend. Pour the liquid mix over the dry ingredients, and stir thoroughly. It should be about the consistency of a chocolate milkshake.
2. Place a platter in the oven and turn the heat to 200 degrees. As you make the pancakes, put them on the platter so that they stay warm until you're ready to serve.
3. Place a griddle or a large skillet over moderate heat and brush the surface with a little melted butter. Using a ladle, drop batter onto the griddle to make pancakes about 2 to 3 inches across. Cook until the edges begin to look dry and bubbles appear on the surface. Flip gently and cook for another minute on the other side.
---
This cake is best made the day before and stored in the refrigerator until time to serve. One fun thing to do with it is to have your child make a paper snowflake, place it on top of the cake, then dust powdered sugar to form a pretty pattern on top once the paper is removed.
Flourless Chocolate Cake
1 pound good quality bittersweet chocolate, coarsely chopped
2 sticks unsalted butter
1/4 cup water
1 1/2 teaspoons vanilla extract
7 eggs, room temperature
1 cup granulated sugar
1. Preheat oven to 350 degrees. Butter a 9-inch deep-sided springform pan, line the bottom with parchment paper and butter the parchment paper.
2. In a double boiler, over low heat, simmer the chocolate, butter and water. Stir constantly until melted and smooth. This can also be easily done in the microwave, melting and stirring every 30-45 seconds.
3. Stir in 1 1/2 teaspoons vanilla. Set aside to cool.
4. Beat 7 eggs with the 1 cup granulated sugar for approximately 5 minutes on medium speed. Gradually add egg and sugar mixture to the chocolate.
5. Spoon batter into the pan. Bake cake for about 1 hour or until a toothpick inserted into the center comes out with a few crumbs attached. Cool for an hour in the pan, then loosen the springform and remove. Once cool, sprinkle with powdered sugar.
---
This great truffle recipe comes from the Junior League of Tulsa's Oil and Vinegar Cookbook. If you're not a fan of ginger, it can be omitted.
Chocolate Truffles
Makes 40 truffles
8 ounces cream cheese, softened
4 cups sifted powdered sugar
1 teaspoon ginger
5 ounces unsweetened chocolate, melted and cooled to room temperature
2 cups good-quality semisweet chocolate chips
1. Beat the cream cheese in a large bowl for 30 seconds or until fluffy. Add the powdered sugar and ginger gradually, mixing well after each addition. Add the melted unsweetened chocolate and beat until well mixed. Spoon into a 9-inch square pan, and freeze for 30 minutes or until set.
2. Shape the mixture into 1-inch balls using a melon baller. Place the balls on a parchment-lined baking sheet, and freeze for 15 minutes or until firm.
3. Melt the chocolate chips until completely melted and smooth. Let stand at room temperature to cool. Drop the truffles into the melted chocolate and remove with a fork or slotted spoon, allowing excess to drip back into the bowl.
Note: Garnish by rolling freshly dipped truffles in finely ground nuts or chocolate sprinkles, or roll in in powdered sugar or cocoa powder.
---
Kids love this light and sweet dessert.
Simple Chocolate Mousse
Makes 4 servings
4 ounces sweet German chocolate or semisweet chocolate, chopped
3 tablespoons water
1 teaspoon vanilla extract
2 cups whipped cream (use freshly whipped cream or cheat and use Cool Whip)
1. In a microwave or in a saucepan, melt chocolate with the water over low heat. Let cool.
2. Stir in the vanilla. Transfer to a medium bowl. Fold in the whipped cream. Cover, and refrigerate until well chilled, about 2 hours.
Natalie Mikles is a mom of three. She writes about food, sharing recipes for busy families and picky eaters. She has been recognized for her food columns as well as features on families and issues affecting local children. She loves pizza and movie nights with her family.
---