Budget Friendly Meals Keep Costs Down
Cheater Lasagna, Fried Rice, Tortellini Soup and Easy Cornflake-Peanut Butter Cookies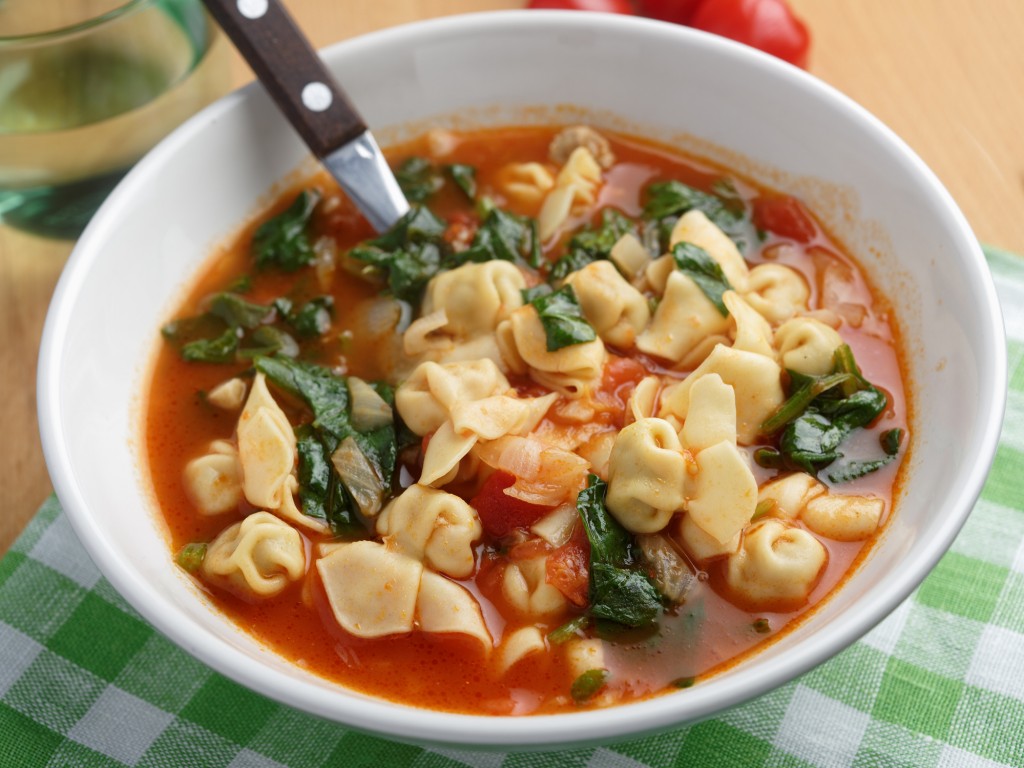 Families who budget each month for groceries have no doubt had to make some budget shifts to accommodate rising cost of food. For some that means eating out less or cutting extras. For others it means stretching what they have – maybe adding more pasta or rice to a meal.
Facebook groups for budgeting families are full of comments from people looking for creative ways to stretch food or to save on weekly grocery buying. Some have said fresh fruit, once considered a staple, is becoming a luxury in their homes. Others say they've cut the "fun foods" from their budgets – replacing ice cream for dessert with graham crackers, for instance.
Some families may find themselves turning toward their grandparents' Depression-era cost-saving tips – stashing loaves of sandwich bread in the freezer when they find them on sale or turning to canned vegetables over fresh.
Even families who don't stick to a budget might notice a relief to their grocery receipts by changing up a few habits while buckling down during this inflationary period. Here are some ways to save – and a few cost-saving recipes.
5 Ways to Save
Meal plan. Plan meals for two weeks at a time and – this is the hard part – stick to it.
Shop sales. Check to see what's on sale at grocery stores. If chicken is on sale for $1 a pound, buy more than you normally would and stash some in the freezer.
Cook in bulk. Roasting a large pork roast can be super-efficient when you use it for different meals – like soup, carnitas and pulled pork sliders. Also making bulk amounts of foods like chili is a great recourse for those nights when you don't have time to cook. Rather than going out, pull out a meal from the freezer.
Eat at home. This is a hard one but can save a lot of money. Or if you want to give yourself a treat, do take-out pizza once a week as a reward for eating at home all week.
Grow your own food. Now's the time to think about seed starting or cleaning up a spot in your flowerbed to grow your own spring and summer veggies. Growing your own lettuce, tomatoes, peppers and herbs can save a lot.
---
When your favorite spaghetti sauce goes on sale, buy a few extra jars to make inexpensive meals like this cheater lasagna. It's also a good Meatless Monday option.
Cheater Lasagna
Serves 6
1 pound fusilli or penne pasta
1 jar spaghetti sauce
1 (8-ounce) carton ricotta cheese
2 cups shredded mozzarella cheese
Grated parmesan cheese
Preheat oven to 350 degrees. Lightly spray or butter a casserole dish. Bring a large pot of salted water to boil over high heat. Add the noodles and cook according to package directions until al dente.
Drain well and toss with spaghetti sauce, ricotta cheese and mozzarella cheese. Sprinkle with parmesan cheese. Bake, covered, for 25 minutes. Remove cover and bake 10 minutes more.
---
Fried rice is a good use for leftover rice. It's also a great way to use up the little bits of veggies you have lurking in your vegetable bin, which saves you from going to the grocery store for new ingredients.
Fried Rice
Serves 4
2 eggs
2 teaspoons sesame oil
3 tablespoons canola oil
1 tablespoon fresh ginger, minced
2 cloves garlic, minced
6 scallions, trimmed and chopped
2 cups vegetables (broccoli, carrots, celery or whatever you like), finely chopped
2 cups cooked meat (chicken, pork, beef), diced
3 cups leftover (cooked) rice
Soy sauce
In a small bowl, beat the eggs and the sesame oil with a fork.
Heat 1 tablespoon of canola oil in a wok or deep sauté pan over high heat. When hot, add ginger, garlic and scallions, stir-frying for 1 minute. Remove from the wok with a slotted spoon and set aside. Heat the remaining 2 tablespoons canola oil, and add vegetables, stirring and cooking 2 to 3 minutes. Add meat and stir to heat through. Add the rice, and drizzle with soy sauce. Cook, stirring and tossing the rice with a spatula so that it does not stick. When very hot, add the beaten eggs, cooking and stirring until they look like scrambled eggs. Serve with extra soy sauce.
---
Make this one when you find bacon or spinach on sale. Some kids might pick around the spinach, but most kids love the cheese tortellini.
Tortellini Soup
Serves 6 to 8
4 slices bacon, chopped
1 small onion, chopped
3 cloves garlic, chopped
1 tablespoon Italian seasoning
6 cups canned chicken or vegetable broth
1 (28-ounce) can crushed tomatoes
8 to 10 ounces fresh or frozen cheese tortellini
1 (7-ounce) package fresh baby spinach
Grated parmesan cheese
In a large pot set over medium-high heat, cook bacon until cooked but not crisp. In bacon fat, cook onion, garlic and Italian seasoning, stirring until onions begin to turn golden brown, about 10 minutes.
Add broth and tomatoes, cover and bring to a boil. Add the tortellini and cook according to package directions.
Add spinach, and cook until wilted, about 3 minutes. Serve hot with grated parmesan.
---
Making your own snacks and sweets can save money. This one is a kid favorite.
Easy Cornflake-Peanut Butter Cookies
Makes about 3 dozen cookies
3 tablespoons butter
1 (10-ounce) bag miniature marshmallows
½ cup creamy peanut butter
½ teaspoon vanilla extract
6 cups cornflakes
In a large saucepan over medium heat, melt butter. Pour marshmallows into pan and stir until completely melted. Add peanut butter and vanilla, mixing until peanut butter has melted. Turn off heat.
Pour in cornflakes, mixing until thoroughly coated.
Using a tablespoon or small cookie scoop, place scoops onto a cookie sheet. Allow cookies to cool and harden 15 minutes before serving.
Natalie Mikles is a mom of three. She writes about food, sharing recipes for busy families and picky eaters. She has been recognized for her food columns as well as features on families and issues affecting local children. She loves pizza and movie nights with her family.
---