Basic Foods to Make at Home: 5 quick staples to add to your recipe repertoire
Three-Grain Cereal with Walnuts and Fruit, Greek Chicken, Ranch Dressing, Creamy Mashed Potatoes and Lemon Bars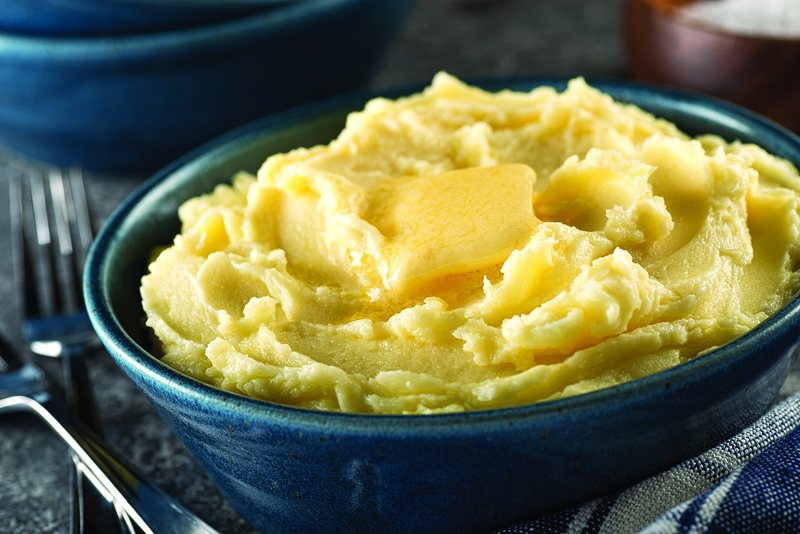 As part of my work as a food writer, I do quite a bit of recipe testing and development. That means my family gets to taste a lot of different foods. Most of the time, they're excited to try something new, especially if it's something like a layered cake. Other times, my kids take one look, turn up their noses and pull out the bread and peanut butter to make a sandwich.
After a week or so of testing some stews and chilis, my son had a request: "Mom, can we have some plain food?'
I knew exactly what he meant. Sometimes what we want is basic food, kitchen staples to reset our palates.
When I'm out of time or tired of cooking, I stop at a market or deli to grab what we need for dinner that night. Stonehorse Market or Reasor's are my favorites for things like baked chicken, roasted vegetables or mashed potatoes. But it's also great to know how to make some basic foods at home. A woman at the Reasor's deli told me she often talks to people who don't buy mashed potatoes for convenience but because they don't know how to make them.
There's no shame in not knowing how to cook some basics. But knowing how to make a simple chicken dish or a quick dessert is really helpful, especially when you have little, hungry people at your feet.
---
Making your own breakfast cereal is easy and keeps well in an airtight container. It's also good as an after-school snack, sprinkled over plain or vanilla yogurt.
Three-Grain Cereal with Walnuts and Fruit
1/2 cup maple syrup
1/3 cup honey
3 tablespoons canola oil
1 1/2 tablespoons vanilla extract
4 1/2 cups old-fashioned oats
1 cup uncooked quick-cooking barley
3/4 cup chopped walnuts or pecans
1/2 cup wheat germ
1 teaspoon ground cinnamon
1/4 teaspoon ground nutmeg
1 cup dried mixed fruit, chopped
Preheat oven to 325 degrees.
Whisk together maple syrup, honey, canola oil and vanilla.
Combine oats, barley, walnuts, wheat germ, cinnamon and nutmeg in a large bowl. Add syrup mixture; stir well to coat. Spread oat mixture evenly onto a jelly roll pan coated with cooking spray. Bake at 325 degrees for 30 minutes or until browned, stirring every 10 minutes. Stir in dried fruit. Cool completely.
---
Most kids will like the Greek flavor in this chicken. Make it simple by serving with white rice or make it a feast by serving with rice, pita bread, hummus and roasted vegetables.
Greek Chicken
1/2 teaspoon salt
1/2 teaspoon black pepper
1 1/2 teaspoons Greek seasoning
4 boneless, skinless chicken breasts
2 tablespoons olive oil
1 red bell pepper, chopped
1 onion, thinly sliced
1/2 cup dry white wine
1/2 cup chicken broth
1-2 cups pitted kalamata or black olives
Hot cooked rice
Preheat oven to 350 degrees. Combine salt, pepper and Greek seasoning, and sprinkle over chicken.
Warm olive oil over medium-high heat. Cook 5 minutes on each side or until browned. Remove chicken.
Add bell pepper and onion to skillet, and saute 5 minutes or until tender. Stir in wine and broth, stirring to loosen bits on the bottom of the pan. Stir in olives. Return chicken to skillet. Bring to a boil, then remove skillet from heat.
Bake, covered, at 350 degrees, for 30 minutes or until chicken is done. Serve over rice.
---
Some kids will eat practically anything if there's a little ranch dressing for dipping. This version, from the Food Network, is super.
Ranch Dressing
Makes 1 3/4 cups
• 3/4 cup lowfat buttermilk
• 1/2 cup mayonnaise
• 1/2 cup sour cream
• 2 tablespoons white wine vinegar
• 1 tablespoon dried chives
• 1 tablespoon dried parsley flakes
• 3/4 teaspoon kosher salt
• 1/2 teaspoon garlic powder
• 1/2 teaspoon onion powder
• 1/2 teaspoon freshly ground black pepper
In a medium bowl, whisk together the buttermilk, mayonnaise, sour cream and vinegar. Add the chives, parsley, salt, garlic powder, onion powder and black pepper and whisk well to combine.
Store in an airtight container in the refrigerator for up to 1 week.
---
This is about as basic as it gets. But if you've never made mashed potatoes, this is a good recipe to start. Serve them with practically anything for dinner.
Creamy Mashed Potatoes
4 pounds russet or Yukon gold potatoes, peeled and cut into 1-inch cubes
6 tablespoons unsalted butter
1/2 cup 2 percent reduced-fat milk
1/2 cup reduced-fat sour cream
1/2 teaspoon kosher salt
1/2 teaspoon freshly ground black pepper
Place potatoes in a large saucepan; cover with water. Bring to a boil; cook 15 minutes or until tender. Drain.
Press potatoes through a food mill or potato ricer into a large bowl. (If you don't have either, use an electric mixer.) Add butter, mixing until melted. Mix in milk and remaining ingredients.
---
If you want to be known for making a good dessert, grab this recipe. It's a go-to when you need to bring a dessert to a party, and it's loved by kids and adults.
Lemon Bars
1 cup all-purpose flour
1/2 cup butter, softened
1/4 cup confectioners sugar
Filling:
2 eggs
1 cup sugar
2 tablespoons all-purpose flour
1/2 teaspoon baking powder
3 tablespoons lemon juice
1 tablespoon grated lemon peel
Combine flour, butter and confectioners sugar to make crust. Pat into an ungreased 8-inch square baking pan. Bake at 350 degrees for 15-20 minutes.
Meanwhile, beat eggs in a mixing bowl. Add sugar, flour, baking powder, lemon juice and peel, and beat until frothy. Pour over the crust.
Bake 25 minutes or until filling is set. Cool, then dust with additional confectioners sugar.
Natalie Mikles is a mom of three. She writes about food, sharing recipes for busy families and picky eaters. She has been recognized for her food columns as well as features on families and issues affecting local children. She loves pizza and movie nights with her family.
---