Passing the Paintbrush
After 13 years teaching art at Augustine Christian Academy, Linda Thornhill is retiring and passing the paintbrush to an ACA alum and local artist, Lark Brewer.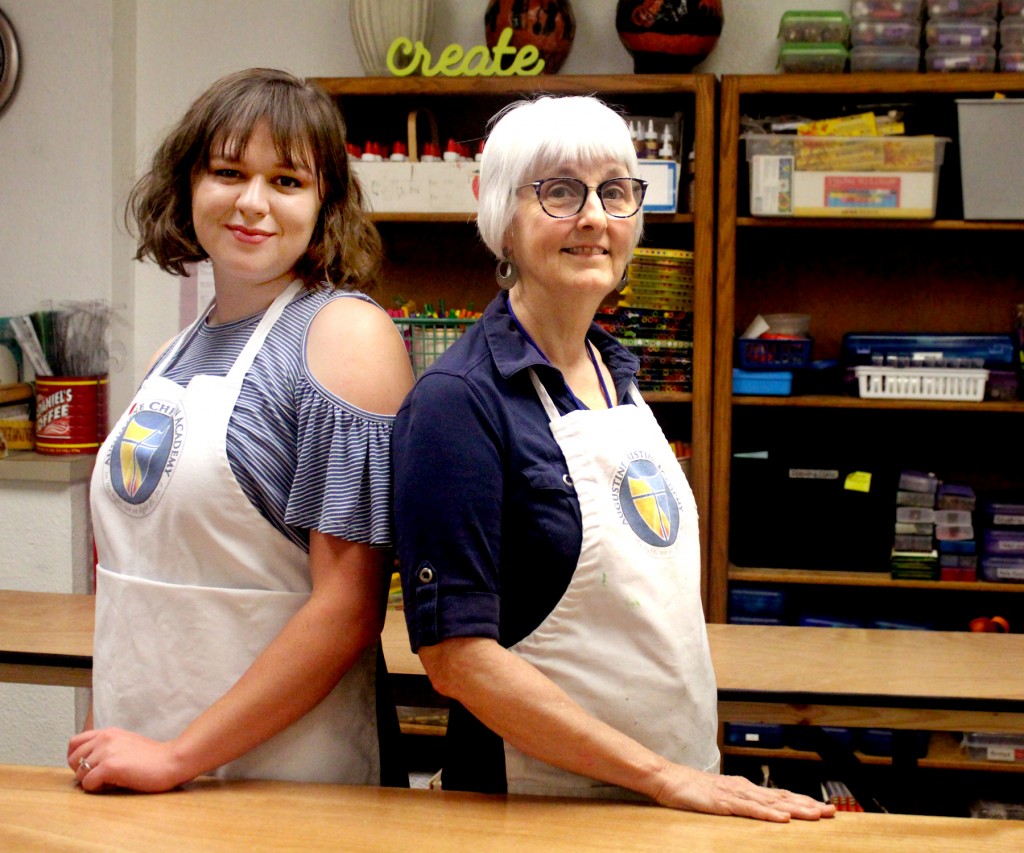 Sponsored by Augustine Christian Academy
Most teachers dive into their school's curriculum once they're hired, but Linda Thornhill arrived at Augustine Christian Academy with her own curriculum in hand. Developed along with her friend Sally Barnard, Thornhill created TRISMS or "Time-Related Integrated Studies for Mastering Skills," a classical curriculum that integrates all subjects around the study of history.
"We were homeschooling and there wasn't much available after elementary. We got together and outlined our dream curriculum and went to work," shared Thornhill. "It was my experience as a child that to truly learn and remember, it had to come together as a story.  So we used 'time' to integrate the information."
Kirk Post, one of the founders of ACA, noted that Thornhill's curriculum fit perfectly within the classical school model as it was designed to teach students how to think, not just what to think.
"Coming from years in the homeschool community, her curriculum integrated all subjects around the study of history. As the students studied important art examples from these examples from history, they imitated them, learning skills and techniques in the process," Post said.
Since 2008, Thornhill has been guiding the young artists at ACA to think and reason their way through the world of art using the TRISMS curriculum.  Now, after more than a decade of teaching art at ACA, Thornhill retired from teaching at the end of the 2021 school year.
She will be passing the paintbrush to former student Lark (Krautter) Brewer, a 2016 graduate of ACA, and 2020 graduate from John Brown University with a degree in graphic design. Since graduating from JBU, Brewer has been working on freelance illustration projects through her business, Lark Design.
Thornhill remembers Brewer as a "very creative and patient" student who was "always willing to challenge herself and experiment."
It is this creativity and enthusiasm that John Ahrens, headmaster of ACA, knows Brewer will bring to the table as she will take on numerous art classes and expand on the TRISMS curriculum.
"It is always special when we can welcome alumni into a teaching position. With Lark, we have a teacher with the unique advantage of having been a student under Linda [Thornhill]. With Lark's love for digital and graphic arts, we look forward to seeing how those applications can be integrated into the curriculum," Ahrens said.
Brewer is most excited about meeting the students and encouraging them to explore different mediums.
"Art is important in education because it is one of the most basic and universal ways of communicating. To learn how to create something with one's own hands, from one's own mind, gives people a sense of accomplishment and confidence that translates to other areas of their life. It brings beauty and life to the world, and is a wonderful way of honoring God," Brewer stated.
In retirement, Thornhill hopes to focus on her own artistic projects, travel, and spend time with her granddaughter, a fellow artist.
"I will miss ACA and the culture of the school, but I will miss my students the most. They bring such excitement and energy to class that even when I meet them outside of school they want to talk about art," Thornhill shared.
For the new ACA art teacher, Thornhill encouraged Brewer to be genuine with the students and allow them to see a teacher's own creative projects.
"Be yourself and try new things, that's the secret to success in art."
For more information about classes at ACA, including classes for homeschool families, visit www.acatulsa.org.