There's an AP for that:
AP classes gives high school students college experience.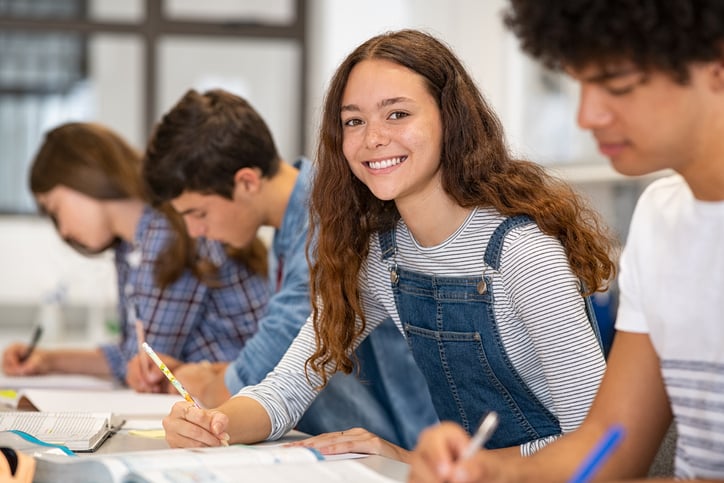 Booker T. Washington High School history teacher Dr. Anthony Marshall, spends little time behind a lectern during his fourth hour Advanced Placement (AP) American History class. Marshall expresses his knowledge and thoughts on American History using his entire body. His long legs pace the classroom floor and his outstretched, willowy arms rise up and down to the cadence of his voice. His toothy smile encourages class participation.
The AP American History textbook is 1067 pages. The first chapter is entitled "New World Beginnings 33,000 B.C – A.D. 1783." Thumb to the final chapter, 41, and you enter the new millennium. Today, Marshall's class is reviewing chapters 26 and 27. The topic is the clash of cultures between the "white man" and the Plains Indians.
Very few historical facts are discussed during the 50 – minute class. Instead, Marshall engages his students in a discussion about "assimilation," asking them to relate the integration of the Plains Indians into the "white man's" world to that of the integration of African American's into public schools during the civil rights movement.
While the discussion is lively and laced with intermittent laughter, the 25 sophomores and juniors confidently demonstrate their interest and understanding of that day's topic.
Marshall's AP American History class meets four times a week for 50 minutes and one time a week for 1:45 minutes. He and his students will spend the month of April reviewing the entire year's curriculum in preparation for May's AP American History exam.
"I must prepare the students for the exam, but I cannot say I teach to the exam," Marshall said. "Instead of retaining a bunch of facts, I want my students to think. I want them to find ways to relate to the classroom topics and the historical subjects."
"Not all my students are going to make a three or better on the AP exam and gain college credit. Some of my students will make C's in this class. But, they come out of my class better students. They can integrate information, they can write, they know how to study and they have the confidence to continue taking difficult classes," he said.
The College Board and Advance Placement
The College Board, a nonprofit organization, was founded in 1900 by 12 colleges and universities with the purpose of creating the "College Boards," a single exam students could take when applying to multiple colleges and universities. In 1926 "College Boards" were replaced with the SAT.
Committed to student achievement and educational opportunity, the College Board began administration of the Advanced Placement program (AP) in 1955. According to Collegeboard.com the AP program is designed to encourage high school students to engage in college-level work.
Basically, AP courses are accelerated high school classes that count for college credit depending on how the student scores on the standardized course exam. AP exams are scored on a scale of 1 to 5; a score of 3 or higher typically makes students eligible for college credit in the same subject. A student pays $87 to the College Board to take the exam. The exam cost is less than Oklahoma University's in-state tuition cost per credit hour of $122.60.
According to the College Board's 7th Annual AP Report to the Nation, 7,853 (20.8%) of Oklahoma seniors took an AP exam in 2010 with 3,895 (10.3%) of those students scoring a 3 or higher on the exam.
Tulsa Public Schools Assistant Superintendent of Curriculum and Instruction and Special Education Verna Ruffin said that 2,985 TPS high school students took an AP course during the 2009-2010 school year. In 2009, 2246 students took an AP exam with 716 earning a 3 or higher on the exam.
And, the benefit of taking AP courses goes beyond the economic relief of receiving credit for college classes. The AP curriculum is designed to challenge students in writing and critical thinking skills.
Successful AP students exhibit improved study habits and time management skills and tend to do well academically in college. And, said Holland Hall College Counselor Kathy Housh, students are better off having risked taking an AP course. "Even if they do not gain college credit, they have a taste of what college classes will be like. When a college admission's office sees AP classes on a student's transcript, they know that student is willing to work hard."
AP – Gaining College Credit and More
Union High School graduate Rachael Reagan is spending the second semester of her sophomore year in Florence, Italy immersed in the art and history of the culture. The University of Arkansas student received college credit for every AP class she took during high school, totaling 30 college credit hours.

"With most of my AP credit, I was able to avoid those 400 plus size college classes and instead take classes that were more geared toward my major and minor, History and Art History. Also, with the AP credit, I'm able to study abroad for a semester and still graduate on time," said Reagan, an All Metro and
All State varsity swimmer and senior class salutatorian while at Union.
Todd Nelson, director of student achievement at Union Public Schools, said by encouraging students to take a rigorous course load, Union has seen a significant increase in AP class enrollment over the last several years.
"We had about 900 students take an AP class last year. That is almost half of our high school, grades 11 and 12. Of the almost 1000 AP tests taken last year, 649 test scores were high enough to earn college credit at most universities. That is our highest number to date," Nelson said. "Even those that did not take the test or earn the credit by examination benefited from the exposure to the college level experience and content. An AP course calls for reading, thinking and study beyond the customary high school level, both in time and intensity."
Current Union Senior, Sarah Daggett, is on the same AP earned credit path as Reagan. Daggett anticipates to have earned around 30 hours of college credit when she heads off to college in the fall.
"AP classes not only allow me to receive college credit in high school, but it places me in an environment that is very conducive to learning, " said Daggett, who is a cross country and track and field standout for Union.
"AP will help me prepare for college because the curriculum is simulating typical classes of a college freshman," she added. "It is like a transition course between high school and college that will certainly prepare me for college."
Reagan describes AP classes as a "sneak peak" into the college realm. "Taking AP allowed the transition from high school to college to feel more natural. "
Both students tout time management as the key to AP class success.
"I definitely had to sacrifice some social activities here and there. There were many Saturdays where I would get up early and do homework," Reagan said.
Daggett said maintaining a balance between academics and extracurricular activities has been difficult. "It is definitely possible to manage a difficult class load and other pursuits as long as you manage your time well and are committed."
Avoiding the Stress of AP Class Overload
Cascia Hall Director of Schools and Curriculum Steve Mayfield said AP drives Cascia Hall's upper school curriculum. Cascia offers 11 AP classes, and while no student is required to take AP courses, Mayfield says a high percentage of the 400 upper school students, grades 9 – 12, choose to take AP. In fact, Cascia offers four sections of junior level AP English Language and Composition.
"AP is a nationally recognized curriculum and sets the standard for learning. Colleges know when they see AP American History on a student's transcript what the student has learned and that the student has taken a rigorous academic class," Mayfield said.
Yet, while Mayfield identifies the advantages of students challenging themselves with AP classes, he encourages students to discover a balance between academics and extracurricular activities.

"Our high school involves two entities, academics and activities," he said. "We want students to have the time to be involved in sports, the arts and community service."
Cascia students may take two AP classes at once. If a student wants to take three or four, he or she must have Mayfield's approval.
"I meet with the student and the parents to discuss the amount of work three or four AP classes will entail. I don't want students to take on more than they can handle."
Union's Nelson said while there is no specific limit set on the number of AP courses a student can take, each student is expected to discuss his or her course workload with parents and a counselor before they commit to the demands of AP.
Pre- AP courses offer middle school students a taste of an accelerated academic course. By taking Pre-AP, middle school students may develop higher level reading, writing and thinking skills, which can equate to a less stressful plunge into high school AP.
Union's Pre-AP experience starts in sixth grade with advanced classes in math and language arts. Pre-AP social studies and science are offered in seventh grade.
The AP Teacher Can Make All the Difference
A good AP teacher can make all the difference in how a student handles the course workload. AP instructors are encouraged to attend one- to three-day AP workshops or summer institutes that concentrate on the teaching of a specific AP subject and instructional strategies.
"It is the strength of the teacher that makes the course," Mayfield said. "Most AP teachers today are the most engaged and talented teachers. They know how to take all that information the course requires and deliver it to the students so they are interested, involved and prepared for the test."
Daggett said many teachers go above and beyond to help their students pass AP exams at the end of the year.
"The month before the test, many hold review sessions after school and on weekends to go over old or difficult material and to give practice exams, which can last for three or more hours. In addition, most teachers allot time at the end of the year for in-class review and they hand out AP study books for studying at home. Furthermore, teachers welcome any student who needs extra help before and after school."
Booker T. Washington's Marshall encourages students in his freshman government class to consider taking AP history courses. "I start working them young. I make my freshmen class challenging. We discuss current issues and do a lot of writing and thinking, just like we do in my AP classes. I want each of my freshmen kids to know they are capable of taking an AP class."