5 Halloween Costumes You Can Throw Together in Under 30 Minutes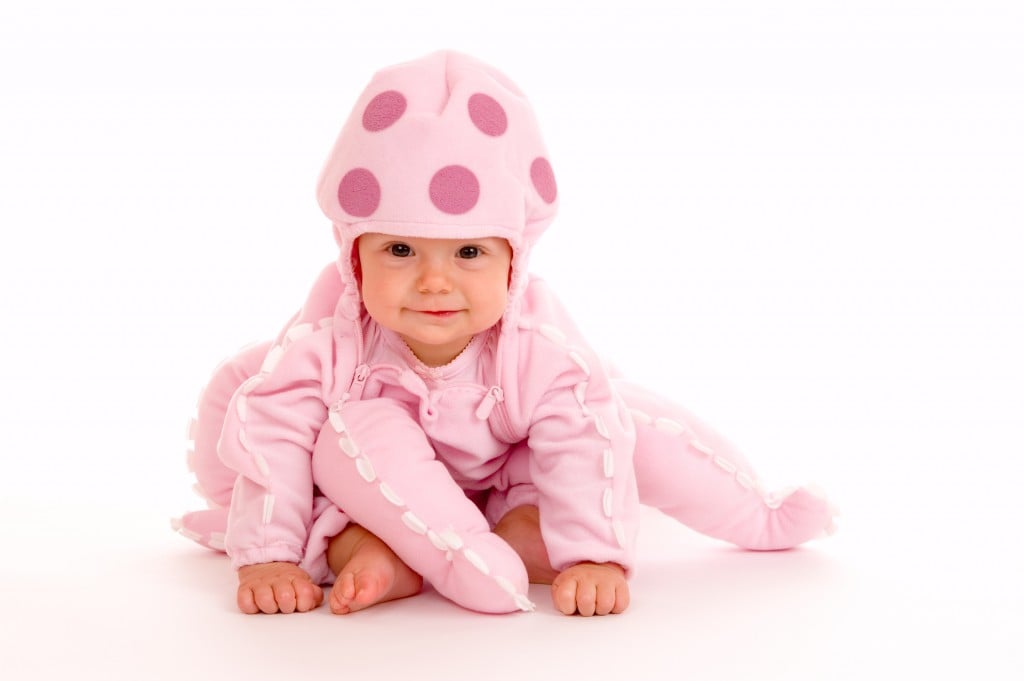 Throwing together Halloween costumes is easy and fun. Creating homemade costumes for little ones is a great way to build memories. You'll save money and your child will look adorable!
Here are some easy costumes I've thrown together.
Bag of Jellybeans
Dress your child in white leggings and a white long-sleeved t-shirt. Attach inflated balloons in a rainbow of colors all over clothing with super sticky double -ided tape. Finally, cut head and arm holes out of a large clear garbage bag to put over the balloons.
Ghost
We tried the old-fashioned blanket over the head trick, but my little girl couldn't see, despite having eye holes cut into the fabric. Plus, it kept falling down, causing her to trip. So I cut out a hole for her head in an old white sheet and stuck it over her poncho style. I used baby powder to make her face and hair pale. I gave her some plastic chains to drag around. She loved moaning and rattling her chains.
Jellyfish
This one is super easy, yet I saw it win a community costume contest. Dress your child in solid-colored leggings with a matching t-shirt (any color will work). Then attach long pieces of birthday party paper streamers to the bottom of the shirt with double-sided tape.
Octopus
Babies make the most adorable little sea creatures! Go with a onesie paired with tights or leggings. Pick up some brightly colored knee socks or tights at the dollar store. If using tights, cut off the legs. Stuff the legs of the tights or the knee socks with rags and use fabric glue to attach them to the onesie. (Or sew them if you know how – I don't!) You should have six legs made in this way. Combined with your child's own legs, there will be eight octopus legs.
Bottle of Ketchup
Dress your child in red pants, shirt, socks and shoes. Glue pieces of cardboard painted red into a triangle to resemble the top of a squeeze bottle. Attach the headpiece to a headband. My sister did the same for my niece only in yellow, so she could be a bottle of mustard. They were an adorable pair!
Punk Rocker
My daughter loves getting to pile on my makeup! This is a fun costume to put together that let's your child's natural style shine. Allow them to come up with their craziest outfit – stripes with polka dots, neon colors, whatever. My daughter rocked polka dot tights, an orange tutu, a glittery shirt and a plaid jacket. We teased her hair, layered on costume jewelry and gave her a toy microphone as a prop.
None of these costumes will take over an hour to make and almost every part of them is stuff you probably already have on hand.
Rachael Moshman is a mom, educator and writer.
---