45 Weeks—A first I could have done without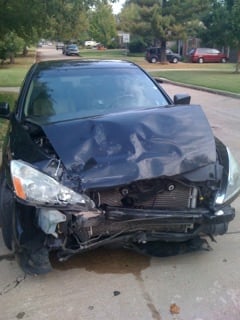 That, my cyber friends, is what is left of the worst 10 seconds of my life. They say that most accidents occur within 1 mile from your home, and I am now a statistic. The 36 hours prior to this accident I had driven from Dallas to Ardmore to Pauls Valley to Tulsa in the pouring rain safely. But as I was literally feet from my driveway, BAM, I completely smashed into a car that I still don't remember seeing. Yes, it was absolutely my fault.
Air bags were initiated, smoke was billowing, and horns were blowing, but all I could hear was my baby screaming in the backseat. Life really does go in slow motion in these times. Luckily, he was completely fine, but quite shaken from the jolt and noise. I have some minor burns from the air bag and bruises from my seatbelt. I'm rather sore today, but more than anything I can't stop thinking "what if"?
I'd write more, but I'm still not completely recovered.