4 Ways to Feed a Crowd on a Tight Budget (and Schedule)
Sponsored by Shape Your Future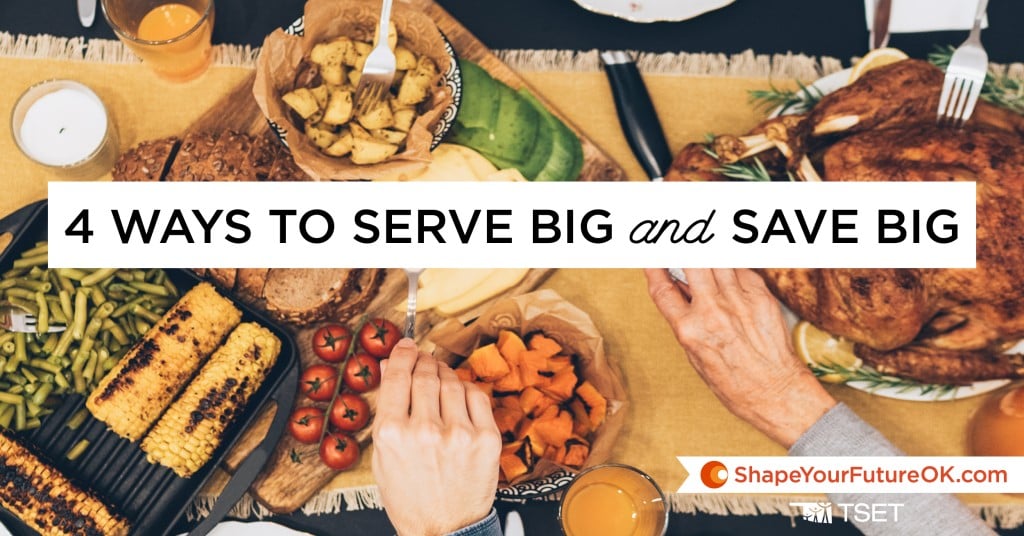 Anyone who's ever hosted a large group knows one thing: It takes a village to (affordably) feed a village — whether it's a holiday meal or run-of-the-mill family dinner.
Start by getting your priorities in check. What matters most: cost, convenience or both? Then, check out these helpful tips and tools … including healthy recipes!
1. Try DIY.
If you're short on time, buffet-style meals are your BFF. A salad bar, baked sweet potato bar, homemade soup bar or make-your-own-pizza night are always fun — especially when it cuts your workload in half!
2. Cut costs with a potluck.
Hosting a gathering is already a challenge on its own. It's OK to call in backup! If your guests are able, ask them to bring something to the table. Need ideas? Point them toward healthy takes on traditional sides, like the Classic Macaroni and Cheese and Good-for-You Cornbread recipes available on ShapeYourFutureOK.com.
3. Hunt for bargains.
With holiday grocery shopping, the early bird gets the deal. Starting in October, many stores offer big discounts on items like turkeys, baking supplies, canned vegetables and more. Want a year-round tip? Bone-in chicken or turkey options are usually cheaper. They take slightly longer to cook but taste just as great!
4. Get strategic.
Want another tip for saving big while serving big? When you plan your menu, choose recipes that feature the same ingredients. That way, you'll buy less — and waste less. Shape Your Future has a free grocery list planner to keep you on track.
Want more healthy tips for the holiday season? Visit ShapeYourFutureOK.com today!