20 Miles for $20: Let's Ride Riverside
Sponsored by Oklahoma Flyers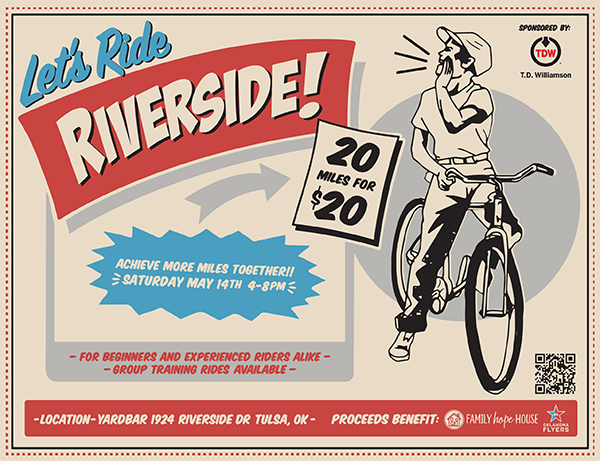 20 miles is within your reach! Oklahoma Flyers and Family Hope House of Tulsa are partnering together to create a great event of achievement and accomplishment! We want you to join us on May 14 for a 20-mile, 10-mile, or 3-mile adventure ride on Riverside Dr.
Invite your brother, your family, or your whole neighborhood. A key feature of our beautiful city is its river trail system. Let's get out and ride together.
What: 3mi, 10mi, and 20mi rides on Riverside.
We all know someone who bought a bike during the pandemic. Let's get them out and pedaling!
When: May 14, 4-8 p.m.
An adventure ride with adequate rest stops and support as needed, followed by food, live music, and drinks.
The 20mi and 10mi crews will pedal toward Jenks and back. There will be a halfway-point rest stop for refueling. 3mi riders will stay near downtown with a loop around the river.
Why: Because bikes weren't meant to collect dust!
Let's kick off the summer (and bike month) with a fun event that everyone in the family can be a part of. Challenge yourself to ride a new distance, or stick with a smaller distance, the choice is yours. We just want to see the community jump into the fun of cycling.
For more information, please visit our website at oklahomaflyers.com