Who are you?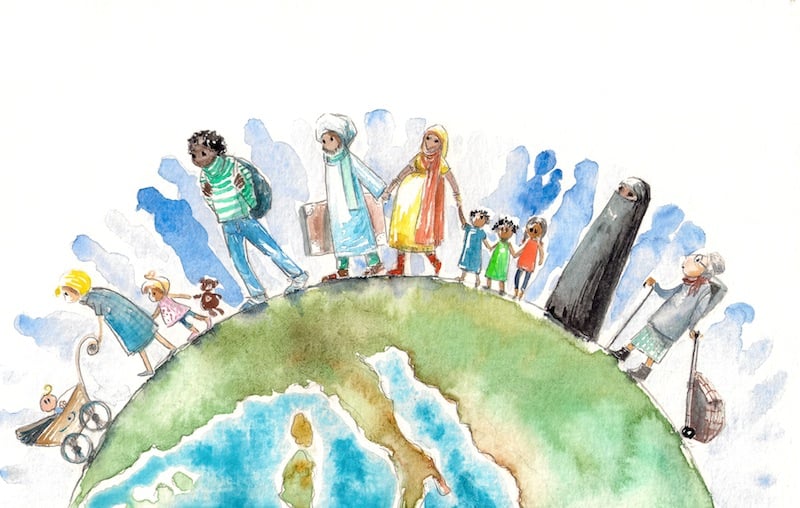 I just returned from a press luncheon where Andres Franco, Maestro of Signature Symphony at TCC, was announcing the new season of programming (signaturesymphony.org). The performances will all have a Tulsa connection in some way, which will be unique and amazing, but more on that in our calendar or in future editions of TulsaKids. What struck me today was that every person I talked at the luncheon had a family immigrant story of some kind.
Andres Franco brings his talents from Colombia. Horacio Gutierrez, a virtuoso classical pianist who will be performing this season, is Cuban-American.  I talked to his sister, Mary Gutierrez Phillips, who happens to teach biology at Tulsa Community College. She told me the story of her mother fleeing Cuba with four children (and only one suitcase) and leaving her husband, a professor, behind because he wasn't allowed to leave. The family fled to Columbia. Eventually they made their way to the United States, and reunited with their husband and father.
Sitting one person over from me was Dr. Noam Faingold, director of the BART Conservatory in Tulsa. The TCC Signature Symphony audience will have the pleasure of hearing a world premiere composition by Dr. Faingold this season. His parents are immigrants with interesting stories too long to relate here.
The woman who sat to my left has a daughter who lives in Croatia and the one to my right has a son who is married to a woman from Brazil.
My own grandfather was a Croatian immigrant and, while my grandmother was born in the United States. She went back to the former Yugoslavia with her family when she was a young girl, and then came back with them through Ellis Island to settle in Leadville, Colorado where she met my grandfather. My grandmother told about the fear she felt leaving and then coming back to the U.S. on a boat. When they arrived at Ellis Island, my grandmother's little sister was ill, so the agents took her away to quarantine her. Unfortunately her parents didn't speak English and endured many agonizing hours not knowing where their little girl was.
It's a cliché, but we truly are a nation of immigrants, as well as a nation who sends people out into the world. In just a few minutes of casual conversation, I felt surrounded by an open and fascinating universe, right here in Tulsa, OK. Isn't this who we are?