Welcome to the Wonderful World of The Curious Poets Club
How writing poetry in an encouraging setting can benefit middle schoolers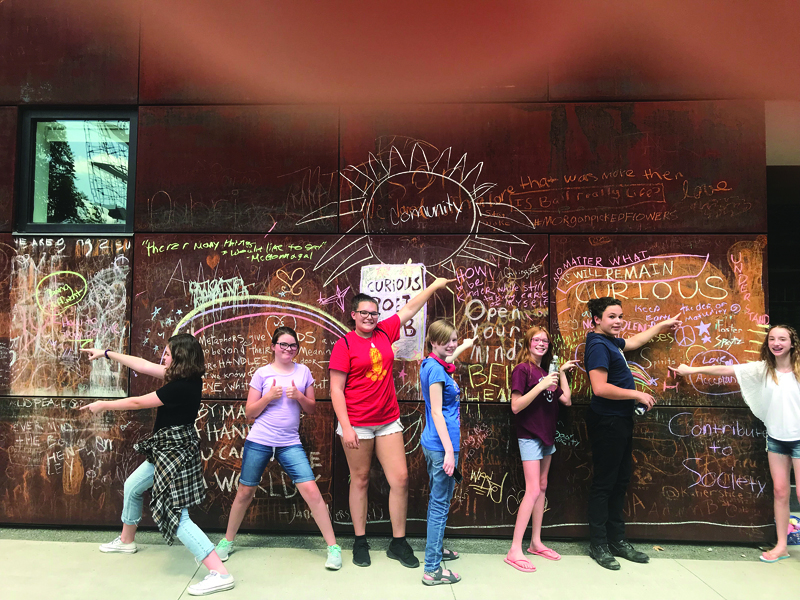 I learned a new way to write and a new way to express myself," said Cate Bridges, age 13, and a member of the Curious Poets Club workshop. "It opened up a way for me to express my thoughts, feelings and ideas."
The Curious Poets Club, sponsored by MUSED, a poetry and collaborative arts nonprofit, held a workshop for middle school students at ahha during the month of July. Poet Annie Jones guided the students as they explored poetry as self-expression. The Curious Poet's Club was so successful that MUSED founder Victoria McCartor plans another session or more in the spring, probably at Philbrook Museum of Art. McCartor says that MUSED also has projects planned or in the works for early childhood, elementary-aged children, middle school students (Curious Poets Club), and high school students (the Reverse Selfie Project).
After studying creative writing in Roanoke, Virginia, Jones said she was "moved to action" by Robin Williams' character, John Keating, in the film Dead Poets Society. Keating says, "We don't read and write poetry because it's cute. We read and write poetry because we are members of the human race. And the human race is filled with passion."
"My idea of a classroom is an emotional invitation to explore one's own inner landscape through painting, writing, singing, telling stories," Jones said. "…you are unique, intelligent, brilliant in your own way, and are exactly where you need to be, right now. What magic is born from feeling safe and known? Real, lasting magic."
Jones evidently worked her magic on the young people in her workshop.
Mia Leece, age 14, said she feels that the poetry workshop has made her more confident in expressing herself. "It opened things up," she said. "I used to care what people thought about what I said, but now I can think more clearly, and be confident in what I say. Writing helps you do that."
Woodrow Wilson, age 14, said he felt at a loss before he joined the Curious Poets Club workshop. "There was something I wanted to write, but I was stuck," he said. "The instructors helped me be more confident in what I was writing. Also, being around other creative people helped, being around people who would understand. I think going into a new school, it's going to give me a way to express myself. Poetry is a good way to get in touch with your emotions and to let them out."
Jones, who calls herself a  "Curious Poet Ambassador," says she witnessed "an intensely beautiful shift in energy as the students gradually began to realize that I am not here to 'teach' them a new skill. I am here to remind them of what they already know, and have known before time began."
Creating community happens naturally when groups explore poetry together, says Jones. The language that Jones uses to describe building the classroom community is the language of "authentic connection." Friendship, trust and transparency build the framework for creative expression and sharing.
"I liked the other students," said Draven Pendergrass, age 15. "I like to use poetry as a vehicle to show things rather than directly saying them." She said she enjoys the way poetry, like human experience, is subjective.
"We learn about poetry at school," said Lily Simpson, age 11, "but it's just the rules. I don't feel inspired at school. I feel inspired by nature. I would definitely do this class again."
All of the young people said they felt more in touch with their own emotions at the end of the workshop, and that having that knowledge gave them confidence as they prepared to begin a new school year.
"It feels like everyone expresses themselves the same way," said Cate Bridges. "Clothes, music, hair. Now it feels like I don't have to be copying everyone else's way, and if people want to judge me, let them judge. I would recommend this class to anyone who is not sure about who they are, or what they like. It would really surprise them to discover what they have inside of them."
McCartor believes that poetry can help Tulsa's youth become better critical thinkers who "play an active role in the world going on around them – because, when we are the center of our world, we cannot see (or serve) the real world."
One of the participants in the Curious Poets Club asked the group if anyone was feeling less creative as they got older, and then added, "and if so, does becoming less creative ever scare you?" McCartor said she wanted to hug the girl and tell her, "Yes, you will become less creative, so please do whatever you can to continue to foster creativity." McArtor wants children and adults to embrace their creativity, not shy away from it.
"Poetry," said Jones, "is the language we're born with."
---
Here are some poems written by the young people during the Curious Poets Club workshop. For information about the spring workshops, visit www.musedorganization.org.
I Am
I am creative and different
I wonder what the future holds
I hear laughter and sadness
I see light and dark
I am creative and different
I pretend I'm a goddess
I feel good and bad
I touch something soft and pointy
I worry about my family
I am creative and different
I understand our world is flawed
I say you should follow your dream
I dream to help the world
I try writing and drawing everyday
I am creative and different
— Draven Pendergrass
---
I Am
I am a writer and an artist
I wonder about myself
I hear color
I see feelings
I am a writer and an artist
I pretend to be calm
I feel quiet
I touch sound
I worry about my impact
I am a writer and an artist
I understand others
I say everything has a meaning
I dream about a better me
I try to be a better me
I am a writer and an artist
— Amy Nagode
---
Community
I am the big sister
the protective friend
I care for people
they are my life.
You are nice
the bubble of joy
you are strong
the armored wall.
We protect each other
the guard dog of family
we watch each other
the protector.
Community is a group
of people that protect
and help each other.
We watch each other's backs.
with community,
you have someone
to trust.
— by Mia Leece
---
Eyes
Open your eyes
see that the world isn't
all smiles.
Open your eyes
see that no one
knows you.
Open your eyes
see that there is someone
out there with more problems than you.
Open your eyes
show yourself the fact that
any day could be your last.
Open your eyes.
— Cate Bridges
---
What Is the Value of Fear
What exactly is the value of fear?
Is it instinct or to cause us tears?
To help us survive,
Or to cause a massive overdrive?
Is it for safety or just to be mean,
Something rare or a usual routine?
But here is a question to dabble on:
Don't answer it now.
It's simply a question that I have drawn.
This question might be a little severe,
But simply ask yourself;
What is the value of fear?
— Woodrow Wilson
---
Abecedarian
Abstract
UnBelievable
Creepy
Delusional
Entertaining
Fantastic
Galactic
Hypnotic
Individualized
Joyous
Kryptonic
Large
Mental
Natural
Optimistic
Portal
Question
Real
Space
Telegram
Unique
Visual
Weird
X-Ray
Yourself
Zonks
— Lily Simpson
---