We Visit the Will Rogers Memorial Museum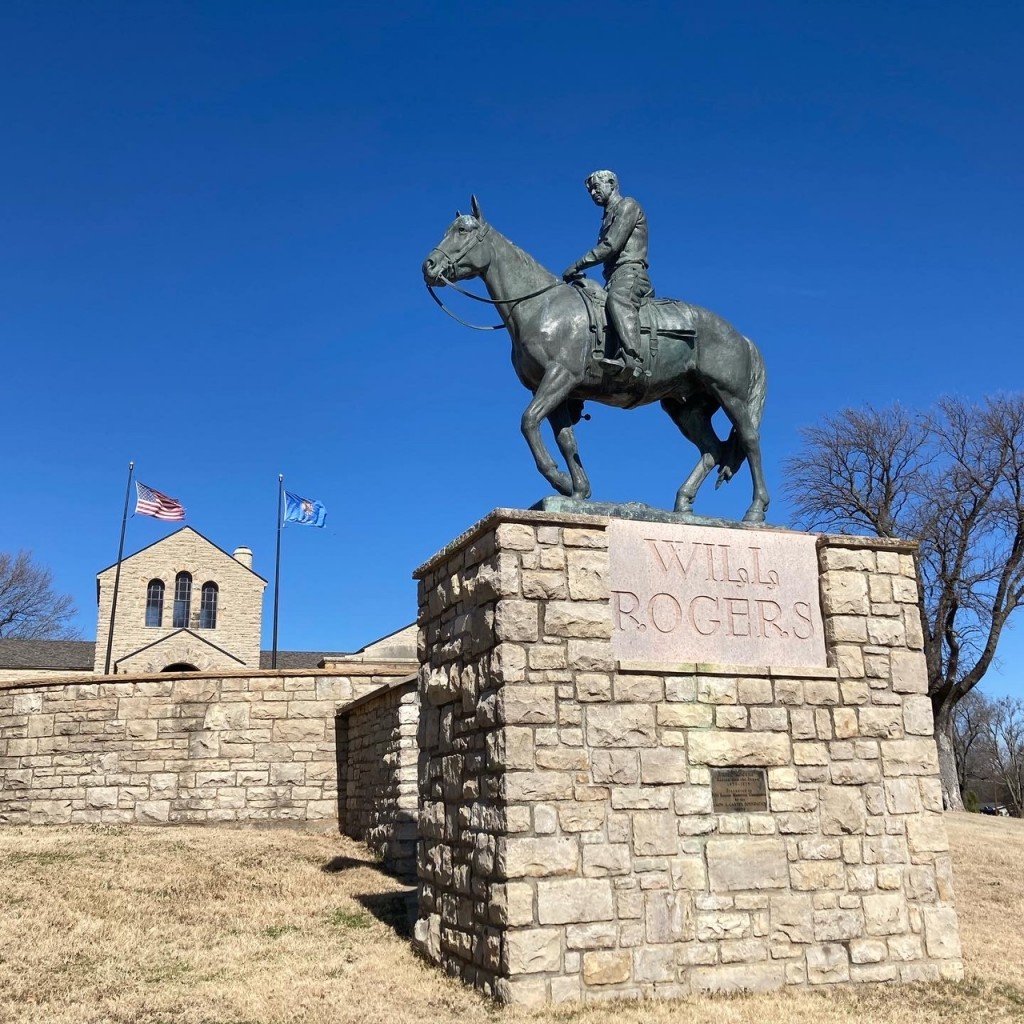 As a Kansas transplant who moved to Tulsa for college, I have some catching up to do in terms of key Oklahoma bucket list items. Several months ago, we finally visited the Ed Galloway Totem Pole Park and the Blue Whale of Catoosa. We've spent a weekend in Oklahoma City and visited Woolaroc. I have yet to go to Wanda's Blue Hole or to dig for crystals at the Great Salt Plains. However, slowly but surely, I'm checking items off my to-do list. This past weekend, we finally visited the Will Rogers Memorial Museum in Claremore.
I have actually visited the museum before. When I was either in junior high or high school, we took a family jaunt down to Oklahoma, once to Woolaroc and another time to the Will Rogers Memorial Museum. At some point, we surprised my Grandma by meeting my aunt and cousins at Casa Bonita. Vague memories, but good ones.
Most importantly, I remember bringing home the paper placemat from Hammett House Restaurant, which included three pie recipes. I learned to make their Chocolate Cream Pie recipe and even had one of my first psuedo-dates thanks to that recipe. I taught a friend how to make pie, and he introduced me to "Indiana Jones and the Temple of Doom." That pie recipe played a significant role in my love for baking, so I've been eager to go back to Hammett House, too! Plus, I just like eating pie.
We weren't supposed to go to Claremore last weekend, incidentally. We were supposed to. be heading up to Wichita to spend the week with my family, but Covid struck again and we (germ-free) had to stay home. Sigh.
Who Was Will Rogers?
The Will Rogers Memorial Museum is the final resting place of Will Rogers and several of his family members. As a quick recap of a very full life, Will Rogers was a vaudeville, radio and TV star; known for his amazing rope tricks; friend to presidents; writer; father…the list goes on. If you've ever listened to Brett Goldstein's "Films to be Buried With" podcast, he always lists his guest's accomplishments in a way that seems to make them slightly embarrassed but pleased, I'm sure. He'd have a heyday with Will Rogers, the man who did EVERYTHING! You can learn more about him here: willrogers.com/learn-about-will.
He was at the forefront of every new communications medium, and is known for his memorable quotes. Among the most famous, "I never met a man I didn't like."
Will Rogers Memorial Museum
The museum takes you through various aspects of Will Rogers' life. There's a room dedicated to his family, from his Cherokee heritage to his three children. A small theater with walls lined with movie posters. And a larger theater where you can visit the digital "box office" and choose a feature-length film to watch. An aviation room discussing his love of airplanes and untimely death in Alaska due to a plane crash.
For kids, you can travel through the "Time Tunnel" – a long stair/hallway lined with murals leading to an old-fashioned Western Town. Here, young visitors – and their adults – can act out various aspects of Will's life. From donning cowboy duds to putting on a puppet show, getting a glimpse into a one-room schoolhouse…Joss would have loved to have spent more time down here.
Outside, you can visit Will Rogers' burial place. The museum sits at the top of a hill, and the view is quite lovely.
Museum Events
The Will Rogers Memorial Museum – and the Will Rogers Birthplace Ranch in Oologah – both host family friendly events throughout the year. For those of you planning ahead for Spring Break, the two museums will alternate days in providing free activities for kids in the afternoons. The Memorial Museum hosts monthly free movie nights in the large theater – on the last Friday of the month, I believe. And the annual Will Rogers and Wiley Post Fly-In features vintage aircraft and other fun. Find a list of upcoming events at willrogers.com/eventsandactivities.
The Will Rogers Memorial Museum is open daily, 10 a.m.-5 p.m. from March 1-November 10. They are closed Monday and Tuesday from November 11-February 28.
Admission is $7 for adults, $3 for kids ages 6-17, and free for kids 5 and under. Military with ID and seniors get in for $5. Members get in free.
Hammett House is right at the bottom of the Will Rogers Memorial Museum. We could have left our car at the museum and walked down the hill probably. We enjoyed our food, and especially the cherry and buttermilk chess pies. I brought home a piece of chocolate cream pie, and…it wasn't quite like I remembered. So I'd recommend the cherry and buttermilk chess 🙂
Have you been to the Will Rogers Memorial Museum lately? What "must-see" Oklahoma attractions should we visit next?
---