Visual Storytelling at Tulsa Libraries
Rafael López is the 2016 Books to Treasure Illustrator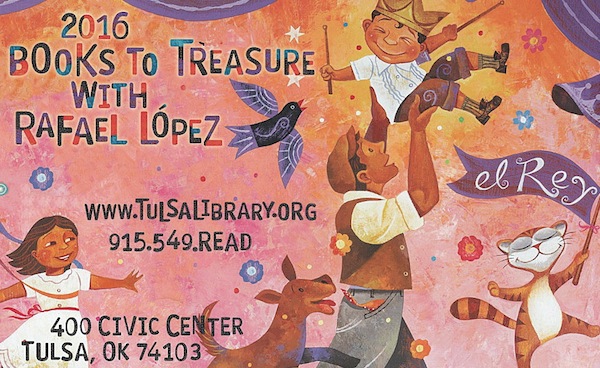 Once upon a time, before the printing press, all books were made by hand. (In fact, the word "manuscript" derives from the Latin for "written by hand.") Medieval monks spent months painstakingly creating the pages of one book at a time, using exotic inks made from berries and ash to add "illuminations" – better known as pictures – to accompany the text, which few could read except the monks themselves.
Today, book-making is mercifully easier, literacy is not just for the lucky few, and books with "illuminations" are as easy to find as walking into a public library.
The artistry of picture books, however, is still something of an achievement to celebrate.
Books to Treasure
That's the idea behind the Books To Treasure program, now in its 14th year, sponsored by the Tulsa Library Trust through a grant by the Anne and Henry Zarrow Foundation. The goal is to celebrate the beauty and power of children's literature and inspire a love of reading in children.
As part of Books To Treasure this year, the award-winning illustrator Rafael López will be giving a free public presentation about his art and his creative process on Friday, Nov. 4 at 7 p.m. at the Hardesty Regional Library in Connor's Cove, 8316 E. 93rd St.
Tito Puente, Mambo King
Additionally, every second-grader in Tulsa County will receive a free copy of the book Tito Puente, Mambo King, written by Monica Brown and illustrated by Rafael López. Tito Puente is a bilingual picture book with riotous color and energy that tells the true-life story of musician and bandleader Tito Puente, who brought mambo, salsa, and other Latin music styles to 20th century American ears.
While the written text tells Puente's Spanish-Harlem-to-Grammy-Award success story in short, snappy sentences, López matches the words with energetic swirls of color dancing in rhythm-inspired leaps off the page. Lopez's animals are particularly expressive. Cats carry flags declaring Puente "El Rey" ("The King"), parrots and songbirds streak through the air with trails of color in celebration of his music, and fish spring from the water in elegant, musical arcs.
What a wonderful expression of creativity and joy! And what child will be able to resist?
More Books Illustrated by Rafael Loopez
If you and your child enjoy Tito Puente, you should also seek out the López-illustrated Drum Dream Girl (written by Margarita Engle) and Maybe Something Beautiful (written by F. Isabel Campoy). The first is another musical adventure – this time following a Chinese-African-Cuban girl who falls in love with drumming and pursues it, even though the culture only allows boys to drum. The second is a story about how a muralist – based on Lopez himself – transforms a neighborhood with his art. Drum Dream Girl just received the 2016 Pura Belpré Illustrator Award, given by the American Library Association.
Rafael López grew up in Mexico City and now divides his time between studios in the colonial town of San Miguel de Allende, Mexico and a loft in downtown San Diego, where he lives with his wife and son.
It's not a monastery, but he shares something in common with those long-ago monks creating books by hand: his pictures are illuminating, and the books he helps create are extraordinary.