Valentine's Day Treats and Eats
Chocolate-Strawberry Muffins, Pizza Pockets, Chicken Piccata and Chocolate Cherry Brownies with Marshmallow Buttercream Frosting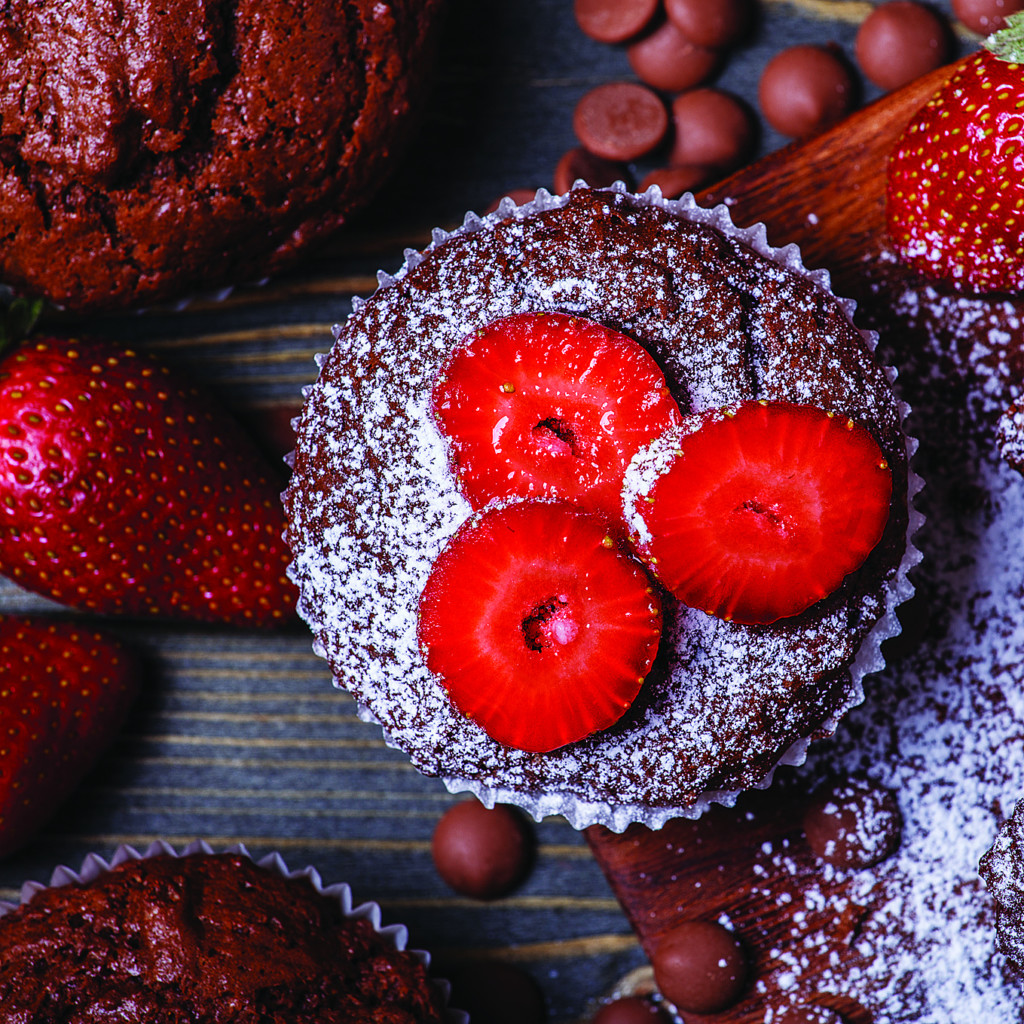 Another Valentine's Day, another night spent home with kids. Such is life for most parents of small children.
We end up at home for various reasons. Many of us don't want to waste a babysitter on one of the craziest restaurant nights of the year. Or, we would rather go out on a Friday or Saturday.
Hopefully many of you are more adventurous than I, and will throw caution to the wind with your dinner reservations and high heels on a school night. I'll probably be wishing I was out while I'm putting dirty dishes in the sink and rushing through the kids' bedtime routine so I can watch Downton Abbey.
But even homebodies can make it a fun day. Let's use Valentine's Day to our advantage, knowing we have at least three opportunities in the day to make a fun meal. Make a celebratory breakfast, lunch or dinner for either the family or just you and your spouse.
If you're reading this in early February, there's still time to buy a heart-shaped muffin pan or pancake ring for Valentine's Day breakfast. It may seem frivolous, but these are things you can pull out each year as part of a family tradition. The recipe is inspired by the Moosewood cookbook and Sally's Baking Addiction.
Chocolate-Strawberry Muffins
1 1/4 cups all-purpose flour
1/2 teaspoon baking soda
1/2 teaspoon ground cinnamon
1/4 cup granulated sugar
1/4 cup light brown sugar, packed
1/2 cup plus 2 tablespoons unsweetened applesauce
1 egg white, beaten
2/3 cup diced strawberries
1/3 cup mini chocolate chips
Preheat oven to 350 degrees. Spray a muffin pan (heart-shaped if you have it) with nonstick cooking spray. Set aside.
Whisk the flour, baking soda and cinnamon together in a large bowl. Set aside. In a separate bowl, whisk the brown sugar, granulated sugar and applesauce together until no brown sugar lumps remain. Whisk in the beaten egg white until fully incorporated. Pour the wet ingredients into the dry ingredients, and stir with a rubber spatula or large wooden spoon until combined. Do not overmix. Fold in the strawberries and chocolate chips.
Divide the batter evenly between 10 muffin cups. Bake for 15 to 20 minutes. Muffins will be lightly golden in color. Remove from the oven and place pan on a wire rack to cool.
Tip: You can freeze these muffins, and pop a few out the night before for a quick and delicious breakfast.
---
Make whatever you want for yourselves, and give the kids these homemade pizza pockets. Just say the word "pizza," and most kids will be happy. Let them help you make it, and that's true love. This recipe comes from Food Network.
Pizza Pockets
1 tablespoon olive oil
8 ounces Italian turkey sausage
1 cup tightly packed arugula
4 ounces cream cheese, room temperature
1/3 cup grated Parmesan, plus 1/4 cup
1/2 teaspoon salt
1/4 teaspoon freshly ground black pepper
1 (13.5-ounce) package store-bought pizza crust
All-purpose flour, for rolling out pizza dough
1 egg, beaten (for egg wash)
1 1/2 cups marinara sauce
Heat the olive oil over medium-high heat in a medium-sized, heavy skillet. Add the sausage, and cook until crumbled and golden, about 5 minutes. Add the arugula and cook until wilted. Turn off the heat and let cool about 10 minutes. Add the cream cheese, 1/3 cup Parmesan, salt, and pepper and stir to combine. Set aside.
Preheat the oven to 400 degrees. Roll out the pizza dough on a lightly floured surface to a thin 20- by 12-inch rectangle. Cut the rectangle in half lengthwise. Then cut each half into 8 equal rectangles.
Spoon topping onto one side of each of the rectangles. Using a pastry brush, brush the edges of the rectangle with egg wash. Close the rectangle of pizza dough over the topping. Use a fork to seal and crimp the edges. Place the pizza pockets onto a parchment paper-lined baking sheet. Brush the top of each pizza pocket with egg wash. Sprinkle with the remaining Parmesan. Bake until golden, about 15 to 17 minutes.
Meanwhile, heat the marinara sauce over low heat in a medium saucepan. Serve the hot pizza pockets with the marinara sauce alongside for dipping.
---
This recipe serves two, so make it after you've put the kids to bed. It comes together quickly, and is perfect with a salad, bread and wine.
Chicken Piccata
2 boneless skinless chicken breast halves
2 tablespoons all-purpose flour
1/4 teaspoon salt
Fresh ground pepper, to taste
1 tablespoon canola oil
2 tablespoons white wine
1 garlic clove, minced
1/3 cup reduced-sodium chicken broth
1 tablespoon lemon juice
1 1/2 teaspoons capers
1 1/2 teaspoons butter
2 thin lemon slices
Flatten chicken to 1/2-inch thickness. In a large ziploc bag, combine the flour, salt and pepper; add the chicken, one piece at a time. Seal bag and toss to coat.
In a small skillet, brown chicken in oil for 2 to 3 minutes on each side or until no longer pink. Remove and keep warm.
Add wine and garlic to the pan; cook and stir for 30 seconds. Add the broth, lemon juice and capers. Bring to a boil; cook for 1 to 2 minutes or until slightly thickened. Stir in butter and lemon slices. Return chicken to the pan; heat through.
---
This dessert is decadent enough for mom and dad, but hits the sweet spot for kids, too.
Chocolate Cherry Brownies with Marshmallow Buttercream Frosting
 2 packages Shawnee Mills Fudge Brownie Mix
1/4 cup plus 2 tablespoons vegetable oil
2 tablespoons milk
2 large eggs
1 cup dried tart cherries, chopped
1 cup miniature semisweet chocolate chips
In a large bowl, mix together brownie mix, vegetable oil, milk and eggs. Stir until thoroughly combined. Fold in cherries and chocolate chips.
Bake for 26 to 28 minutes at 350 degrees.
Let cool completely, then frost with marshmallow buttercream.
Marshmallow Buttercream Frosting
1/2 cup or 1 stick unsalted butter
1/2 cup powdered sugar
1 (7-ounce) jar marshmallow cream
1 teaspoon vanilla
1 tablespoon milk
Cream butter in an electric mixer until lightly and fluffy. Add half the powdered sugar, slowly mixing until combined, then mix in the remaining half.
Add marshmallow cream and vanilla extract, mixing on low speed. Add milk to thin out frosting, adding more or less as needed.