Vaginal Birth After Cesarean
While OB-GYN choices are slim, VBACs are still an option for women who choose to seek out information.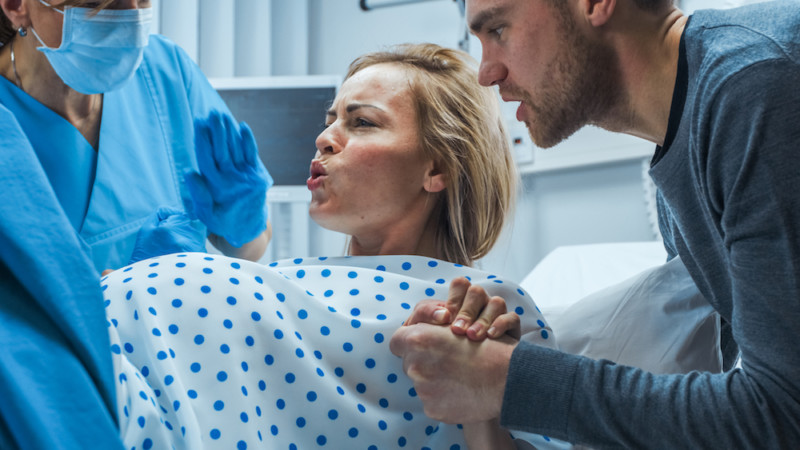 After her son was delivered by cesarean section, Shelly Collins was told she'd have to deliver all of her babies that way; a vaginal birth was no longer an option. Nine months after Wilder's birth, Shelly became pregnant again, and she spent the first half of her pregnancy under the assumption that she'd eventually have another surgery. Until she began to do some research.
"It wasn't until the third trimester (that I thought about having a vaginal birth instead)," Collins said. "The closer I got, reality started to set in. I was scared to have another C-section because of how bad it was the first time."
With the birth of Wilder, Collins had an epidural and spent 30 minutes pushing before her doctor suggested a C-section. The nurse on duty thought she should keep pushing, and the difference of opinion was unnerving, Collins said.
The anesthesiologist had some difficulty administering her epidural, and by the time she was on the operating table, it had worn off enough for Collins to feel much of what was happening to her.
"(During my second pregnancy) I had done a lot more reading about natural childbirth than I had the first time around," Collins said. "I would have thought about it sooner, but my new doctor told me I had to have a C-section. For most of my pregnancy, I sort of assumed that's what my only option was. I started researching VBACs (vaginal births after cesarean) maybe because of fear."
In her research, Collins found that VBACs aren't impossible, but they are rare in Oklahoma. She called one of only a handful of doctors in the city — and state — who perform them.
Although VBACs are considered high-risk deliveries, the risks associated with them — primarily, a uterine scar rupture — happen in only about 1 percent of deliveries.
The reason they're rarely performed in Oklahoma isn't because of the nature of the delivery but because Oklahoma's primary malpractice insurance provider, the Physicians Liability Insurance Corp., stopped covering VBACs in 2005, citing an excess of claims. About half of PLICO's losses in 2003 were paid on claims in which failure to perform a timely cesarean was alleged, according to the company.
Physicians who want to provide VBACs can do so through other insurance providers, but few opt to perform them due to the extra strain VBACs impose on doctors.
Although the risk of uterine rupture is extremely low, if a rupture occurs, it can be deadly to the mother and baby.

"Because of this risk, hospitals usually require that physicians attempting VBAC deliveries to be present in the hospital and immediately able to perform emergency surgery throughout the patient's labor," said Dr. Adam Myers, family physician and obstetrician, as well as vice president and chief medical officer at SouthCrest Hospital. He's also Shelly Collins' OB — she's pregnant with her third baby.
"We also require that an anesthesiologist remain continuously available," Myers said.
For all of the extra time and commitment required by doctors for VBAC deliveries, the compensation isn't much greater than that for low-risk births.
But Myers — and maybe five other doctors in Tulsa — continue to offer VBACs.
"First of all, it remains a reasonable care option for many patients and therefore is the right thing to offer in specific circumstances," Dr. Myers said. "Patient selection is very important. They have to understand and appreciate the added risks and be willing to accept the constraints of a VBAC attempt."
The ideal candidate for a VBAC delivery is someone with one prior low-transverse cesarean and at least one prior vaginal delivery. Patients who've had two prior cesareans may attempt a VBAC if they've also previously delivered vaginally.
Patients must go into labor spontaneously (Pitocin and other labor-inducing drugs can increase the likelihood of a uterine scar rupture) and must deliver by 41 weeks. They must submit to continuous fetal monitoring and be willing to have IV access points in place.
"They must also be willing to proceed to emergent cesarean delivery if indicated," Dr. Myers said.
Variables that exclude a VBAC delivery are extraordinarily large babies, more than one prior cesarean with no prior vaginal delivery or malpresentation, such as a breech presentation, of the baby.
"Patients often ask how the risk of repeat cesarean delivery compares to that of VBAC," Dr. Myers said. "A successful vaginal delivery has less risk of infection, excess bleeding and certain problems with subsequent pregnancies than a repeat cesarean.
"People often say that 1 percent isn't very high risk. If you are the 1 percent with a uterine rupture, it's 100 percent bad."
Dr. Myers said many doctors breathed a sigh of relief when PLICO stopped covering VBACs.
"At the time, people were stunned," he said. "Doctors were stunned and frustrated that an insurance company would dictate what they could and could not do medically. However, as the dust cleared, many found it a relief not to have to jump through the hoops associated with VBACs."
Dr. Lora Larson and the other obstetricians with Associated Women's Specialists stopped performing VBACs a year ago. Larson delivered Collins' daughter, Gwyneth, via VBAC. They were the only doctors at St. John Medical Center who would perform VBACs but finally stopped because of the restrictions placed on them by the anesthesiologists, who, concerned about the strain on their practices, would only allow doctors to deliver VBACs during daytime hours Monday through Friday.
"I just couldn't do it," Dr. Larson said. "I couldn't ethically say to my patients, 'I'm willing to back you up and do what it takes for you to have a safe delivery, but not if you come in at night or on the weekend.'"
Dr. Larson called it "unfortunate" and said if it weren't for the restrictions imposed by PLICO and, because of its decision, the hospitals, more doctors in Tulsa would perform VBACs.
Both doctors, though, cautioned against homebirth VBACs, where fetal monitoring isn't present and the chances of catching and attending to a uterine rupture as soon as it happens are less likely.
Because midwifery is neither legal nor illegal in Oklahoma, there are no regulations associated with it. Midwives aren't required to carry malpractice insurance and aren't allowed to deliver in hospitals, so they can freely administer VBAC deliveries.

Dr. Myers called this a "disturbing" trend.
"Midwives often provide excellent care with excellent outcomes to low-risk moms," he said. "Problems arise when they venture into higher-risk situations, such as VBACs, without the training, expertise or supportive resources necessary to quickly intervene and preserve life.
"This is one of the reasons I continue to offer VBACs. I don't want patients to be forced to a home VBAC attempt in order to try for a vaginal delivery. We can replicate a comfortable, family-friendly environment in the hospital with the emergency safety net in place."
Collins is excited and confident about delivering her third child via VBAC. Her daughter's birth, attended by Dr. Larson, went smoothly (she did it naturally!) and made up for the physical and emotional difficulties associated with her son's birth.
"My feeling with Gwyn's birth was that I was given a gift, meaning the successful, natural childbirth," she said.
"Also, I felt like it helped prepare me for motherhood. Having accomplished the birth, I felt empowered afterwards, and it gave me confidence that I could handle being a mother of two. It sort of set the stage as to how I wanted to approach the decisions I would make as a mother from that point on."
BIRTH STATISTICS IN THE UNITED STATES
The Centers for Disease Control and Prevention (CDC) put forth Healthy People 2010 (HP 2010) objectives. Because the United States has a high number of cesarean births, one HP 2010 objective was to lower this rate for low risk women, both for women giving birth for the first time and for low-risk women who had had a previous cesarean. Cesarean rates did decline between 1990 and 1996, but rose from 1996 to 2003. The target objective for HP 2010 was 15 percent for cesarean delivery for first-time low risk women, and 63 percent for repeat cesarean delivery.
Percent of all deliveries by Cesarean: 31%
Cesarean rate for all women having a first baby: 27.1%
Cesarean rate for low-risk women having a first baby: 23.6% (far above the target of 15%, and a 1/3 increase over 1990-1996 statistics)
Cesarean rate for low-risk women who had a prior cesarean birth: 88.7% (far above the target of 63% and an increase of ¼ over 1990-1996 statistics)
The CDC report concludes that despite the focus on reducing the rate of cesarean births, especially in low-risk pregnancies, the rate is at its highest level.
Source: National Vital Statistics Reports, Vol. 54, September 22, 2005