Tulsa Mom Talks About Life with Breast Cancer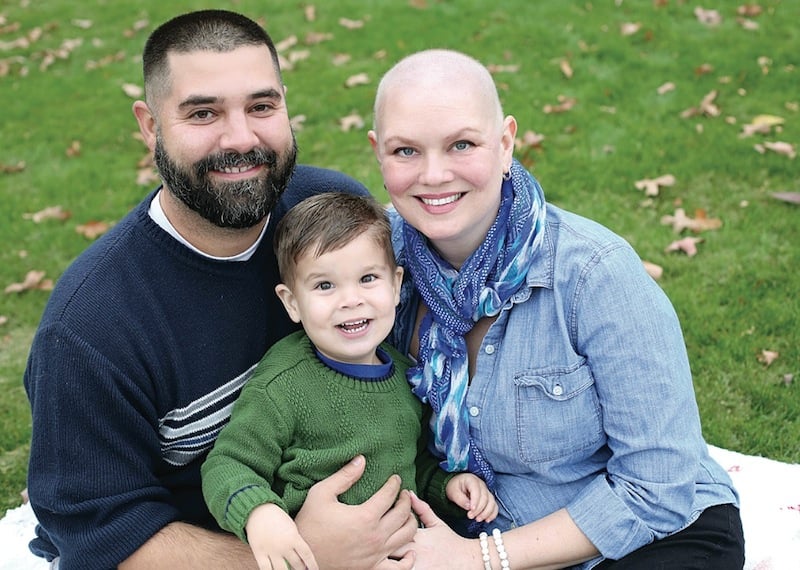 With this being National Cancer Prevention Month, we want introduce you to an amazing woman who shares an open and honest perspective about her life after receiving a breast cancer diagnosis and the importance of trusting your intuition when it comes to your health.
For Kelly Balaskovits, it all started in February 2015 when she felt a lump in her breast while in the shower. Because she was 37 years old at the time and did not have a history of breast cancer, she wasn't worried when scheduling a mammogram. The mammogram, in March, revealed nothing. The ultrasound performed did not detect anything either. In the weeks following, she continued to experience minor symptoms in the area of the lump. Ultrasounds were performed two additional times with the same results. After continuing to question why she had these symptoms, she went through further testing. Finally, in July 2015, she had an answer when diagnosed with stage III breast cancer.
---
TK: Tell us about your life pre-diagnosis.
Kelly: I was busy being a wife, mom to a 2-year-old toddler, and moving into a new home that we had just purchased. I had also gotten a promotion at work to a job that involved more responsibility and a lot of travel. I wasn't worrying about cancer.
---
TK: What circumstances led up to your breast cancer diagnosis?
Kelly: I found the lump in my breast in February 2015 and in March received a mammogram that didn't detect anything. However, due to experiencing various minor symptoms of the affected breast feeling hot, dimply and turning pinkish in color, I kept returning to the doctor for ultrasounds in May and July even though he was 99 percent sure that it wasn't cancer. I didn't fit the mold.
---
TK: How did you find out that you have breast cancer?
Kelly: Finally, in July, I went under the knife. At that time, my doctor was able to see more than any other test had revealed and was able to perform a biopsy. While in the recovery room, my doctor told me that he was 99 percent sure it was breast cancer.  So, he went from being 99 percent sure it wasn't cancer to 99 percent sure it was in a matter of a few months. The biopsy results confirmed it was breast cancer. It was extremely difficult to detect through traditional testing methods of mammograms and ultrasounds because my breasts contained dense breast tissue and the cancer had diffused out from there.
---
TK: How did you feel when you got the diagnosis? What went through your head?
Kelly: We were completely stunned. Breast cancer does not run in my family. I have an annual exam every single year and I breastfed my son. I felt like I was doing everything right. Had I not trusted my own instincts and watched my body, I'm not sure where I would be. I ended up having this advanced form of cancer. Initially, I was diagnosed with stage III breast cancer. After further testing, it was determined that it was the beginning of stage IV breast cancer because it had spread into my lymph nodes and bones by then.  After we got over the initial shock, we found out what we needed to do to treat it and got going.
---
TK: Do you have a history of breast cancer in your family?
Kelly:  I don't have a history of breast cancer in my family; however, during a conversation with my doctor, it came up that my grandma (on my dad's side) had ovarian cancer. In August, I went through genetic testing that revealed that I am a carrier of the BRCA2 gene which is directly related to an increased risk of developing breast and ovarian cancers. This cancer snuck in the back door, so to speak.
---
TK: How do you keep going?
Kelly: I've never treated this like cancer, more like a cold. Although I realize the severity of it, I guess I just treat it as something that I am going to get over. In my mind, this is just something that has happened in my life and I am going through the motions to get over it. I never let it loom over my head too much. If I do get upset about something with my diagnosis, I just let myself have a 24-hour pity party and then I am back on! I have a good attitude about things and, luckily, I'm married to a man who can be mommy and daddy to our son (who is now 2 1/2 years old). In just three years of marriage, we are living out our vows of – in sickness and in health. Of course, my family and son keep me going. I want to dance with my son at his wedding.
---
TK: Has the diagnosis changed your outlook on life? If so, how?
Kelly: Oh yes, tremendously! Before I wanted to climb the corporate ladder and make a lot of money. Now I want to make just enough money to be comfortable and travel with my family. Also, I try not to be in control of everything. I have a medical team who I trust, so I can just let go and know that I am being taken care of.
---
TK: How did people react when you shared the news about your diagnosis?
Kelly: It was surprising for people. I don't fit the traditional mold of who might be diagnosed. Friends have rallied around me and given me the time to get better. My co-workers sent me encouraging videos that I loved. My boss encouraged me to find a local support group, so I did. My small support group has helped tremendously.
---
TK:What advice would you give to another woman who is just receiving a breast cancer diagnosis?
Kelly: You'll be OK. This is so survivable. You'll get a flood of information, but don't let it overwhelm you. Eventually, you'll learn to sift through it. Find a local support group. Surround yourself with positive people. Stay off the Internet in trying to self-diagnose. Trust your medical team.
---
TK: What do you recommend that people do if they know someone who has been given a cancer diagnosis?
Kelly: Reach out to them. Some people don't know what to say, but say something. Offer to put together a meal plan for them, especially if they have a family. Offer to take their kids out for the day because sometimes they just need to sit and relax to feel better. Also, if you send photos to them of their kid having fun, it will make them feel better. You want your child to have fun even if it's not you taking them. Also, we don't always want to talk about cancer.
---
TK: What is your life like now?
Kelly: I'm working on making great memories with my family and doing things with my husband and son. I've been through four rounds of chemo and my body responded tremendously well to it. Toward the end of 2015, I had a double mastectomy, oophorectomy and hysterectomy. I'm working with a physical therapist to gain back my full range of motion. I take an oral pill to fight off the cancer and I undergo a treatment every 12 weeks to strengthen my bones. I started radiation in January. Also, luckily my former position at work was still available, so I stepped back into that role instead of keeping the promotion. It would have been more money, but involved longer hours and a lot of travel away from home which I couldn't have done.
---
TK: Anything else you would like to say?
Kelly: I wish women wouldn't be so worried about their age. Women are so hard on themselves and there is so much pressure to look young. One of the first things I did after receiving my diagnosis was to put my birth year on my Facebook page. I'm proud of my age. I want encourage woman to be happy with the age that they are. Right now, I'm fighting to get to the age of 40, 50 and beyond.