No Argument:
Tulsa Debate League Provides Life Skills for Students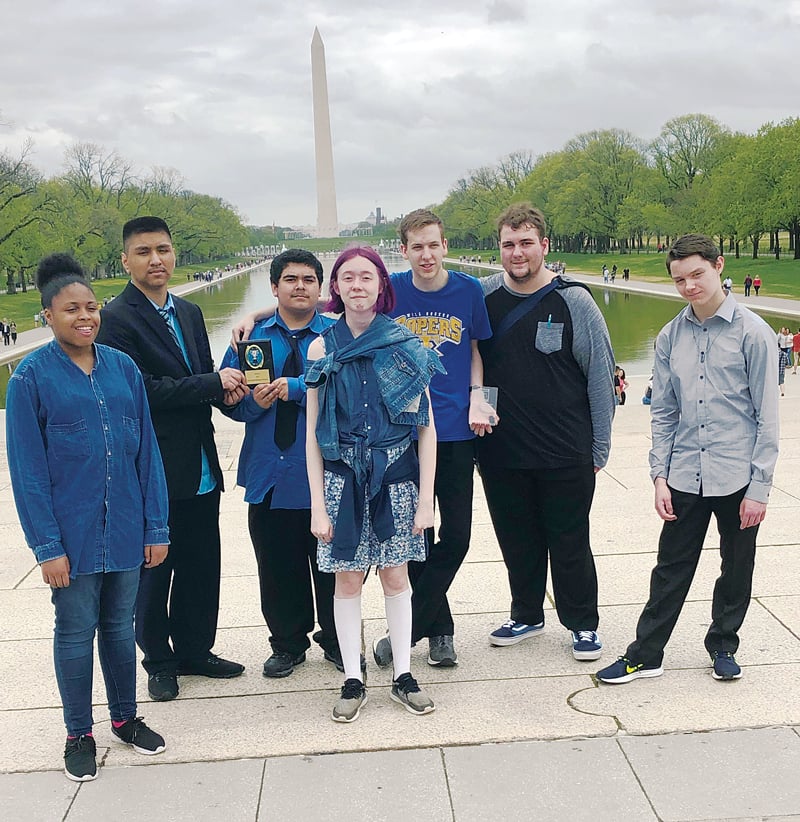 For any student dedicated to an extracurricular activity, few feelings are as gratifying as qualifying for a national tournament. Having attended the Urban Debate National Championship in Washington, D.C. this past April, recent Will Rogers High School graduate Joshua Tacha was awestruck.
"It was crazy," he said. "Getting on that plane with some of my favorite people in the world – I just never imagined that would happen."
Competing under the Tulsa Debate League's banner, Tacha and his debate partner, Matthew Watts, became Will Rogers' first team to make it to Nationals.
Throughout the past several years, this league has supported debate education in high-poverty schools. Given the seemingly ever-changing dynamics of the public education system, schools often end up cutting these programs.
According to Tulsa Debate League Executive Director Ross Faith, the barriers to kick-starting a debate program are resources and finding teachers with the experience to teach debate.
"We provide those resources through money for busses and stipends for teachers, and we develop a training model for teachers and students that works," he said. "We often ask ourselves 'what does a novice teacher need to be successful?'"
Since 2015, the league has gone from supporting five schools and 62 students to supporting 29 schools and 425 students. At this point, it's serving not only high schools, but also middle and elementary schools.
As a debate coach for Will Rogers, Michael Haskins argues that kids who get involved in Debate League programs will become more prepared for college.
"It improves your critical thinking and research skills, but it's ultimately able to give you a voice so that you can make change in your community," Haskins said. "Any goal you have in life will be impacted by your ability to persuade others."
Haskins maintained that anyone who's interested in supporting the nonprofit organization doesn't necessarily need to be an experienced debater. Some volunteer judges, for instance, help students hone their public speaking skills, even if they don't fully grasp the debate-y side of things.
"On a deep level, I care about these people and want them to be successful," the coach said. "I wake up at 5:30 a.m. and am excited to work on some new project – since we work with low-income schools, I'm thrilled to help provide those opportunities to students and see them thrive."
While discussing Will Rogers specifically, Faith expressed the league's commitment toward preserving its debate program.
"We've been heavily invested in that school since 2017," Faith said. "We really developed a strong relationship, and debate is an important piece of that plan to improve the school."
Going back to the National Championship itself, a fairly broad debate topic is set in stone at the beginning of each school year, which gives students time to not only do their research, but also experiment with various ideas. This year's topic was immigration.
"You still operate under the notion that you're preparing a policy, but you can be as creative as possible if you've got the evidence," Tacha said. "If they wanted, someone could argue 'the people are the government' – there are positions that sound outlandish at first, but that kind of pushes them to do the research. We push each other to do better."
The Will Rogers graduate described his tournament experiences as competitive, yet teambuilding.
"It's the difference between working around like-minded people and being in an echo chamber, since we all come from different socioeconomic backgrounds," he said. "Having civil discourse about big-ticket issues – I mean, the education topic got a little heated one year, but these tournaments always end with handshakes, smiles and high-fives."
The tournaments always have set parameters, too, with each side given a certain amount of time to debate their point. For Tacha, at least, that model has manifested itself in his day-to-day discussions.
"After a while, that structure just doesn't leave you," he said. "In a time where everyone's tweeting at each other and televised debates devolve into shouting matches, it's nice to have a space for healthy, passionate debate. It prioritizes scholarship over bravado."
This outlet for open discussion presented itself to Joshua when he needed it most, as both he and his mother, Michelle, suffered from domestic abuse years ago.
"I was struggling to find my ground – it was awful," he said. "When I signed up for debate during my sophomore year, though, things really started to change. Sports were never really my thing, so debate helped me find my ground and I started considering college for the first time."
As of right now, Tacha is set to attend the University of Tulsa this fall.
"I think it was a paradigm shift," he said. "Instead of focusing on the present or the past, I was excited about the future. Debate helped me with just about every facet of my life – it gave me an outlet, something to do. Seriously, if people want to get over their fear of public speaking, debate is the answer."
On top of being particularly cathartic, debating has helped Tacha improve his relationships with his classmates.
"Every kid who shows up has the power to overcome whatever socioeconomic conditions hold them back," he said. "Tulsa Debate League opens the door for them, but where they go from there is up to them."
The greatest perk of joining a debate team, though? Free food.
"That always draws students in," Tacha said. "Seriously, though, it doesn't hurt to try these new things out. Faculty at Will Rogers try to make the unknowns known. They make it so easy to just show up and start."
The Will Rogers graduate said he initially struggled due to his fear of public speaking.
"It was like being thrown out of the frying pan and into the fire, but then we just kept doing it," he said. "Even if you're not the most persuasive person in the world, you'll find those skills. The human brain is malleable."
Haskins, however, having known Tacha since his sophomore year, argues that he's always been charismatic.
"I'd never underestimate Josh," Haskins said. "Debate helped him hone those skills and make those his own – I'm just glad it helped him take those to the next level."
Similarly, Joshua's mother maintains that this strength was within him all along.
"Knowing where we've come from, I'm so proud as a parent," Michelle said. "He gives a lot of credit to Tulsa Debate League, but it's because of his own efforts, too. To see where he's at now, it makes what we went through – him getting away and thriving – just that much more meaningful."
To learn more about the Tulsa Debate League, visit http://www.tulsadebate.org/.
---