Places to Play Outdoors in Tulsa:
When you want to get some vitamin D, head to one of these great Tulsa parks!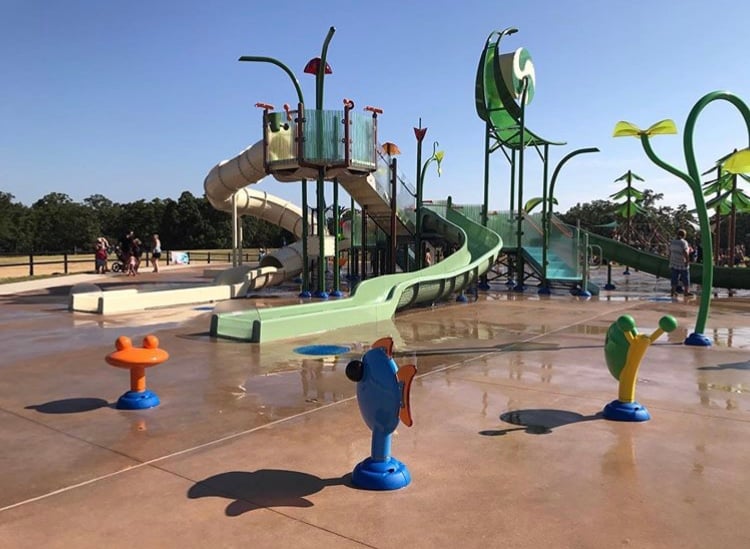 Since its opening in September 2018, Gathering Place may be the first thing that springs to mind when you start talking about Tulsa parks. But Tulsa has always boasted a multitude of family friendly parks, with amenities ranging from disc golf courses to splash pads to playgrounds to hiking trails, etc. Here are a list of some local favorites.
For more, check out the City of Tulsa's Parks and Recreation department page or the Tulsa County Parks website.
Address: 6500 W. 21st St.
Chandler Park sits atop a hill overlooking the Arkansas River and has some of the best views of downtown Tulsa anywhere in Tulsa County. Bikers tour the park for day-long rides, and people can be found sledding down the slopes on snowy days. Chandler Park is a great site for rappelling for both beginners and advanced climbers. The top level of the park has baseball and softball fields, a disc golf course and a swimming pool. On the lower level there are shelters, tennis courts and an excellent view of downtown. Chandler Park opened a new water playground in summer 2019, which was heralded as "the biggest in Oklahoma" and features an impressive variety of water play elements.
Address: 2600 S. Riverside Dr.
Voted 2018's Best New Attraction in the U.S. by USA Today readers, Gathering Place is a favorite of both Tulsans and people looking for a fun road trip destination. The 5-acre Chapman Adventure Playground features 3-story climbing towers (among many other unique elements), and Charlie's Water Mountain (open seasonally) is the ideal place to cool off in the summer. On inclement days, Gathering Place has two indoor options, the Lodge, which houses a cafe and ice cream shop, and the Boathouse. Find a list of upcoming events, all of which are free to the public unless otherwise specified, here.
Address: 111 E. Reconciliation Way
Guthrie Green, located in the Tulsa Arts District, features a splash pad, plenty of space to run around in, and a stage. Community organizations frequently host events at the Green, and Guthrie Green itself hosts seasonal movie nights and weekly fitness classes throughout the summer.
Address: 11327 S. Garnett Rd., BA
Haikey Creek Park maintains 151 acres with picnic shelters, grills, updated playground equipment (ADA accessible), restrooms, a jogging path, fitness court, disc golf course, 3 lighted softball fields, 4 lighted tennis courts and 4 soccer fields. Call for more information about youth and adult activities at the park.
Address: 5804 E. 91st St.
Play disc golf at Hunter Park's 18 hole course and grill out for the afternoon. There's a playground area, a walking/jogging trail and a large pond with four fishing platforms. Located at 91st Street between Yale Ave. and Sheridan.
Address: 5202 S. Hudson Ave.
LaFortune Park offers baseball, tennis, swimming, croquet, golf, a 3.2 mile walking and jogging trail and picnic space. Play golf in the dark, take a dip in the pool or visit the community center for special events and activities. Located at 61st and Yale.
Address: 5701 E. 36th St. N.
The largest park in Tulsa County and one of the largest municipal parks (2806 acres) in the United States. Features a golf course with 36 holes, a reservoir with boating and fishing, riding trails, wooded picnic areas, and the Tulsa Zoo! Within the park sits the Oxley Nature Center — eight acres of protected land with hiking trails.
Location: 11th Street to 101st Street along Riverside Dr.
One of Tulsa's best places to play. There's an extensive 20-mile trail for runners, bikers, walkers, and skaters along the Arkansas River. Families enjoy the playgrounds, picnic areas, the River SkatePark, and disc golf courses. You'll also see many people participating in some of Tulsa's sport clubs like rowing, biking, running, and even rugby!
Address: 6800 S. Elwood Ave.
Enjoy some of the best trails in Tulsa, with 30 miles of unpaved trails great for hiking, running, biking, and horseback riding. There's a trail for everyone—from easy skill levels to hard. Off 71st Street near the River, with parking at the top of the hill.
Address: 2279 Charles Page Blvd.
This park is a great spot for the furry members of your family. Opened in 2008, Joe Station is Tulsa's first dog park. It is open daily from 5 a.m. to 11 p.m., (except on Mondays during mowing season, when the park opens at 11 a.m.). Park includes night-time lighting, water pails for thirsty pups and restrooms for handlers. Admission is free.
Address: 7101 S. 3rd St., BA
The 40-acre Ray Harral Nature Park features an interactive Nature Center, pollinator gardens, 3 miles of trails, picnic shelters, an outdoor classroom and more. Visit the park's Facebook page to learn about upcoming events.
Address: 1875 S. Boulder Park Dr.
This park (formerly known as Veterans Park) rests in downtown Tulsa at 18th and Boulder, and has a huge soccer field, a baseball diamond, a splash pad, shelter with picnic benches, and a lighted playground. There's always something going on at Veterans Park, with 15 acres of land, designated parking, and a memorial to veterans of foreign wars.
Address: 4009 S. Pittsburg Ave.
The park features a playground, sports field, tennis court, junior pool, a one-mile walking trail, an indoor gym, shelter, picnic tables, and sand volleyball courts. Programs at the community center include arts and crafts, dance classes, preschool programming, social activities, holiday and special events, an open gym, and youth day camp. Located on 41st Street between Harvard and Yale.
Address: 2435 S. Peoria Ave.
Located at 21st and Peoria next to the Tulsa Garden Center and Tulsa Historical Society. Woodward Park is a Tulsa favorite. There are park benches, picnic tables, swings, a covered gazebo and many walking trails winding through a variety of beautiful trees and flowers. The Tulsa Rose Garden is just south of the park, with beautiful flowers in bloom for families to enjoy in the springtime. You'll also find The Teaching Garden, where well-trained volunteers share their knowledge and love of gardening, free of charge, to the public. Plus, there are activities for children located inside The Teaching Garden's barn, including nature-themed puzzles and books.
Looking for More? Don't miss our list of Tulsa Area Water Parks, Pools and Playgrounds!
---