Tips for Teaching Children the Importance of Civic Engagement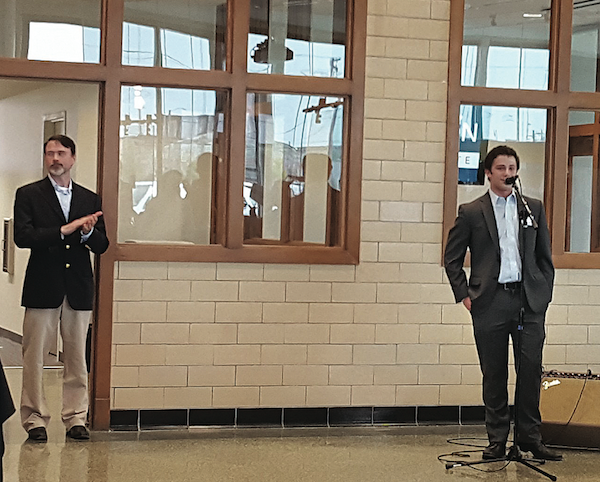 To many people, the political process is "like the weather," says John Waldron, a high school history teacher, father and, most recently, candidate for Oklahoma State Senate. "It's something that happens to you, that you can't do much about." But, he believes that reasoning couldn't be further from the truth. "Democracy depends on actively engaged citizens."
We know as parents that we should be modeling behavior for our children in many arenas – but most of us could be doing a better job of cultivating children who are engaged contributors to the community. Opportunities abound, and with the big election year well underway, there is no time like the present to take advantage of a teachable moment.
Get Out to Vote
How do you raise a voter?
Really, the easiest thing is just to take your children voting with you, says Waldron, who has a 7-year-old son. Show them the machines and the ballots. Let them proudly wear the "I voted" sticker.
Mandy Winton, who serves on the Board of Directors of the League of Women Voters of Metropolitan Tulsa (a nonpartisan political organization) agrees, citing studies which show that children who go with their parents to vote are more likely to become voters themselves.
The next step in grooming an engaged citizen, adds Winton, is plain, old-fashioned talking with your kids.
But government, and the role we play in it, can be an abstract and daunting topic, even for adults, to tackle. How do you broach the subject with your little ones? The explanation may be pretty straightforward.
"Kids grow up with rules in a household," Waldron said. "Government is just an extension of that." In fact, he adds, some argue that the basis of government is the family itself, and parents can begin with that in mind.
Point out to your children that there are rules we follow as part of a family such as who is in charge of taking out the trash at day's end or how we act at the dinner table. There are also rules of our community such as those dictating how we drive or bike on the road; rules about not littering; rules that regulate how we must (and must not) treat one another. "These are things we all do together … to live as a community," Waldron says.
Another barrier to discussion is that people often don't know which branch of government performs what function, notes Winton. Give yourself a mini civics lesson with the assistance of Google. Help your kids learn who is responsible for fixing the streets or protecting our neighborhoods.
"You can see it in the face of a little kid who gets to see a fire truck," she says. "We forget that those firemen are city employees."
For older children, start a nightly conversation about the news and what's happening both locally and nationally in the current election cycle. Children are hearing all the rhetoric even if you don't think their ears are tuned in to the political debate on the TV or the commentary on the radio.
These conversations, says Waldron, are a great way to impart values in your children and arm them with the critical thinking skills to one day go out into the world and make their own choices.
Tucker Wilkie, a 16-year-old Booker T. Washington student and Boys' Nation representative, thinks his own father is doing a fantastic job of just that. "He doesn't want me to do what he does just because he does it," he says, adding, "we talk all the time."
Another young person who credits his parents' engagement as stoking his own flames is Nathan Levit, an 18-year-old recent Booker T. grad. "We have a lot of dinner table discussions," says Levit, who is headed to Princeton University in the fall. "My email and texts are constantly inundated with articles my parents are sending me." And, he adds, there is always ready access to newspapers or magazines in his home.
Indeed, Levit may be an aberration of civic involvement with an impressive resume that includes managing the successful District 7 School Board campaign of Suzanne Schreiber as a high school sophomore and currently running John Waldron's state senate campaign. He began volunteering for political campaigns before he was of voting age and says the experiences provided "a pretty interesting perspective into what goes into getting people to vote."
But It's Not All About Elections
Yes, a large part of civic engagement is participation in the electoral process, but it's not limited to just casting your vote on a specific day. It's about taking an active role in shaping and maintaining your community.
Tulsa Young Professionals, or TYPros, is a great example of successful civic engagement in action. The non-profit organization, which is one of the largest groups of its kind in the country, works to attract and retain young talent in the Tulsa region by positively affecting change to the economic and social atmosphere of the community.
Their "Bring it to Tulsa" initiative has been credited with spurring the arrival of Uber (the ride-sharing service) and Trader Joe's (a specialty grocer located in Brookside) to the Tulsa market. You might ask your teen what sorts of things they'd like to see in their community and how they would go about cultivating those resources.
Daniel Regan, TYPros Chairman of the Board, notes that "when you start to change the narrative to focus on things that really cater to young people — green spaces, diversifying community and education funding," you can inspire action. And, he continues, "Success begets success. People feel empowered and part of the future."
Just using the resources available around us can act as a form of civic engagement, Winton notes. Holding out the proposed developments in Helmerich Park and Turkey Mountain as examples, she says "I [could] sign petitions, but I can also use those spaces so [lawmakers] can see how community members are using that space." Whether going to the library, taking part in festivals or parades or playing at the park, be part of your community to express your own values.
"[There's] so much talk and so little action," bemoans Regan. "So let's put action to your words, let's start doing and encouraging others to do…oftentimes that's the catalyst to change."
---
The Basics of Voting In Oklahoma
Anyone who is 18 years of age, a citizen of the U.S. and a resident of the state of Oklahoma can register to vote in Oklahoma
Submitting an application to register to vote is still a paper-involved process in this state. Either download a form from the Oklahoma State Election Board website (oklahoma.gov/elections/voter-registration/register-to-vote.html), or pick one up at any number of places including but not limited to: tag agencies, libraries, post offices and the county election board (https://www2.tulsacounty.org/electionboard/). Submit it via snail mail to the OK State Election Board or deliver it by hand to your county election board.
Once your application is accepted, you'll receive a voter ID card listing your name, address, political affiliation and your polling place.
Oklahoma has some pretty complex voting laws, but perhaps one of the more important to note is the provision that does NOT allow for voter ID cards to be issued in the 24 days before an election. So plan ahead! Those turning 18 in the 60 days leading up to an election can send in registration in advance of their birthday, notes Patty Bryant, Secretary of the Tulsa County Election Board.
When it's time to actually head to the polls, just bring either your official voter ID card OR an accepted state or federal photo ID (like a tribal ID passport or drivers license).
DID YOU KNOW?  In 2016, there are elections scheduled in Tulsa County in 7 of the 12 months – with the biggest slate scheduled for November 8, including federal, state and county general elections.
---
Websites for Civic Engagement
Kids in the House, age 10+, kids-clerk.house.gov/: Detailed, age-appropriate intro to the House, its history.
PolitiFact, age 13+, politifact.com: Find out who's telling the truth in politics.
DOGO News, age 8+, dogonews.com: Interactive, kid-friendly news source gives kids the scoop.
DoSomething.org, age 16+, dosomething.org: Not-for-profit site encourages and supports youth action.
About-Face.org, age 13+, about-face.org: Site dissects sexism in the media.
Points of Light, age 6+, pointsoflight.org/youthandfamily: Safe site sparks ideas for helping the community.
Youth Radio, age 15+, yr.media: News and more for kid journalists.
Find these and more websites at www.commonsensemedia.org.